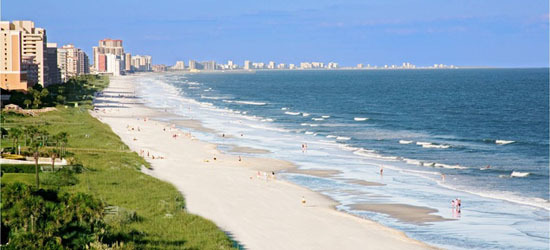 Photo courtesy of Visit Myrtle Beach. Article by the editors of Budget Travel.
Smart travelers know that there's no time like April and May to visit brag-worthy beaches and celebrated cities -- for a fraction of what the crowds will be paying in summer! From the shores of the Atlantic to party towns like Vegas and NOLA, we've got seven stylish steals that'll make your spring vacation the best ever.
Myrtle Beach, South Carolina
Why wait till summer for a warm beach getaway?
If you want a dreamy beach vacation, it's already warming up down in Myrtle Beach! Its miles of sand, charter fishing expeditions, and Ripley's Aquarium (where you can get nose-to-nose with sharks) will keep you busy while the sun shines, and its world-class eateries roll out an irresistible southern-style welcome with local micro-brews, seafood buffets, and oceanfront tables. The Myrtle Beach Oceanfront Boardwalk and Promenade, which opened just five years ago, feels as if it's been here forever. Welcoming crowds by the million with its charm and hospitality, the boardwalk features the Family Kingdom amusement park that includes the massive Skywheel and Slingshot, and the just-opened Twist 'n Shout steel roller coaster (visitmyrtlebeach.com). Westgate Myrtle Beach Oceanfront Resort provides beach access and ocean views, a heated outdoor pool, heated "lazy river," kids' water play area, and a "kids eat free" policy (415 South Ocean Blvd., Myrtle Beach, S.C., wgmyrtlebeach.com).
Great Smoky Mountains National Park, Tennessee
Tour an American paradise before the summer crowds pour in!
America's most popular national park, a major theme park, and miles of trails and streams for under $100 per night? Yup. Head to the Great Smoky Mountains National Park for fishing, hiking, and scenic drives like the six-mile Roaring Fork Motor Nature Trail, and don't forget to spend at least one day at 150-acre Dollywood for authentic Tennessee music, food, and, of course, thrill rides such as the Wild Eagle and Mystery Mine. The Park Vista-a DoubleTree by Hilton Gatlinburg features two restaurants, an indoor pool, and mountain views (705 Cherokee Orchard Road, Gatlinburg, Tenn., doubletree3.hilton.com).
Point Pleasant, New Jersey
Psst! The boardwalk of your dreams opens in spring, but don't tell or everyone will want to go!
Point Pleasant is, well, pleasant enough in summer if you enjoy being part of a major scene, rubbing elbows with in-the-know New Yorkers, Philadelphians, and Jersey girls and boys who love Jenkinson's Boardwalk and the lovely stretch of beach here. (Point Pleasant is about 70 miles south of New York City and about 75 miles northeast of Philadelphia.) But the place starts hopping on weekends in April, the rides are open, the cotton candy is just as sweet, but rates for hotel rooms just a block from the beach can be literally a third of the summer price. Grab dinner on the boardwalk, or hit Woodchucks BBQ (3009 Lakewood Rd., woodchucksbbq.com, half-slab of baby back ribs with cornbread and two sides $14). The White Sands is a reliable, friendly hotel right on the beach (1205 Ocean Ave., thewhitesands.com).
Dominican Republic
Affordable all-inclusive resorts put this island paradise within reach!
The DR offers everything you might want on a Caribbean break, without the sticker shock you might expect. One of the reasons is incredible all-inclusive resorts like the Majestic Colonial Beach Resort in Punta Cana (a steal at $212 per night for two people). Las Terrenas, a lesser-known but no less appealing former fishing village in the Samaná province, has amazing beaches and wallet-friendly prices. Explore Los Haitises National Park, a protected forest, in a kayak with a guide who will take you through lagoons and mangrove canals amid pelicans and leatherback turtles. Another affordable lodging option is Eva Luna, in Las Terrenas, which has five Mexican-style villas, each with a kitchen. (villa-evaluna.com).
New Orleans, Louisiana
The Big Easy is easier than ever once Mardi Gras crowds have headed home!
Cobblestone streets! Hot jazz! Unforgettable cuisine! New Orleans's French Quarter is just the beginning of a great getaway that combines warm spring weather with elbow room now that Mardi Gras has turned into Lent. Trendy nightclubs, ivy-covered townhouses, and Creole cottages make for a backdrop like no other. Don't miss the annual French Quarter Festival in April, load up on beignets at Café Du Monde, and explore the city's unique music scene with a free self-guided audio tour courtesy of the New Orleans Jazz Historical Park. Stay at the Westin New Orleans Canal Place (westin.com).
Washington, D.C.
Celebrate your freedom in our nation's capital -- where it seems every attraction is FREE!
From tours of the Capitol building to the endless galleries and exhibits of the Smithsonian Institution, from the National Archives (you may have heard of some of its contents--the Declaration of Independence and the Constitution?) to the Library of Congress, this town offers more in the way of freebies than anywhere else. When you're ready to step outside and enjoy the spring air and cherry blossoms, pay a visit to the Lincoln Memorial, Jefferson Memorial, and the new Martin Luther King Jr. Memorial. It may be surprising to you, but it's not to locals and other insiders, that one of the best restaurants in town is the Mitsitam Native Foods Café at the National Museum of the American Indian -- you can try buffalo and fry bread, among other delights. The Normandy Hotel is a comfortable lodging a short walk or Metro ride to the Mall, with great access to the lively Dupont Circle neighborhood and its international cuisine and smart bookstores (2118 Wyoming Ave NW, thenormandydc.com).
Sanibel Island, Florida
Your own private island? Well, it's about as close as you'll find...
Sure, there's a long list of things you can do on Sanibel Island. But maybe the most appealing of all is... nothing! If your idea of a spring vacation involves warm sand, subtropical breezes, and the luxury of staring, snoring, or reading, this island has your name on it! Check into the Tropical Winds Beachfront Motel and Cottages and you'll enjoy a private beach and outdoor pool (sanibeltropicalwinds.com). Feeling a bit adventurous? Sanibel is a mecca for outdoors enthusiasts and you can take your pick of cycling the island's miles of trails; kayaking or canoeing its waterways; water-skiing; and fishing. Or hit the golf course or tennis courts. Grab a bowl of fish stew at Sweet Melissa's Cafe (sweetmelissascafe.com).