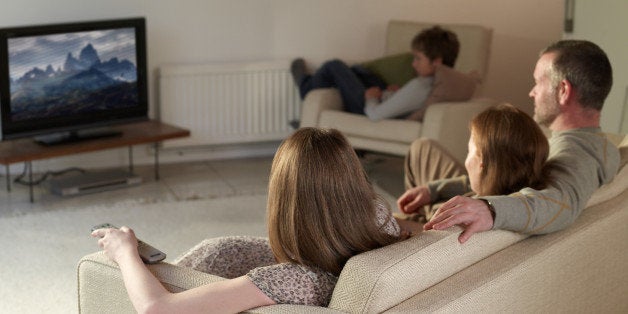 For serious TV fans, fall is a time to get excited about a new crop of network shows. Unfortunately, much of this season's lineup is too edgy for whole-family viewing. Still, there is hope if you're looking for something good to watch with your kids -- especially older kids. We've sifted through this fall's new stuff for titles that could work for families, plus some classic shows that offer fun watch-together experiences. And remember, there are plenty of family-friendly shows available through streaming services such as Netflix and Amazon.
Utopia, Fox, 9/7, likely age 12+
The idea behind this new reality show is ambitious: Fifteen folks from across the country come together to try to build a new society. They must work to meet the group's basic needs and see if they can thrive over the course of a year together. Of course, this is a reality show looking for drama, so the cast comes from highly diverse backgrounds. They'll have to learn to live together to succeed (or argue enough to keep the ratings high!). Without a full preview screener, we can't judge how appropriate the content will be for all ages, but we're expecting some heated talk and romantic moments, as well as the full range of social behavior -- both positive and negative. On the plus side, Utopia may spark some interesting conversations about society, politics, religion and other weighty topics.
Red Band Society, Fox, 9/17, age 13+
Teen fans of The Fault in Our Stars will find something to love in this kids-with-cancer (and other dire illnesses) drama. Narrated by Charlie, a kid in a coma, Red Band Society covers some familiar teen territory -- romance, testing limits, experimenting with substances -- but against the backdrop of unsure futures, which makes it all easier to forgive. The moments of hope, connection and living life to the fullest will appeal to both teens and parents, and Octavia Spencer as the snarky but sweet nurse lends some serious cred to the show.
Scorpion, CBS, 9/22, age 13+
A band of genius misfits works together to avert disaster -- just in the nick of time! This story might not be entirely original, but the cast, including Katharine McPhee (Smash) and Elyes Gabel (the former Dothraki warrior from Game of Thrones) adds a quirky charm, and the tension of each week's catastrophe makes watching a thrill. Families who get into taut procedurals and technology might enjoy watching together. However, certain episodes could touch on serious issues such as kidnapping or war, so read the episode description before watching with kids.
Black-ish, ABC, 9/24, age 12+
Anthony Anderson is hilarious as successful family man Dre Johnson. He appreciates his high-powered job, his smart, sexy physician wife (Tracee Ellis Ross), and his four adorable kids, but he feels something's missing. That something is a strong racial identity. With his teen son playing field hockey instead of hoops and going by "Andy" instead of "Andre," he's looking for a way to reconnect his family to his culture. The lighthearted take on race in America is handled delicately, but it's still a sensitive subject that not everyone will feel comfortable laughing about. For parents and teens who do, this comedy can bring lots of joy.
Superhero fans who like their stories dark and broody will love this modern take on the DC comic hero. Barry Allen's only 11 when his mother is murdered by a mysterious force and his father is wrongly accused of the crime. Raised by a family friend, Barry (Grant Gustin) grows up to be a charmingly nerdy scientist with a crush on his closest friend, Iris (Candice Patton). But when an industrial accident sends a powerful electrical current across the city, Barry finds himself transformed into a "meta-human" with super speed and incredible healing powers. But he's not the only one changed. He uses his newfound talents to take on super-powered bad guys while keeping his new identity a secret. Teens and parents who can deal with lots of action, a bit of romance and some fantasy violence will find fun here.
You might also consider: Arrow
Cristela, ABC, 10/10, age 12+
Sometimes, a traditional sitcom -- laugh track and all -- can be a comforting way to spend a half hour with the family. Cristela isn't original by any means, but the star of the show -- Cristela Alonzo -- is one of the most charming newcomers on television. Her smile and wit outshine the drab sitcom setting, and her comic delivery make even the stereotypical humor glow. We hope Cristela's charm will win enough viewers to upgrade the writing and the set, but if not, we look forward to seeing Cristela on a better show in the future.
You might also consider: The Middle

How We Got to Now, PBS, 10/15, age 10+
Fans of science shows such as Cosmos or Nova will find science writer Steven Johnson's informative dive into the past fascinating. You'll take in-depth tours of the history and science behind such modern marvels as the sewers that keep our streets free of poop and the clocks that keep the trains running on time. How We Got to Now is perfect family fare for curious kids and parents to watch together (just don't expect too many explosions). It might even encourage kids to explore and experiment after the show is over.
You might also consider: Cosmos
About Common Sense Media
Common Sense Media is dedicated to improving the lives of kids and families by providing the trustworthy information, education, and independent voice they need to thrive in a world of media and technology. We exist because our kids are growing up in a culture that profoundly impacts their physical, social, and emotional well-being. We provide families with the advice and media reviews they need in order to make the best choices for their children. Through our education programs and policy efforts, Common Sense Media empowers parents, educators, and young people to become knowledgeable and responsible digital citizens. For more information, go to:www.commonsense.org.