New York City is the home of some of the best pizza in the world -- from the time the first pizzeria opened in 1905 to over 100 years later, if New Yorkers are proud of one thing, it's that we know pizza. While places like Grimaldi's Pizzeria and Di Fara might be known around the world for their spectacular pizza, for those of us living in the city our love of the local pizza slice runs far deeper than those pizza institutions. From 10 a.m. to 4 a.m. and all times in between, the pizza slice along with the bagel is the food that helps the city run. After some extremely painstaking research of pizza eating, below are seven pizza slices that you haven't heard of and need to visit!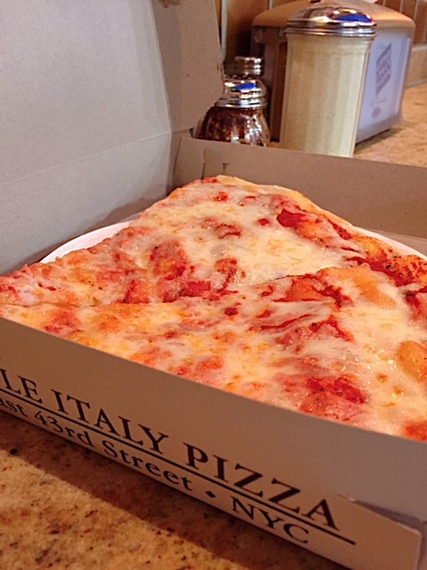 Delizia - (92nd Street and 2nd Avenue, Manhattan)
Open until 1 a.m. this is the spot to go to on the Upper East Side for a slice of pizza. Known mostly only to locals due to its location all the way on 2nd Avenue, Delizia serves up fantastic pizza cooked in the traditional thin New York style. Specializing in the traditional cheese slice, they also feature a wide range of toppings along with the thicker crusted grandma pizza. If you aren't in the mood for just pizza, Delizia serves up a whole menu of Italian entrees.
Mariella's - (180 3rd Avenue, Manhattan)
Another pizza spot that has been open and serving delicious pies for over 30-plus years. Located a few blocks from Union Square, this place might be hidden from tourists on 3rd Avenue but is constantly packed with locals looking to get a quick bite to eat. Serving up delicious pizza in enormous portions is what Mariella's is known for.
Don Pepe's Pizza - (Penn Station)
This pizza place is probably in the most unlikely of locations of any of the spots on the list. Pepe's might be located deep in the hall ways of Penn Station but can still cool up a pizza with the best around. A location that all New Jersey, Long Island, and Amtrak commuters know very well, it is the spot for those running to catch a train home or a meeting place for those just arriving. Not only does it serve up monster slices but they also have extremely reasonably priced beers which are the perfect complement.
Best Pizza - (33 Havemeyer Street, Brooklyn)
The only pizza that isn't located on the island of Manhattan, this Brooklyn spot serves up some of the best coal oven pizza that money can buy. With a small menu that focuses primarily on pizza with simple traditional toppings, this is a must-go for anyone looking for a great slice in the Williamsburg area. Open until 12 a.m. daily except for Saturdays where it's open until 1 a.m. When making the trip, be sure to not overlook the grandma slice which is a fan favorite here.
Nino's Pizza - (131 Saint Marks Place, Manhattan)
This pizza place is located almost directly in the heart of the East Village and is surrounded on all sides by some of the best dive bars and food that New York has to offer. Yet for many East Villagers, when looking for a quick late-night snack, they go no further than Nino's which is considered cavernous in size and easy to find compared to many of the other locations on the list. A great place for a quick slice either before or after a long night of drinking, Nino's does not disappoint.
Joe's Pizza - (7 Carmine Street, Manhattan)
Probably the most well known of any place on this list, Joe's Pizza has been a Greenwich Village establishment since it opened in 1975. Set up in a storefront the size of a small studio apartment, what Joe's lacks in retail square footage it more than makes up for with its out-of-this-world pizza. With only a few toppings options to choose from, it really is difficult to make a wrong choice here. While Joe's has opened a second restaurant on 14th street, the Carmine Street location is the original and a personal favorite. The go-to pizza spot for all those going out in Greenwich Village as well as NYU students due mostly to its huge portions and being open until 4:30 a.m. daily.
Little Italy - (55 West 45th Street, Manhattan)
Located half a block from Grand Central Station, this pizza place has been around since 1965 serving up delicious pizza to the Midtown business crowd. With an unassuming storefront from the outside, what really stands out is if you walk by during the lunch rush, when you will find a line that normally snakes out the door. Featuring both the traditional toppings and unique offerings like sweet and spicy calamari, this place has something for everyone. Open until 8:30 on weekdays and 7:30 on weekends, this place caters mostly to the workday crowd but that does not diminish how fantastic the pizza is here.
Whether for lunch, dinner, or grabbing a late-night snack after a night of drinking in the city that never sleeps, pizza is really the fuel that keeps us going. Have a favorite local spot that you like to get a slice, let us know in the comments!
REAL LIFE. REAL NEWS. REAL VOICES.
Help us tell more of the stories that matter from voices that too often remain unheard.