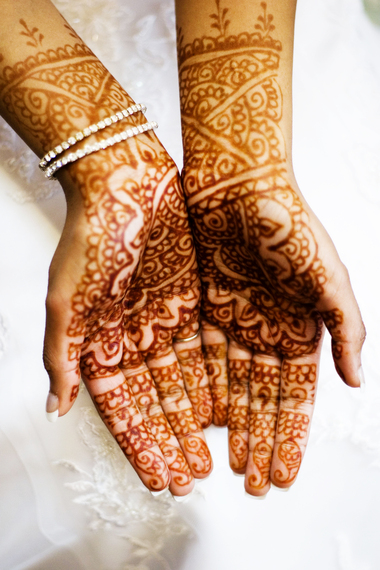 A Hindu bride and Jewish groom I worked with wanted to honor the concept of 'seven blessings' that are central to traditional wedding ceremonies in both faiths.
In the Hindu tradition, the couples partakes in the ancient rite of Saptapadi, whereby they take seven steps around a ceremonial fire and agree to seven vows that will make their union strong. This ritual is said to seal the marriage forever.
Symbolic of both traditions, we concluded their interfaith ceremony with seven vows and blessings. In part they were adapted from the traditional Hindu ceremony and then we added additional heartfelt values.
The couple wanted to give loved ones a chance to offer blessings--a sweet part of both traditions--so parents and siblings spoke a blessing in affirmation of each of the seven vows.
Officiant reads and couple repeats first vow:
We promise to share the duties and welfare of the family. Together we will protect and provide for our family.
Family Member # 1: May this couple be blessed with an abundance of resources and comforts, and be helpful to one another in all ways.
Couple repeats second vow: We will respect each other.
Family Member # 2: May this couple be strong and complement one another.
Couple repeats third vow: We will take care of each other's well-being, both spiritual and material.
Family Member # 3: May this couple be blessed with prosperity and riches on all levels.
Couple repeats fourth vow: We will share each other's joys and sorrows with courage and strength.
Family Member # 4: May this couple be eternally happy.
Couple repeats fifth vow: We take an oath of trust and loyalty to each other.
Family Member # 5: May this couple be blessed with a happy family life.
Couple repeats sixth vow: We will fill each other's lives with the fragrance for human values: Love, compassion, sacrifice and service.
Family Member # 6: May this couple live in perfect harmony... true to their personal values and their joint promises.
Couple repeats seventh vow:
With these vows,
we are related as husband and wife.
Our bond is eternal.
Let our love and friendship become eternal.
Family Member # 7: May this couple always be the best of friends.
This couple opted to avoid chants in a different language and focus on clear, meaningful sentiments to formulate the foundation of their new life together.
The sentiments are somewhat universal so they can be used in any kind of ceremony if you like this approach.