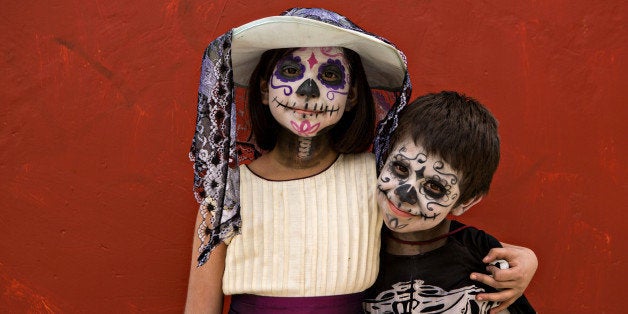 By Cristina Arreola for Latina.
October is here, and Halloween season is upon us. Soon enough, we will begin to celebrate another autumnal holiday: Dia De Los Muertos. In preparation for the Day of the Dead, pick up one of these books or movies to help explain the beauty and symbolism of the holiday to your children:
Directed by Mexican Jorge R. Gutierrez and produced by Guillermo Del Toro, The Book of Life gorgeously illustrates a coming-of-age tale using Day of the Dead imagery and symbolism. The film tells the tale of Manolo (Diego Luna) as he travels to the Land of Remembered to find his true love, María (Zoe Saldana).
The Book of Life, $12.99, Amazon
2. Rosita y Conchita: A Rhyming Storybook in English & Spanish

Written by Erich Haeger and beautifully illustrated by Eric Gonzalez, Rosita y Conchita tells the story of two sisters -- one dead and one alive -- who attempt to see each on Dia de los Muertos.
Rosita Y Conchita, $14.99, Amazon
3. Festival Of Bones/El Festival de las Calaveras

Written and illustrated by Luis San Vicente is an enchanting homage to Dia de los Muertos about a group of skeletons who emerge on the spirited holiday ready to dance and sing and party! The book also includes recipes and activities for your own special Day of the Dead celebration.
The Festival of Bones, $7.95, Amazon
4. I Remember Abuelito: A Day Of The Dead Story

I Remember Abuelito by Janice Levy and Loretta Lopez is the bilingual tale of a young girl preparing to honor her deceased loved ones, including her grandfather, on Dia De Los Muertos.
I Remember Abuelito, $6.99, Amazon
5. Pablo Remembers: The Fiesta Of The Day Of The Dead

Pablo Remembers by George Ancona is a photo journey that follows Pablo and his family as they honor the memory of Pablo's grandmother on the Day Of The Dead.
Pablo Remembers, $2.65, Amazon
6. Felipa and The Day Of The Dead

When Felipa's grandmother dies, the little girl embarks on a journey to find her soul.
Felipa and the Day of the Dead, $1.95, Amazon
Dead Family Diaz follows a little skeleton boy named Angelito who's scared to visit the Land of Living. When he befriends a living boy, he learns about the magic and purpose of the holiday.
The Dead Family Diaz, $14.79, Amazon
REAL LIFE. REAL NEWS. REAL VOICES.
Help us tell more of the stories that matter from voices that too often remain unheard.