"I don't want you seeing my movie!" Texan film director Bob Byington sternly waved a finger at me in the lobby of our hotel in Lisbon, staring down at me through his green glasses. "I am serious. Don't see it! Don't you dare come to the screening! I absolutely don't want you to be there!"
"You say you don't like dogs! My main character is a dog! You will feel nothing for my film!"
"I said I don't like creatures which jump on top of you, salivate, sniff at your pants and paw," I corrected him. "A dog on screen is a different matter."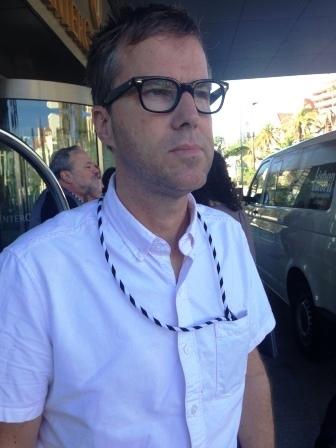 Besides, the main character in 7 Chinese Brothers (which I did see) is not "Arrow" the dog (played by actor Jason Schwartzman's French bulldog Arrow in a debut performance), but "Larry", a goofy alcoholic loner, played by Jason Schwartzman. Larry spends his days driving about town in an old wreck of a Lincoln Towncar, making wisecracks to strangers, walking despondently with his no-nonsense tough-loving grandmother in her assisted living, sipping tequila secretly from plastic cups, and sharing confidences with the aforementioned dog. When we first meet Larry, he is just getting fired from a job at a Buca di Beppo restaurant, for guzzling alcohol on the sly.
The film is fresh and quirky, with a constant beat of idiosyncratic humorous punchlines, rather like the director himself. Larry steps into an auto-lube shop to apply for a new job as a cleaner and, to impress his winsome would-be boss, crawls awkwardly over the counter, pretending to be "a fat boy getting out of a pool." He drives his beat-up car around the neighborhood: a quick shot to his rear-view mirror reveals it dangling perpendicular. My favorite quip: his grandmother reprimands him sharply: "How would you like it if you were old and everyone is constantly just wanting your money?" Larry's response: "I would like that very much." Why? "It would mean I have money."
The strength of the film lies in its depiction of despondency through this lens of humor, at a fast-paced beat. A plus is its seeming lack of direction, mimicking the protagonist's life. Joining Larry in the story are two kindhearted friends: his new pretty boss at the auto-lube shop, and Norwood, a tall straight-faced orderly with a big afro who stoically seduces women from time to time, pretending to be a doctor. The three-some make an oddball proletariat ensemble. The dog also, I admit, does do a good job in the supporting role. He sleeps.
One laughs out loud. It is easy to see why Antonio Costa, the co-director of the Lisbon Estoril Film Festival, chose this film to screen in Lisbon, after seeing it at the South by Southwest Film Festival in Austin. 7 Chinese Brothers is a sparky piece of Americana, a comedy that seems to come from the heart, about finding everyday life tough. Throughout, the music score is upbeat, with an original score by Chris Baio and several 70s rock tunes, including the title song by REM.
Commenting on his film after the screening, to an enthusiastic full house here in Lisbon, the director noted -- in keeping with his modest bent -- that he "wished the movie moved a little quicker" and hoped the audience had not been bored. And yet perhaps the desultory feel of the story was deliberate, he added. It is the "torpor of Austin" seeping in. As for the movie's cheerful ending -- very sweet and hopeful -- the director stated that this twist was deliberate. The darkness is tempered by light.
Indeed, if one criticism of this light comedy can be made, it is that it remains a light comedy. It neither delves into the reasons that some people drink themselves into a future-less life, nor probes the way they come out of this "torpor" (although solidarity seems to be key). Yet the film is a riveting experience: immediate, honest and entertaining. It feels like a real person talking to you about his troubles, with the distance of empathetic humor.
REAL LIFE. REAL NEWS. REAL VOICES.
Help us tell more of the stories that matter from voices that too often remain unheard.