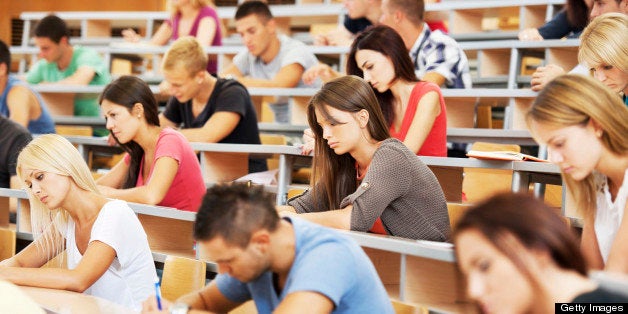 Between filling out the Common App, mustering up the courage to ask your English teacher to write you a recommendation letter, and seemingly constant nagging from your parents, applying to colleges can be overwhelming and stressful. But you already know that. What you might not know, however, is that you could be missing out on applying to a college program that could be perfect for you—just because you didn't know it existed!
Finding a unique program that suits your interests and needs can make the application and decision process much clearer, so we're spotlighting these seven cool programs to give you a taste of what may have gone under your radar.
The Cornell School of Hotel Administration
Calling all jet-setters and future business people—according to its website, the Cornell School of Hotel Administration "was the first collegiate program in hospitality management" and is now "regarded as the world leader in its field." It is a four-year program that covers all topics relevant to the hospitality industry, which includes not just hotels, but also "restaurants, casinos, cruise lines, finance, real estate, spas, theme parks, travel and tourism." With a degree in hospitality management, you have a ton of career options, such as being the manager of a restaurant, the CEO of a travel agency, or an accountant for a cruise ship line, just to name a few.
Aside from being taught in the classroom, you also get the opportunity to learn and work in the on-campus hotel and other hotels around the world—it's a five-star experience.
What majors and classes does it offer?
The school itself is the major, but there are also optional concentrations that you can elect, such as Finance, Accounting, and Real Estate.
The program involves 22 core classes based in a variety of topics, such as facilities management, finance and accounting, food and beverage management, law, communication, marketing, and strategy. You also must take several electives, which allows you to tailor your curriculum to your personal interests. Curious about wine and food pairing principles? There's a class for that!
"Classes in the Hotel School mimic business school classes but they all have a hospitality flair," says Ben Chung, a sophomore in the school. "For instance, we take a development course, but it's Hospitality Development so we learn how hotels, casinos, resorts, and like are developed."
Why should I consider it?
"The best part of being in the Hotel School is by far the community," Ben says. "Each grade consists of roughly 200 people, which is smaller than most high schools." In fact, students jokingly called the Hotel School building "Statler High" instead of Statler Hall because of the small feel. "The community is tight knit, which is hard to come across in a school as big as Cornell."
So if you're intrigued by hospitality management and are looking for a united community, put this program on your application to-do list! You may even become the next Donald Trump (but with better hair).
The University of Massachusetts Amherst Stockbridge School of Agriculture
If you're interested in the environment, farming, sustainability, and are looking to make a big school feel smaller, the Stockbridge School of Agriculture at UMass Amherst could be for you. They offer a two-year program and a four-year program.
What majors and classes does it offer?
The two- and four-year programs both offer a variety of majors, such as forest management, sustainable food and farming, landscape contracting, and plant soil sciences.
The core curriculum consists of a variety of biological sciences, ecology, math, chemistry, and lab-based courses. You also get the opportunity to get real-world experience with internships and independent study research projects.
Why should I consider it?
The green industry is expanding rapidly and the careers within it are becoming increasingly popular. Stockbridge has 100% job placement for its students. With an on campus farm and greenhouse, you'll get the knowledge and experience you need to go green.
The Brown University Program in Liberal Medical Education
Thinking about going pre-med? With the Program in Liberal Medical Education (PLME) at Brown, you automatically get to go to the Warren Alpert Medical School of Brown University once you have completed the undergrad part of the program. That means no MCATs and less stress. But, it also means that if you are planning on applying to a variety of med schools, then PLME is not for you because it feeds straight into Brown's med school.
It is an eight-year program that involves four years of undergrad education and four years of professional studies. It's a highly selective program—only about 50 incoming freshmen each year are chosen—and you can't transfer in from any other Brown degree program or college.
What majors and classes does it offer?
Because it's a pre-med program, not a major, with PLME you actually major in something else in the first four undergrad years while also fulfilling the pre-med requirements. Since Brown has an open curriculum concept that gives you a lot of freedom in picking classes, you have the opportunity to major in the concentration of your choice and take a wide variety of courses.
As explained on their website, "during the Medical School years, students may pursue, in parallel with the MD degree, an advanced degree in their area of interest (e.g., MPH, MD/PhD) or other professional development such as a Scholarly Concentration." A Scholarly Concentration allows you to "pursue a course of study beyond the conventional medical education curriculum," such as Advocacy and Activism, Disaster Medicine and Response, and Medical Technology and Innovation.
Why should I consider it?
"At Brown, creative students need not sacrifice the benefits of a rich liberal arts education in order to gain admission to medical school," the website attests. If you think medical school is in your future, it's worth a try applying to PLME. Because it's so difficult to get into med school, having a guaranteed spot at one your freshman year is a huge perk. Added bonus: the possibility of running into Emma Watson on campus.
The Syracuse University S.I Newhouse School of Public Communication
Ever considered going into journalism, advertising, or PR? Or imagine yourself on TV? The Newhouse School of Public Communications is one of the top communications schools in the country. It offers a wide array of disciplines so you can get a taste of everything in the industry while focusing in on what you love. The program strives to teach its students "to become leaders in a rapidly changing media landscape."
Calling all HuffPost superfans!
Sign up for membership to become a founding member and help shape HuffPost's next chapter
BEFORE YOU GO
PHOTO GALLERY
Feminist Colleges