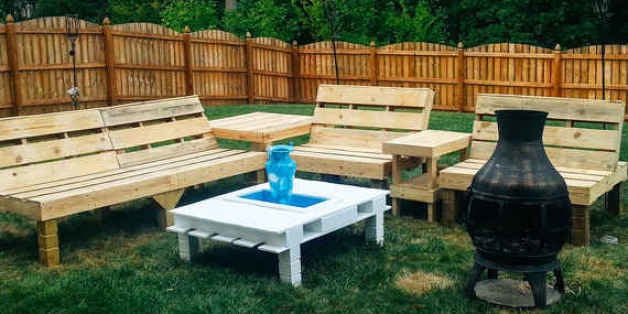 It may be tough to see the value in a junkyard full of old wooden shipping pallets, but it turns out they're basically furniture factories in disguise. So, next time you see a seemingly useless stack piled up, save yourself some money and consider upcycling them by trying out one of these surprisingly simple projects.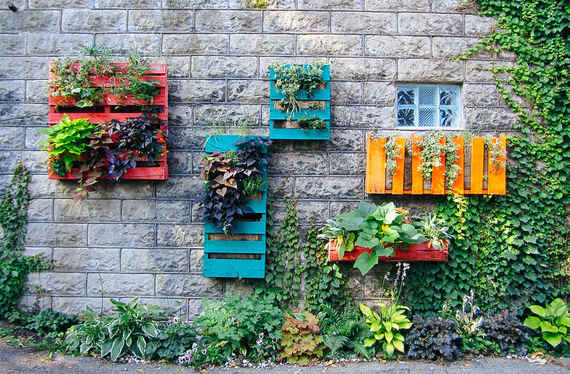 Credit: Growlandia.com
1. A vertical garden
What you'll need: 1-2 pallets, paint, landscape fabric, potting soil, plants
How much? $40
How it's done: Cut your pallet into smaller, more manageable pieces, and, if you feel like getting flashy, paint them each a different color that'll pop on the wall you plan to hang them. Next, cover the back of each with two to three layers of landscape fabric and staple into place along the rear edges. Finally, fill them with potting soil and plants, and mount to the wall.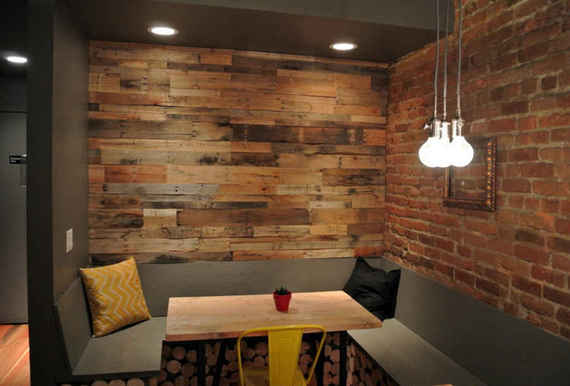 Credit: EdenOaksWoodware.com
2. A wood-panelled wall
What you'll need: .5 pallets per square foot, wood stain
How much? Under $10
How it's done: Once you've stripped as many pallet planks as you'll need to cover your wall, begin nailing them up, consciously staggering their position to create the effect of a haphazard pattern. Once you're happy with how it looks, give the full wall a thorough sanding and stain it.
3. A bed frame
What you'll need: 4-8 pallets, nails
How much? Under $10
How it's done: Essentially all you need to do is stack two to three pallets in an area big enough to fit your mattress. If you feel like getting fancy you can go for a more elaborate setup by stringing lights through the underside to add some dramatic effect, coating it in paint to ditch the hardcore rustic look, or even suspending it from the ceiling with chains.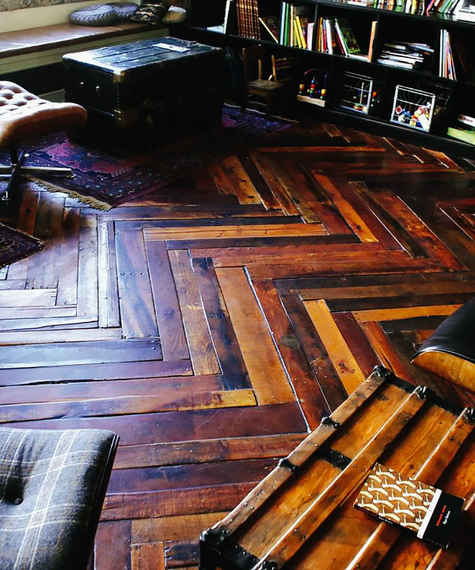 Credit: SpotLats.com
4. A herringbone wood floor
What you'll need: .5 pallets per square foot, flooring underlayment, flooring nails, wood stain
How much? Less than $.50 per square foot
How it's done: Once you've deconstructed your bounty of pallets and stripped them of any stray nails, locate your floor's joists and mark them. Then, lay out a broad sheet of underlayment and arrange the boards atop it in pattern similar to the one pictured above. Once you've secured the whole thing with your flooring nails, let it settle and finish the job with a dark wood stain.
5. A funky chandelier
What you'll need: 1 pallet, 12 sockets and bulbs
How much? $72
How it's done: FYI, this one requires some basic wiring skills. Once you've dissembled the pallet's planks, sand them down to remove any blemishes or rough spots. Then, fasten the single planks to one another with screws or nails in an abstract and sculptural style, wire the ends of each plank with a bulb, and hang from the ceiling.
6. A staircase
What you'll need: 2 pallets per two feet in height, mending plates, existing supports
How much? $5 per two steps
How it's done: Once you've determined how many pallets you'll need to create a comfortably pitched set of steps, begin attaching them to one another using a mending plate on either side. In order to ensure they're as sturdy as possible as you move up the stairs, you'll need to position a series of supports beneath at a variety of heights along the way, i.e., a set of filing cabinets, sturdy bookcases, cinder blocks, etc.
7. A rustic modern coffee table
What you'll need: 2 pallets, 4 hairpin legs, wood stain
How much? $50
How it's done: Strip one pallet completely of its planks, and use them to fill the spaces in between the planks on the other to create a solid flat surface on either side. Sand the whole thing down, stain it the shade of your choice, and fasten the hairpin legs.
More from Supercompressor: