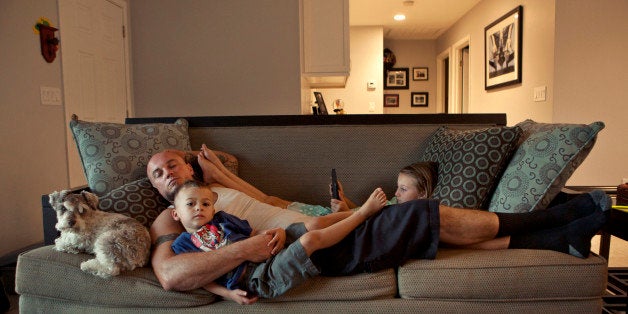 I rely on screentime to make an income. I'm a (trying to) work at home mom -- if I don't throw some Netflix into my son's day my bank account would be crying. (Work calls coupled with the background of a small child yelling that they have poop on their hand don't go well.)
Because I'm not immune to the mom-guilt everyone keeps telling me is pointless, I made up "learning games" to go with the shows my son watches, to slough away a bit of the guilt. And some of them are so fun I shirk work to watch a show with him.
Most of my screentime remorse came from the zombie-fying effect of a television. My lively tot used to turn into a hunched-over glassy-eyed statue whenever a screen was glowing. He now becomes animated, gathering his toys and art supplies as he preps for a show or movie.
And I grab my camera phone (can I call my iPhone a camera phone?) to take delicious videos of my son mimicking Big Bird.
1. Find The Animals. Have your kiddo holler out each time they spot an animal. If they're writing, have them scribble down the name of each animal they see, or draw it, if they're still learning their Ps and Qs. You can switch it up by having them look out for different colors, shapes, items in nature, household goods, etc.
2. Pause, and Repeat the Song. Musical memory folks. If your child is too young to pause a show on their own, do this with them. After a song is sung on the show, pause it and try your best to repeat it. You may need to watch and repeat a few times before it's nailed. (You can also do this with sweet dance moves shown on the program.)
3. Copy the Actions of the Characters. Exercise yo! Those little animated peeps can really move. Safely, have your child recreate the actions of the characters until they're too tuckered out to continue. I always participate in this one (in the name of coaxing my old abs out) and rarely make it more than five minutes- especially when we're watching Super Why, flying around takes a lot of energy. If you want to take this activity to the next level, dress up like the characters.
4. Cook that Food. Instruct your little to keep an eye out for the food that appears in the show and to choose their favorite. You can then make the meal together later that day, having your child tell you as many of the ingredients as they can. (Expert Tip: I make sure to only choose shows with characters that primarily eat PB&Js and Mac n' cheese.)
5. Recreate the Scene With Toys. Bring out a box of toys and have your child recreate the scenes of the show with their 3D creatures. My son often gets so absorbed in his toys he forgets about the show.
6. Pause, and Solve the Characters Problem. Most kid shows are perfectly set up to teach good morals and manners (with the exception of Oscar's Oasis.) Pause the show after a problem is presented and ask your child how the characters should solve the issue. This one opens up some pretty interesting (hilarious) conversations- and awakens their inner Baby Buddha wisdom.
7. Draw Your Favorite Scene. Get a glimpse into your child's mind by having them draw their favorite scene from the show, and explain the drawing to you. It's fascinating to see and hear how they interpreted the show (it's rarely what you would expect.)
If you really want to make life interesting, try these games with your adult shows, coupled with a bottle of wine.