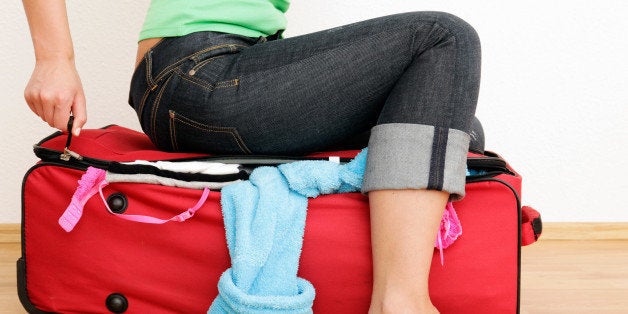 Compared to some globetrotters, I'm not a well-traveled person, but I'd like to think that studying abroad during college gave me a little perspective into what items are absolutely necessary to buy before traveling.
So here's the deal: now I'm going to share them with you!
Read on and find out which products you should stock up on so you're not regretting a second of your adventures abroad.
This one seems like a no-brainer, but there are still a few helpful tips I can share with you about this crucial travel item.
First and most importantly, start the process to get your first passport (or renew an old passport) as soon as possible!
It can take many weeks or even months for the paperwork to be processed and then a new passport to be issued and shipped back to you, so sooner is much better than later. Nobody enjoys paying hefty fees to expedite both the paperwork and the shipping (why yes, I am speaking from experience here), especially on a student budget.
Here is one more hint: if you have a Costco membership, Costco appears to have the lowest prices anywhere for having passport photos taken. At $4.99 for two copies of an official passport photo, this is a steal.
If you don't own a Costco membership, never fear! Most popular drugstores, such as Walgreens and CVS, also offer passport photo services at around $11-$12.
Whether these are Toms or flip flops, sneakers or sandals, it doesn't matter. All I know is that you're going to want a decent pair of shoes to travel the country you're going to find yourself in.
And if you're under the impression that you won't be doing much walking, let me correct that misconception right here. Regardless of if you're going to be mainly traveling by car/bus/ whatever, there is always, ALWAYS going to be some walking involved in traveling abroad.
When I studied abroad one summer during my college career, I made the mistake of bringing and then wearing a new pair of flip flops to walk around in over some long days of exploring. Needless to say, breaking those in during the trip was painful (can you say blisters, anyone?) and foolish.
The lesson I'm trying to tell you here is this: choose wisely and break in any pair of shoes you plan to bring in advance.
Like a sturdy pair of walking shoes, I've found that this one is a travel necessity.  After all, it's the best and easiest way to carry everything from your everyday essentials (for example, your wallet, phone, class books, and water bottle) AND all the gifts/souvenirs you'll inevitably buy throughout the day.
And this goes for both males and females! It seems to be an assumption that women will carry purses or some type of bag with them wherever they go, and all I'll say about that is that it's an extremely useful habit that should be continued when you travel abroad.
So, although guys don't have to start carrying around a "murse" (that is, a man purse), simply arming yourself with a plain ol' backpack, messenger bag, or even a cheap fabric tote bag is undeniably practical.
As much as this makes me sound like a smothering, over-protective mother, a simple first-aid kit can go a long way when you're traveling abroad.
For instance, Band-aids are an absolute must-have for those planning vigorous walking explorations or just for the little accidents that happen when you're out and about. Feel free to have fun with these, too! After all, who says Spongebob Band-Aids are just for kids?
Plus, stocking that first-aid kit with vitamin C supplements (such as Airborne) is also a good idea, since you'll be encountering tons of new people, new places, and yes, new germs.
If you have a preferred brand of painkiller, such as Advil or Tylenol, throw some of that in too. Some countries won't carry U.S. brands of painkillers, although they might have equivalents, but your mother was right when she said that it's better to be safe than sorry.
Okay, this one might seem strange, but hear me out, alright?
For some weird reason, some countries don't tend to sell much of this necessity. For instance, I studied abroad in South Korea, and deodorant (especially for men) wasn't a very popular item.
So, just in case you're going to an area that has a similar discrimination towards deodorant, I'd pack your own.
This seems like an oddly specific item, I know, but it's much more handy than you'd think.
First of all, luggage scales are more convenient to use than laying your bag on a regular scale.
Since a bag is usually too big to allow you to see the read-out screen at the same time you're weighing it, luggage scales are small and handheld. They work by attaching to the top of a bag and weigh it when you lift the entire contraption up.
So consider buying yourself one of these goodies! After all, airlines charge an arm and a leg when you go over baggage weight limits, so with this item you can make sure you never will.
It's never too early to start taking care of your skin, especially if you're going to be out and about and adventuring in the sun abroad.
Even if it's going to be winter where you're going, UV rays can still get you on overcast days (plus you can mix the sunscreen with moisturizer to prevent winter dryness too), so it's best to stock up on sunscreen for any occasion.
Calling all HuffPost superfans!
Sign up for membership to become a founding member and help shape HuffPost's next chapter