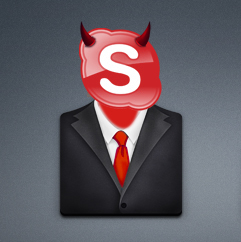 Skype has transformed a lot more than just the telephone industry. Its ease of use and ubiquity is opening up new opportunities in health, education and business. Telehealth, largely fueled by Skype, has allowed doctors to communicate with rural and remote patients. In education, initiatives to link teachers with students have redefined classroom learning. In business, Skype has not only significantly reduced the cost of doing business, but also has changed the way companies hire new employees. With the economy in the Western hemisphere still in the doldrums, job candidates are casting wider nets and companies are reducing travel costs. The Skype video interview is now firmly part of the job application process. Skype usage has nearly doubled in the last two years, to over 700 million minutes used every single day. Of those minutes, 300 million are video calls. The biggest indicator of Skype ubiquity? Skyping has become a verb, joining the ranks of googling, xeroxing and photoshopping. (Our marketing team is still working on transforming our beloved company "EF" into a verb.)
Skype has enabled video calls to dominate the interview process. A market research firm, the Aberdeen Group, found that 42 percent of companies used video interviews to recruit last year, compared to 10 percent of companies in 2010. At EF Education First, we use Skype for 90 percent of first round prospective employee interviews.
Certainly, the Skype interview doesn't replace face-to-face interviews, but it allows people to get a much better feel for their potential colleagues early on in the process. I've held a dozen Skype interviews in the last month alone. Job seekers in the coming spring should avoid these seven deadly Skype interview sins if they want to succeed in 2012.

1) Wrath of Skype -- Avoid the "Can you hear me now?" plague
Skype is rife with technical landmines, and we've all had those annoying "Can you hear me now?" moments. While most employers are forgiving, they are also pressed for time. Do a technical check before you interview.
Start with your Internet connection. If your connection is flaky, find somewhere more stable. Dropped calls are understandable, but they distract from the interview and reflect poorly on your ability to plan ahead. Don't rely on the built in microphone unless you want to sound like you're in a bat cave. Get a dedicated microphone and test it out. Finally, have your resume or link to your portfolio ready, just in case your interviewer needs to view it over Skype.
2) Lust: Howdy, spicygrl88

The cardinal rule of any interview: dress to impress. On a computer, your employer's first impression of you is your Skype username and profile picture. If you have a cute name, versus a professional one, think about how that reflects on you (Confession: I recently changed mine from demingaling to m.i.n.g). Your profile picture is equally, if not more, important. If your employer decides to do voice instead of video, your profile image will be front and center for the duration of the interview. Common sense guys, get rid of the nose ring.
3) Acedia: Don't mess up your prime time moment
(For those of you who are not up on your deadly sins, acedia is a little known sin of neglecting to take care of something that one should do.)
Treat your Skype interview like you are preparing for your television debut, where you are the director, producer and the star. You are responsible for making sure that logistically, everything is right.
Consider your background and the lighting. Make sure your room is clean and uncluttered. One candidate I interviewed wore sweatpants and an XXL t-shirt. Yes, it was 11 p.m. her time, but in an interview, I don't want to be imagining her getting out of bed, but rather getting into the office. It doesn't matter what the local time is -- you should always be dressed for 9 a.m. Monday.
4) Sloth: Read past the wiki
Everyone says to "do your research on the company." Too often, this means candidates have only read the company's Wikipedia entry. Trust me, companies all monitor, and often help write, their own Wikipedia entries.Spend some time on the company website or talk to people who work there. Take note not only on the company's products and background, but culture and values.
5) Vainglory: I'm not your biographer
It's your responsibility to keep your interview engaged with relevant and interesting answers to her questions. Especially in a Skype interview, where your interviewer is still on their work computer and email notifications are appearing inches above your video feed.
Assess the mood and energy level of your interviewer and adjust. Coming off a red eye flight from London, the last thing I want to do is interview someone over Skype who is motionless and monotone. Interviewers are your audience, not your biographer. It is your responsibility to engage them.
6) Greed: Ask not what the company can do for you, but what you can do for the company
During an interview, employers are trying to answer the question, "Is this person right for this company?" That means you shouldn't be asking "What's in it for me?"
In one interview, one girl kept asking about "Who will support me?" I explained that while we might not have formal mentorships, we value entrepreneurial spirit and resourcefulness in seeking out mentors within the company. As she persisted in asking about her own benefits, it made me less focused on what she could actually contribute to our company and more focused on what we would have to contribute to her.
I think it's totally fine to ask those kinds of questions, but it shouldn't be the focus of your first interview and certainly not on Skype, where it's harder to read people.
7) Hubris: Authentic follow-ups
Above all, don't follow up on Skype chat. It's intrusive and a bit freaky. Since Skype doesn't have strong privacy functions, like Facebook lists or Google+ circles, it's more difficult to filter work and personal contacts. In any event, genuine follow-ups are always more impressive than over Skype chat. Stick to an old school thank-you email. (And please, if I just interviewed you, don't add me on Facebook... )
Related
Popular in the Community