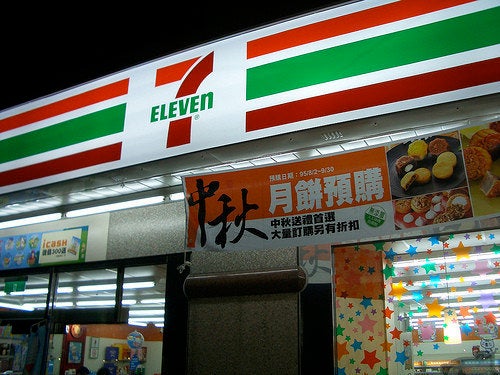 Somewhere in the world, every two hours, a new 7-Eleven opens.
That's right; the favorite retailer of highway road stops, street corners and late-night Big Gulp sodas is quietly taking over the world. In 2011, 4,600 7-Eleven stores opened, bringing the retail brand to more than 46,000 locations across the globe. That's the most units of any company in the world, 7-Eleven Inc. claims.
In today's busy world, convenience has become a universal value. While other retailers struggle to export their store concept away from home, 7-Eleven has expanded into 16 countries. The company started out in Dallas in 1927 selling blocks of ice but now is based in Japan, where its parent company Seven & I Holdings Co. is headquartered.
Today 7-Eleven is aiming to grow mostly in South Korea, Thailand, the United States and Canada. A total of 3,132 stores opened in those countries last year, according to Seven & I Holdings Co.'s annual report. In the United States, the chain is targeting urban markets like New York City and Charlotte, N.C., hoping to mimic expansion strategies that served it well in Taipei and Tokyo.
All this has led to a "big gulp" of profit. Parent company Seven & I Holdings took in roughly $62.4 billion in sales in 2011, compared with $57.4 billion in 2010 and $33.6 billion in 2006.
But convenience doesn't mean the same thing everywhere. In Hong Kong, shoppers snack on fresh pasta at the 7 Café and pay their phone bills at the store, nicknamed Chat Jai or Little 7.
In Taiwan, locals use the store to pay traffic tickets and utility bills, pump up bicycle tires and send and receive packages.
Everywhere, the hungry and lazy can score snacks into the wee hours.
"Our format is easily adaptable," said Dan Porter, vice president of real estate for 7-Eleven Inc., the North American branch of the company. "We can open stores with gas [stations] or without gas, urban walkup stores, stores in strip centers. The flexibility gives us a competitive edge."
Almost all 7-Elevens in the United States and abroad are operated by franchisees, who are encouraged to tailor their stores to local tastes. "Other convenience stores are cookie-cutter," said Marty Siegel, 52, a 7-Eleven enthusiast from Flemington, N.J., who has visited thousands of the convenience stores around the country. "7-Eleven makes the look [of the store] interesting."
Siegel, a conductor for New Jersey Transit, tries to visit a new 7-Eleven every time he goes on vacation. "In Manhattan, the 7-Elevens have organic potato chips," he said. "In Monsey, New York, there's one with Bazooka bubble gum from Israel and different kosher products." Siegel's favorite 7-Eleven is an Edison, N.J., outlet with a retro design from the 1980s.
The localization strategy of 7-Eleven is more than just quirky; it's a good business model, according to Torsten Stocker, a China-based partner at strategy consulting firm Monitor Group. "[7-Eleven] has local partners who understand the environment in their market very well," he stated in an email. "This allows them to grow very rapidly and at much lower investment."
Not everyone is as enthused as Siegel about discovering the local flavor of a nearby 7-Eleven. In the past year, residents of Nutley, N.J.; West Islip, N.Y.; and Culver City, Calif.; have protested new 7-Elevens, citing potential harm to area businesses and the possibility of unscrupulous late-night visitors.
Portland's Occupiers have not been to Taiwan, it seems. In the country's capital of Taipei, 7-Eleven outlets are so common that many intersections have two or three. "Wherever there is a need, there is a 7-ELEVEN," Taiwanese franchisee President Chain Store Corp. declares on its website. "Our product logistics system penetrates deep into mountain areas, rural villages, and even secluded offshore islands."
Indeed, the stores are so ubiquitous that when the Taiwanese government decided to offer free health checkups for residents last year, it collaborated with 7-Eleven to use its stores.
American executives for 7-Eleven hope to transform the brand into as big a cultural fixture in their country. In the United States, 7-Eleven has yet to reach "market penetration," particularly in urban areas, Porter said. Last year 7-Eleven acquired 55 new stores in North Carolina, 183 in Florida and 188 in New York. The company is also persuading owners of other convenience stores to become 7-Eleven franchisees through its business conversion program -- a plan aggravating lovers of New York City bodegas.
To help its franchisees stay on brand, 7-Eleven sends out consultants twice a week, according to Porter. It also issues them a proprietary data-analysis tool (called the Retail Information System), which allows franchisees to track exactly what's selling in close to real time. "We're continually keeping up with and deleting slow-moving products," Porter said.
While many retailers today use similar sales analysis tools, 7-Eleven was one of the first chains in the United States to tap the technology in the mid-1990s, following in the footsteps of its Japanese counterparts. Its Retail Information System allowed 7-Eleven to jump on trends like scooters and no-carb snacks more quickly than competitors.
"They are very attuned to changes in daily consumption patterns," Stocker wrote. "They always have new items in stores, including completely new to market products as well as 'exclusives,' e.g. seasonal drinks or food flavors."
"Through the downturn in the economy, consumers still want quick, ready-to-eat foods," said Porter. "They want to go to a place where it's going to be clean and they'll find the products that they want."
As other American retailers have shuttered stores, 7-Eleven used the recession to acquire real estate on the cheap to fuel its expansion.
Now, Walmart and Target are eying the success of the convenience store model. This summer Target will open in Chicago its first CityTarget, a miniature outlet that will look more like a 7-Eleven than most of Target's traditional big-box stores. In recent years, Walmart has been opening its small-format Express and Neighborhood stores.
Marty Siegel, the 7-Eleven enthusiast, isn't worried about how his favorite store will fare in face of the fresh competition. "7-Eleven has that history. The name itself attracts people when they know they want to get a quick cup of coffee or a pack of cigarettes," he said.
Siegel has "mixed emotions" about the company's rapid expansion. "I'm happy there are more 7-Elevens to visit," he said. "But it's not as much of a novelty. If they're everywhere, it's no longer a challenge."
Related
Popular in the Community