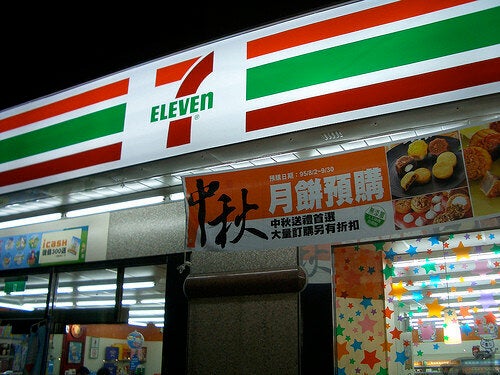 Send every celebrity chef in America to a local convenience store to create a healthy meal for less than five dollars. Maybe that's the recipe we need to get Americans eating healthy.
Greeting me at the door were the sodas and candy bars. Rolling, endlessly, under the bright red lights were the hot dogs. Nearby there was a snaking line of customers waiting to fill their 32oz jugs with brightly colored sugar water. Standing amongst the crowd, I was itching to answer a question. Are there any healthy options buried in the mountain of fast foods? I set out to challenge the conventional wisdom and prove that with a little effort, you can cook a healthy meal with foods sourced exclusively from a convenience store.
I paced the aisles slowly, eyes scanning like a hawk. Reaching to the back of a low shelf, buried behind the cans of spaghetti, I found a can of peas. The layer of dust covering the can was a more telling indicator of freshness than the best before date. Reading the nutrition label, I put the can back on the shelf -- sugar was the third ingredient. Instead I opted for a bag of dried black beans, a bag of rice, a can of mixed vegetables, a can of corn, a jar of sliced mushrooms and the only fresh produce item I could find in the store, a banana. I added a few basics like olive oil, chicken broth, and tomato paste. My market basket totaled $24.60. I was on a mission, and I was armed with the supplies I needed to achieve my goal: to cook a healthy meal from a convenience store.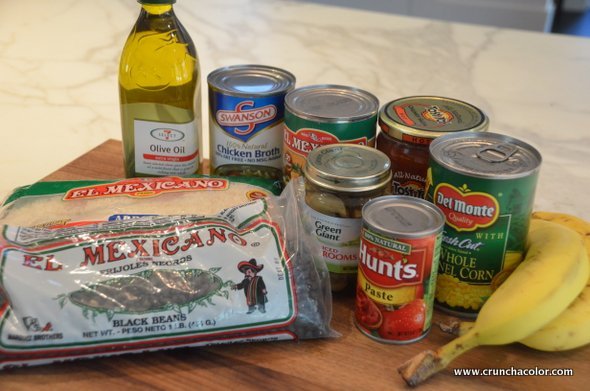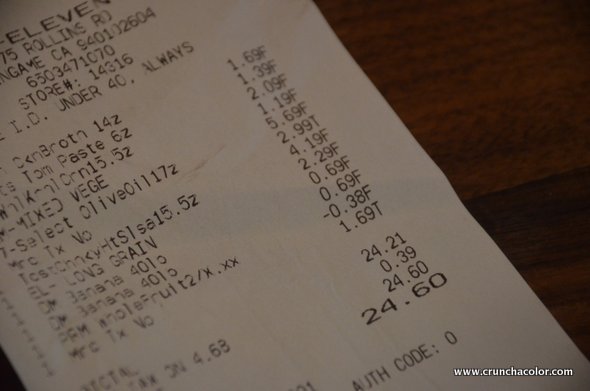 Arriving home, I immediately set to work preparing the meal. On the menu: Black beans
with sautéed mixed vegetables and easy Spanish rice. Grilled bananas for dessert.
After sorting and soaking the beans overnight, I loaded the black beans into my slow cooker with a few cans of chicken broth and a dash of garlic powder. Flipping the switch to low, I left the beans to gently cook for the day. Next up: Spanish Rice. Without onions, I had to find another way to infuse flavor into the dish. I added a little extra garlic powder, a tablespoon of tomato paste, and some oregano to the broth and simmered it up. While the rice was cooking, I sautéed the vegetables. First the mushrooms, then the can of corn and finally the mixed veggies. The meal made enough to feed eight people, making the cost per person just over three dollars with ingredients to spare.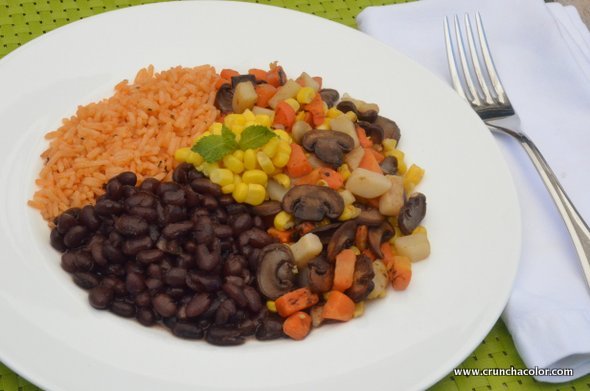 Healthy? Not entirely. I could certainly do better by replacing the BPA-laden cans of tomato paste with farm fresh produce found at a roadside stand. Better than a corn dog and a soda? You bet!
Sometimes the convenience store is the only option. But that doesn't mean you have to choose the corn dog. The 7-Eleven Challenge is about coming together to make healthy eating easy and affordable no matter where you shop. I'm not arguing that we should give up on the fight to get fast foods out of our schools, that we shouldn't change the things that make butter lettuce more expensive than beef, or that we can do without better access to fresh produce in food deserts. We are up against the fight of our (kids') lives when it comes to obesity in this country. We need the heavy hitters like Michelle Obama, Jamie Oliver, Laurie David and Michael Pollan to continue working tirelessly at the policy level in this country to make the structural changes necessary to turn this ship around. But while that long, protracted and political process is in play, what can we do to make things better today?
What would happen if every celebrity chef in America went to their local convenience store and created a healthy meal for less than five dollars? Recipes easy enough for a five-year-old to make but tasty enough for the whole family to enjoy. What would happen if instead of a stack of sodas at the counter, there was a stack of free healthy recipes with a list of affordable ingredients you could find at any convenience store? Would that make it easier to choose healthy foods instead of fast foods? It's certainly worth a try.
Will you join the challenge? Post your healthy convenience store menu ideas on our Facebook page. It may be the recipe we need to make a healthy change.
Related