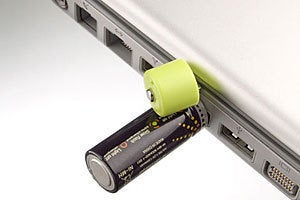 The push for all things "green" is gaining momentum and gadget makers are taking note. Not only are some companies cleaning up their acts through recycling efforts and other earth-friendly practices, but they're also creating some pretty nifty eco-gadgets while they're at it.
Now you can find devices that promise to save energy, be fully recyclable or merely simplify your life. Just don't be fooled into thinking the makers of these gadgets are being 100% altruistic. They know there's plenty of money to be made. According to a 2007 holiday-spending survey by consulting firm Deloitte & Touche, nearly one in five people said they planned to purchase more eco-friendly products than in prior years, while 17% said they'd be willing to pay more for green gifts.
Among the latest in green offerings: wind-powered universal chargers, solar-paneled tote bags and a fully recyclable USB drive, to name a few. Of course, compared to their less eco-friendly counterparts, you'll pay a premium for these green gizmos. The payoff, though, comes in the form of peace of mind and, hopefully, a cheaper electricity bill.