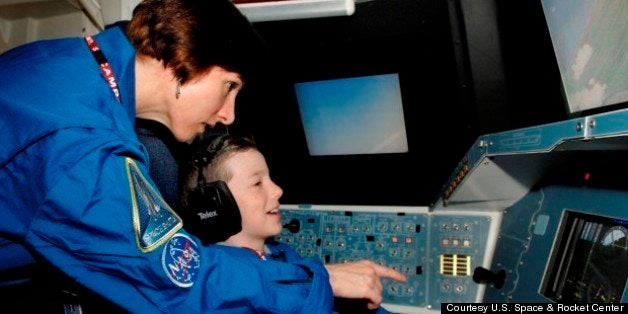 It's only been a few weeks since school let out, yet your children's math skills and reading comprehension are slowly seeping from their brains. All those nights spent toiling over multiplication tables and history facts are forgotten in nearly the blink of an eye. But how do you plug the leak when summer vacation is supposed to be about having fun?
Yes, summer vacation is for kicking back and relaxing, but learning doesn't have to be a chore. Education comes in forms other than pop quizzes and homework: Children can learn about physics by taking a closer look at the anatomy of a theme park ride, and they can brush up on biology by studying creatures on the beach. Add a little inventiveness to your summer vacation planning and you can keep your kids' minds expanding between semesters and give them an advantage in September. Below are a few vacation ideas that will prove enlightening for youngsters (and parents, too).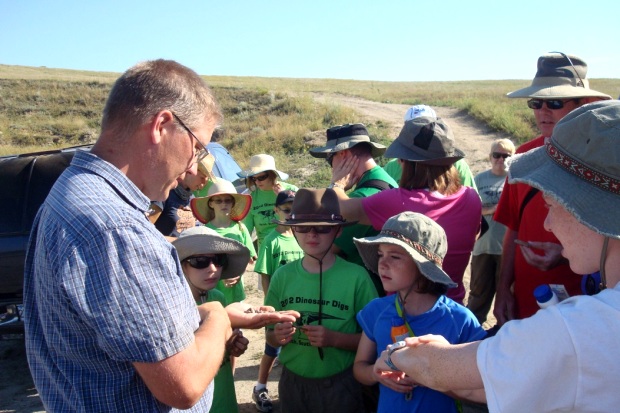 Courtesy Children's Museum of Indianapolis
Master the Art of Glass-making
Corning, N.Y.
Price range: $12-$29 per person
New York state's Finger Lakes region attracts families looking to camp and canoe, but should your travels take you anywhere near Corning, reserve a few hours for the Corning Museum of Glass. The city -- located just north of the New York-Pennsylvania border -- houses Corning Inc., which manufactures glass and ceramic products for technical, industrial and scientific use. At the Corning Museum of Glass, you and your brood can learn all about the history of glass, which has played a role in everyday life for more than 3,500 years. And here's the cool part: The museum offers hands-on instruction in the art of glass-making. You and your clan can spend time creating beads, wind chimes, ornaments and sculptures. "To make their own personal works of art, kids use some of the same basic glass-working techniques artists have used for centuries to create glass objects," explained Amy Schwartz, director of the museum's studio and educational programs. "They leave with a better understanding of the material, an appreciation for the handcrafting process and a unique work of art." Note: Some of the Make Your Own Glass projects have age requirements, so make sure to check with the museum's information desk in advance.
Price: $135 per person for one night
Washington, D.C.'s plethora of museums and monuments makes it an obvious choice for an educational family vacation. But white marble columns and encased displays will only hold your kid's attention for so long. Rather than trying to coax interest out of your children, pack some pajamas and treat them to a unique spin on the museum experience. The Smithsonian Associates, a facet of the Smithsonian Institution that focuses on educational experiences, treats families with children between the ages of eight and 12 to an after-hours peek at the popular National Museum of Natural History through their Smithsonian Sleepovers program. For one night, you and your clan will have full (supervised) rein of the museum: Sleepover leaders will take you on a guided tour of the exhibits like the Hall of Dinosaurs and the Sant Ocean Hall, providing a fun and engaging biology lesson. (You'll also be treated to an IMAX movie and a variety of arts and crafts.) The museum's menagerie of prehistoric and modern critters may not come to life like they do in the 2009 film "Night at the Museum: Battle of the Smithsonian," but your kids will leave the following morning feeling well-rested and well-informed.
Dig for Dinosaurs
Faith, S.D.
Price range: $200-$330 per person for one or two days
Digging holes at the beach won't hold your children's attention for long, nor will it teach them very much. Digging holes in the dirt in Faith, S.D., on the other hand, could yield some remarkable finds. Family dinosaur digs, organized by the Children's Museum of Indianapolis (the world's largest children's museum), will have you and your kids up to your knees in science. "It's critical to capture the attention of young children in a fun and informative way so they want to continue exploring the world around them," said Dallas Evans, a natural science educator and curator at the museum. "Paleontology is that special hook that can give children a lifelong interest in the sciences." While in Faith, you and your youngsters (ages 8 and older) will learn how to properly unearth dinosaur bones and fossils; you will also help prepare your discoveries for transport to the research lab back at the museum. But you'll have to sign up for your dino dig several months in advance; the unique excavation opportunity is only offered a few days a year and space is limited. Should you find all the trips sold out (or if a dino dig isn't in the budget), you can always vacation in Indianapolis instead and visit Dinosphere -- the museum's extensive paleontology wing. Entry to the museum is $18.50 for adults and $13.50 for children ages 2 to 17.
Prepare for Launch
Huntsville, Ala.
Price range: $779-$979 per person for five days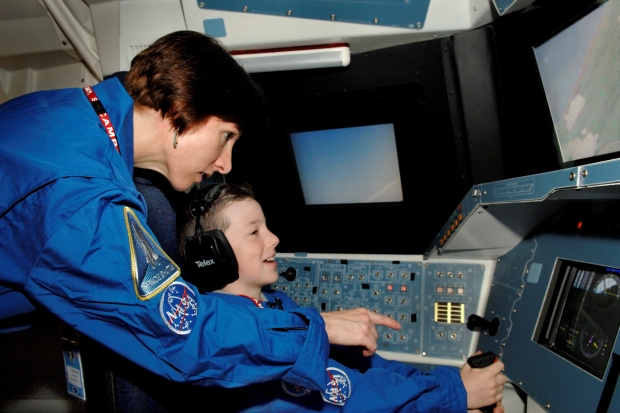 Courtesy U.S. Space & Rocket Center
Many of us dream of becoming an astronaut at some point in our lives, so why not indulge your (and your kiddo's) fantasy with a few days of aeronautical training? At Space Camp -- designed for families with children ages 9 to 11 -- you and your clan will have a great time testing out flight simulators and learning to build rockets. You and your youngsters will spend several days monitoring mock shuttle launches, climbing a representation of Mars' tallest mountain and feeling what it's like to cruise through space without gravity. "The Space Camp experience resonates for a lifetime in families," said Deborah Barnhard, CEO and executive director of the U.S. Space & Rocket Center where Space Camp takes place. "Of all the family vacations, in how many will you say, 'Hey Mom, remember when you were the pilot and I was the commander of the Moon mission?'" Not only are the program's activities exciting, but they also offer a hands-on introduction to science, technology, engineering and math, the four branches of STEM education.
Master a Roller Coaster
Williamsburg, Va.
Williamsburg probably comes as a no-brainer for this list -- after all Colonial Williamsburg offers many interactive ways to engage budding history buffs. Though you should plan to spend a day or two exploring the town's old-fashioned shops and chatting with re-enactors, you should also get your kids' adrenaline pumping with a trip to Busch Gardens where (believe it or not) the learning can continue. The Roller Coaster Insider program (designed for parents and teens ages 14 and older) will take you and your family behind the scenes of the park's most thrilling coasters: You'll get a closer look at how these engineering marvels are designed, how they work and how they're maintained. "This tour is as much about the thrill of our coasters as it is about the science behind the coasters," said Larry Giles, Busch Garden's vice president of engineering. "We discuss the same physics and engineering concepts learned in the classroom, but demonstrate them at work in a real world environment." Your children will talk gravity and inertia with park technicians before experiencing it for themselves as they ride the same coasters they just studied.
Save the Sea Turtles
Wassaw Island, Ga.
Price: $750 per person for seven days
It wouldn't be summer vacation without a trip to the beach. The Caretta Research Project -- a nonprofit organization based in Savannah, Ga. -- provides families with kids of all ages the opportunity to give back to the environment while enjoying some quality family time on the shore. Since 1973, the Caretta Research Project has strived to monitor and protect the loggerhead sea turtles that nest on the sands of the Wassaw National Wildlife Refuge. "This is a great hands-on experience for volunteers of all ages to learn about and help protect a threatened species," said Kris Williams, the director of the Caretta Research Project. Enjoy the warm weather and ocean views from Wassaw Island, Ga., as you learn all about how to protect the turtles and their habitat. You and your children will help collect data and watch over the turtles and their eggs. Volunteer in late July, August or early September and you may be lucky enough to witness baby sea turtles hatch.
Make a Disney Movie
Orlando, Fla.
Price range: $147.35-$206.99 per person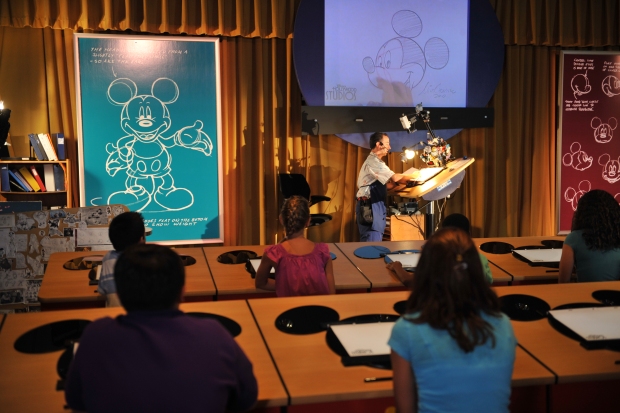 Courtesy Wdwnews.com
No youngster will turn down a trip to Walt Disney World, but if you'd like your kids to get more out of their visit than a photo op with Cinderella, sign them up for the animation history program. Disney cartoons have played an integral role in early childhood ever since Mickey first sauntered onto TV screens in 1928. Part of the Disney Youth Education Series, "Exploring Disney's Animation History" teaches children in grades three through 12 how their beloved characters were created. While taking part in the three-hour course, your kids will learn how to draw one of their favorite Disney characters, collaborate with other participants to create their own animated story and learn about various characteristics of visual media and how it's used to express ideas. "Taking young people inside Disney animation and how it has been an integral part of shaping the animation art form offers a real-life learning opportunity," said Tim Hill, the director of Disney Special Programs. "We present ideas and information in unforgettable ways."