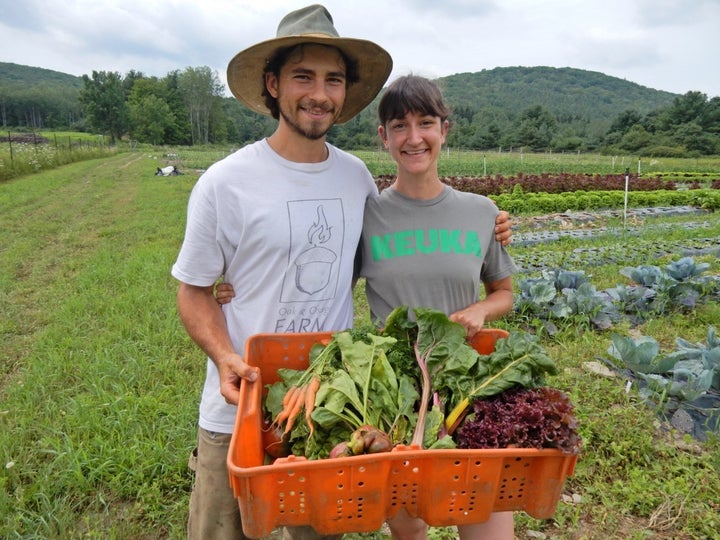 Uh oh. Conde Nast Traveler just sang the praises of New York's Finger Lakes in its August 2017 issue. You know what that means. Sure to draw a multitude of visitors, the Upstate NY Wine Region won't be the sleepy, farmy, laid back, tranquil place that's made it so attractive in the first place. Exactly three years ago, in 2014, I wrote this intro to my Getaway Maven's Finger Lakes post;
"Why Finger Lakes? For the increasingly serious vintages emerging from region – so fine and drinkable, the best Wine-Spectator-acclaimed restaurants in New York City are taking note. With over 100 wineries in the entire Finger Lakes Region, a couple of dozen are on Seneca Lake alone – and true oenophiles are just beginning to discover it."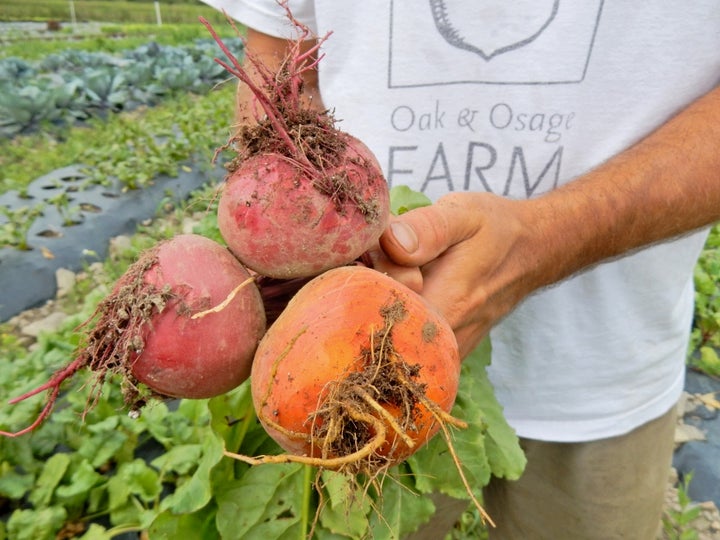 Well, true oenophiles are not "just discovering" the Finger Lakes anymore. More and more weekenders are finding their way to this New York wine region. But even with this influx of tourists, there's still a strong sense of community where "everyone promotes each other." That hasn't changed. These days, however, the Finger Lakes are not just for wine lovers. Tastemakers of beer and the harder stuff can discover new breweries and distilleries in the FLX mix. And my oh my, is the food getting good. Read on to get the most out of a quick overnight in Hammondsport NY and around Keuka Lake, the only Finger Lake "with a shape."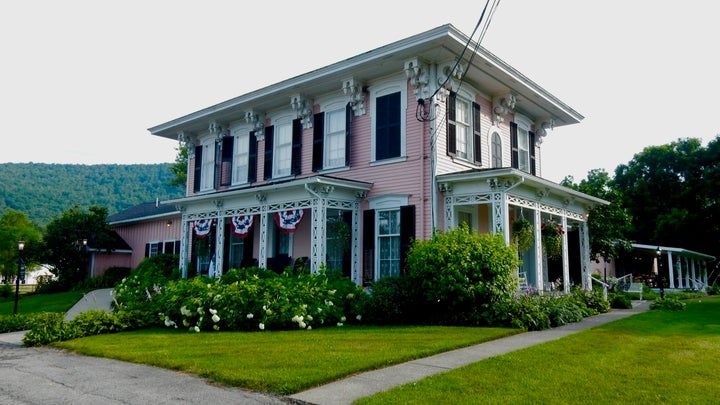 1. Before you do anything else, call Pleasant Valley Inn in Hammondsport, book one of 4 newly renovated adorable Queen Rooms behind the Restaurant, ask for the Pick Your Own Dinner Package, and at 10:15am, be prepared to pull a bounty of fresh vegetables from the ground at one of Chef Drew Miller's produce sources, Oak & Osage Farms. Afterwards, you're free to explore, taste, and sample your way around Keuka Lake before returning to the Inn for dinner – sure to be a knockout of a meal featuring the greens and root vegetables you plucked and dug up that morning. Though this Pepto-pink roadside tavern/inn is not situated on a lake or mountaintop and sits at the juncture of two busy routes several miles from the shores of Keuka Lake, it is fast becoming a destination for serious foodies, and well worth hanging around for the atmosphere, goodnight cookies, and freshly made morning bagels alone.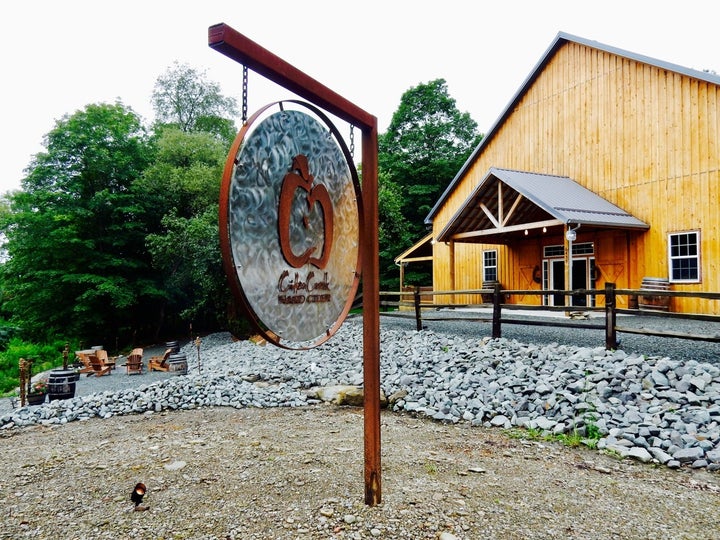 2. Find your way to Cider Creek Hard Cider in Canistio. From Hammondsport, it's a 40 minute drive on breathtaking country roads, passing wind turbines, silos and farmland, climbing and descending hills, to get to this growing famous by the month cidery. The setting is stunning- with Adirondack chairs on a patio overlooking a rushing creek, a large lawn anchored by a newly built stage (for live music), and a humongous tasting/event barn with a farm-industrial-funky interior, colorful mood lighting, barn-wood backed bar with reclaimed wood from the family farm, and a stone fireplace built entirely of rocks pulled out of the creek. In just three years, little out of the way Cider Creek, owned by Kevin and Melanie Collins, has medaled in every Hard Cider category worldwide, and in 2017 was the 3rd most awarded cidery on the planet. Cider Creek ciders are sold and Wegman's and other large grocery stores in 4 US states and Canada (MA, NY, CT, VT) with more in the pipeline.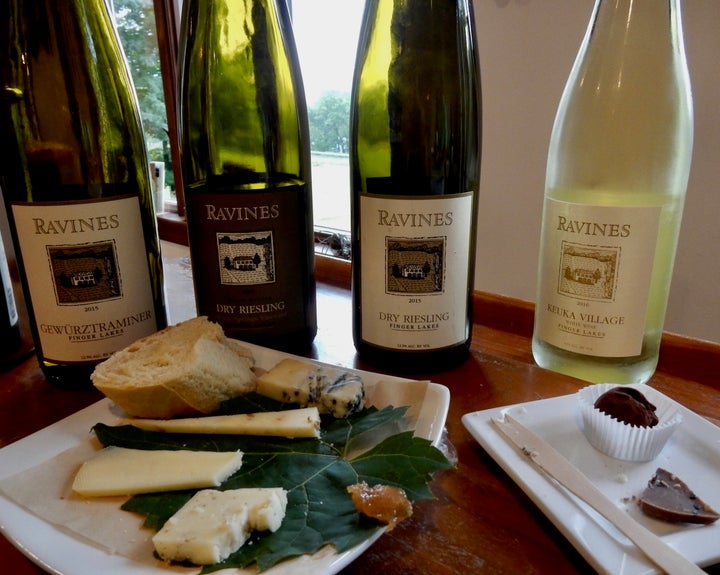 3. Don't like sweet wines? Try Ravine's Wine Cellar. Many would argue that the best place for dry wine lovers is Ravine's which has a non-producing cellar/tasting room on Keuka Lake. For the ultimate tasting, go for the cheese/wine pairing – everything made right in this region. Ravine's crisp Dry Riesling 2015 earned a 91 from Wine Spectator, and its Red Dry Riesling has made it to Wine Spectator's "Top 100" list for its '09, '12, and '14's. Keuka Village White makes a great table wine, its Pinot Noir is mildly spicy/smoky. Peppery Keika Village Red is a blend of Cab Franc and Noiret – a grape developed by nearby Cornell University. For those who want a sweeter experience, try Ayre – a honey-colored sparkling Muscat cooler that tastes like peaches.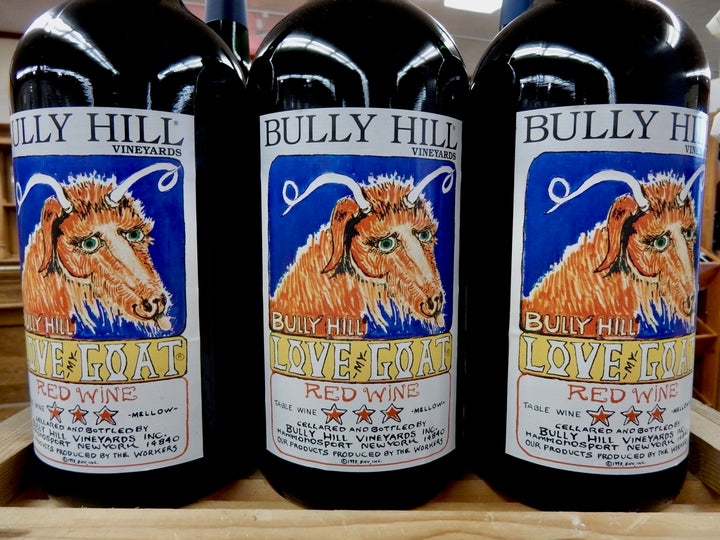 4. Join the party heartiers at Bully Hill Winery, Hammondsport. This 40-year-old winery – a massive hillside compound that encompasses museums, a gift shop, art gallery, two tasting rooms, a restaurant, and production area – is generally swarming with people from the moment it opens. The Winery's motto, "Wine with Laughter," bestows upon it a rather footloose and fancy-free reputation, drawing a slew of bachelor and bachelorette parties, and other revelers. Established by Walter Taylor, whose family's Taylor Vineyards were purchased by Coca Cola decades ago, Bully Hill features mostly sweeter varietals with outlandishly artful labels – most done by Walter Taylor himself.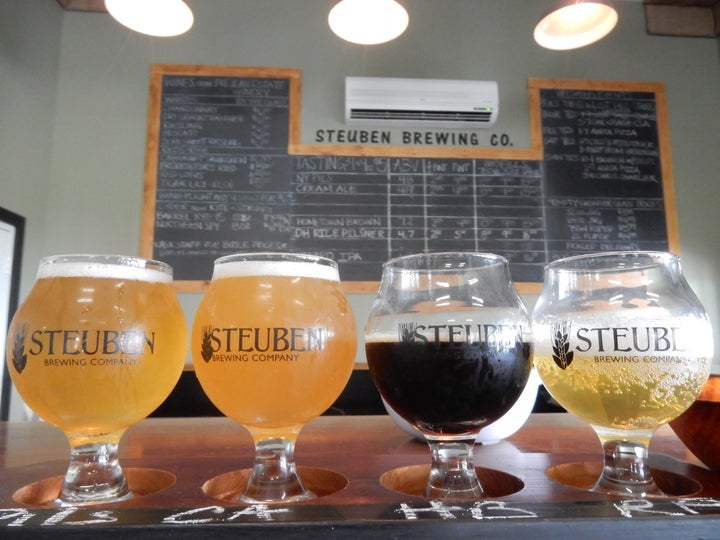 5. Beer purists will want to sample everything at Steuben Brewing Co. It's all about the water at Steuben, where owner, Chad Zimar's attention to detail is apparent in the final product. To whit – Zimar painstakingly blends hard and softened water to match what comes from the ground in Ireland for his Irish Red. Chad has enlisted his parents, Candy and Jim, to help him out where needed – a real family operation. Ask for a flight of four 4 oz. pours ($5) to try a few, then head outside on the deck overlooking Keuka Lake. Most popular – NY Pilsner, a light summer brew; Hometown Brown, best all around; and my personal favorite, DH (Toasted) Rice Pilsner.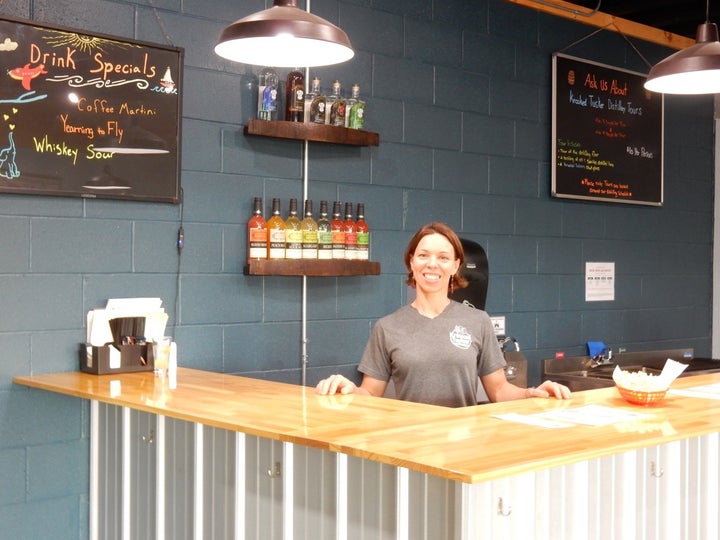 6. Those who tend toward the boozier side of things will enjoy imbibing at Krooked Tusker Distillery. This distillery's got the hooch. And a great party vibe – with bartenders concocting craft cocktails using freshly distilled QKA Kismet Vodka, Imbura Joe Vodka (infused with coffee), QKA Hooch, Hell Hound Hooch (smoked grains), and South Pultney Gin (teamed through 13 botanicals). It's not your father's wine-sipping crowd.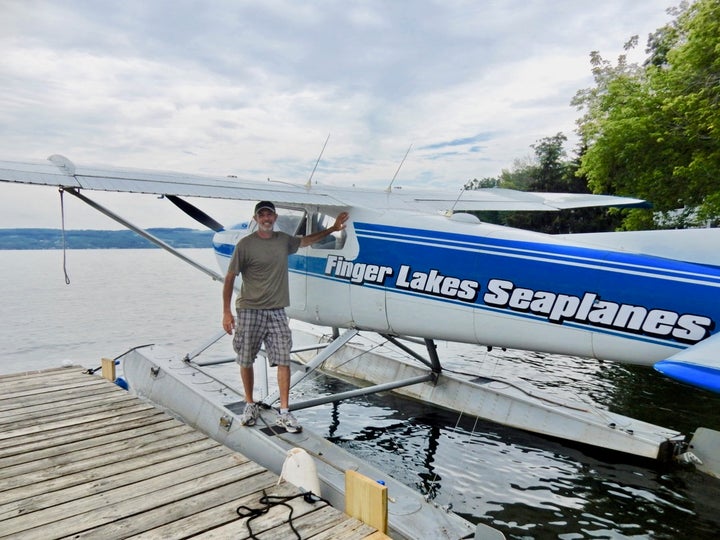 7. Fly the friendly skies of Finger Lakes Seaplanes. Take a 30 minute flight over Keuka Lake, or an hour flight to both Keuka and Seneca Lakes for the thrill and optimal aerial photography. Owners/pilots Bob Knill and Andy Sable will fly year round "as long as there's no ice on the water." Fall foliage, naturally, will be "huge."
Support HuffPost
The Stakes Have Never Been Higher
Related
Popular in the Community