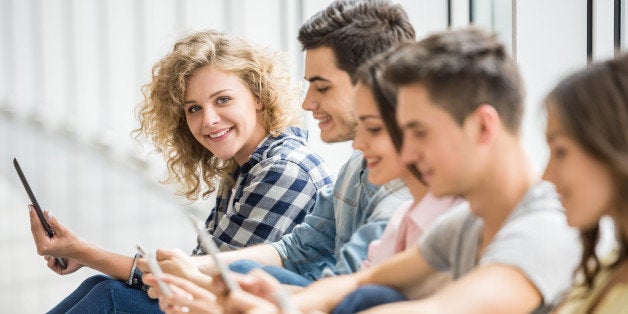 Remember the stress of high school?
While a lot has changed since you were in that position, high-school stress is something that's still alive and well. Here's some advice for parenting high school freshmen in 2016.
1. Growth is not a contest.
If your high schooler has a particular talent or skill that defines them, it might be a blow to meet someone who can do it better...and this is almost guaranteed to happen in high school, when they meet tons of new people.
What's most important is to remind them that their growth is not a contest. It doesn't matter what other people are doing. What matters is that your teen is finding their own interests at their own pace, and setting goals that will get them where they want to be.
2. Support your teen's friendships.
Of course social interaction is psychologically healthy, but I also wouldn't be the CEO of my own company without my connections! It is NEVER too early for your child to start building their network.
Friends can help bring out the best in you without expecting perfection. They can remind you not to take life too seriously, as well as give you that much needed boost when you're feeling discouraged.
-Amy Morin, Forbes
If you continue to ask your freshman if they've met anyone new, and then suggest that they invite them over to study or for dinner, you'll provide a comfortable place for these relationships to thrive. This will play more of a role than your teen may ever realize.
3. Set goals with your freshman.
In their freshman year, your teen will start building their college foundation (meaning their GPA), and they need a plan! This means goals for the year and semester, and then smaller "stepping-stone" goals to help them get there.
And of course, check in with them periodically to make sure they're on track!
4. Help your freshman find solid extracurriculars.
Extracurriculars help your student make friends, cultivate interests, and build a resume.
Matt Symonds' quote below is more geared towards the MBA application process, but the general ideas still apply here.
"Think of it from the admission committee's perspective...In front of them they have a candidate who volunteered once at an orphanage...and hasn't done anything since, and the candidate who regularly competes in chess competitions, gives time every Thursday night at the soup kitchen, and is helping to drive membership and fresh thinking at the local Rotary Club. Who do you think they'll choose? OK, maybe I went too far with the chess competitions, but I think you get my point - when it comes down to the wire, dedication to volunteerism and/or interesting activities might make the difference."
-Matt Symonds, Forbes
Once you have a good idea of what motivates your teen, you can help them look for clubs and local organizations to get involved with.
5. Take advantage of the resource that is their high school counselor!
Student success is something every counselor wants to see--and it's their job to help you get there. They can help you navigate tricky class schedules, give you tips for the SAT or ACT, and so much more!
Find the advisor's contact info on the high school website, call and make an appointment, and be sure to make a list of questions with your student--and remember to bring it!
6. Suggest thesaurus apps for your teen.
If there are too many words in a paragraph you don't know, your brain loses traction and trails off, like a car that encounters patches of ice in the road.
By using one of many different thesaurus apps, your student can look up words they don't understand, and they'll have fewer "Wait, what did I just read?" moments.
7. Make proper digital citizenship a must.
Technology is a huge part of our lives, but we don't automatically know how to use it safely and responsibly. But this is important, especially because your student's social media posts can affect their college admission chances.
If you're looking for a free, online, self-paced course on the following topics:
Digital literacy & Ethics
Inappropriate Content
Online Sexual Solicitation
Online Privacy
Cyberbullying
...then consider Teaching Digital Citizenship. The program is designed for a broad audience, from children to law enforcement.
So there you have it -- 7 high school tips for freshman that you can help orchestrate.
Did I miss any advice for high school freshman that you noticed? What additional high school tips for freshmen might you give? Let us know in the comments!
(Note: A longer version of this post originally appeared on Student-Tutor's blog. If you want more, click the link!)