As a Michigan Wolverine, putting all political views aside, I know I was excited to hear the President of the United States utter the words, go blue.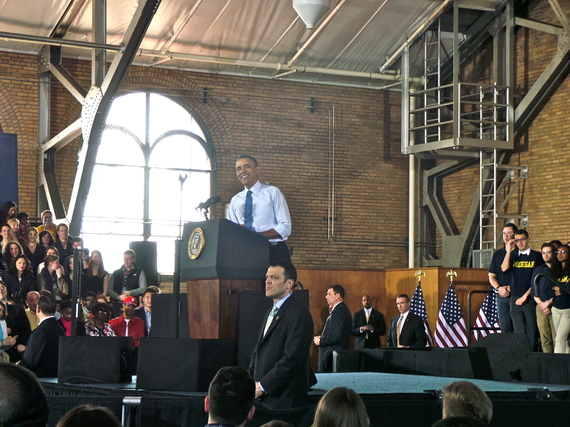 It can be incredibly exhilarating to attend a speech by the President (current or former) of the United States (depending upon your political views) -- especially if you're a college student, and that speech happens to be given at the university or college of which you attend.
On Wed., April 2, President Obama delivered a speech to over a thousand people at the University of Michigan's Intramural Sports Building (IM Building) in Ann Arbor, where he discussed increasing the federal minimum wage from $7.25 to $10.10 per hour.

But that's not all that the President discussed. Here are seven topics that Obama covered, which (in my opinion) garnered the most applause.
Michigan Athletics. Announcing the attendance of Michigan's athletes in the building: members of the Michigan men's basketball team, Glenn Robinson III, Jordan Morgan, and Big Ten Player of the Year, Nik Stauskas, and quarterback for the Michigan football team, Devin Gardner. On the topic of brackets, Obama said that his own was a mess. He said, "I've learned my lesson -- I will not pick against the Wolverines."
Zingerman's Deli. Renowned as being the premier sandwich shop in town, Zingerman's was the lunch spot of choice for the President before he delivered his speech. Obama said, "... The Reuben is killer."
The Affordable Care Act. As of this past Tuesday, 7.1 million Americans have signed up for coverage through Obamacare. Obama said:
"That's enough to fill up The Big House 65 times."
Opportunity for all. Everybody should have a chance at success. "And we want to make sure that no matter where you're born, what circumstances, how you started out, what you look like, what your last name is, who you love -- it doesn't matter, you can succeed," Obama said. "That's what we believe," he added.
Student loans. The system can posit difficulties for many who rely on it for support. "And we're offering millions of students who are graduating the chance to cap monthly student loan payments at ten percent of your income," Obama said. "Because this country cannot afford striving young people to be priced out of a higher education. Everybody has got to be able to afford it.
Minimum wage. While increasing the minimum wage isn't going to solve every problem of our economy, the President said doing so would help increase wages for roughly 28 million Americans; it would give America a raise. "It would help millions more work their way out of poverty right away," Obama said.
Congressional action. Congress will get a yes or no vote on raising the minimum wage throughout the country next week. It's important to gauge how your elected representatives feel on this issue. Obama said, "If you support an increase in the minimum wage, express your voice to your members of Congress."
This marked Obama's third visit to Ann Arbor since being elected president. The Mayor of Ann Arbor, John Hieftje, said he enjoyed having the President back in town. Hieftje said:
"It's always a good time for the President to come to Ann Arbor. He seems to like it here, and we enjoy having him."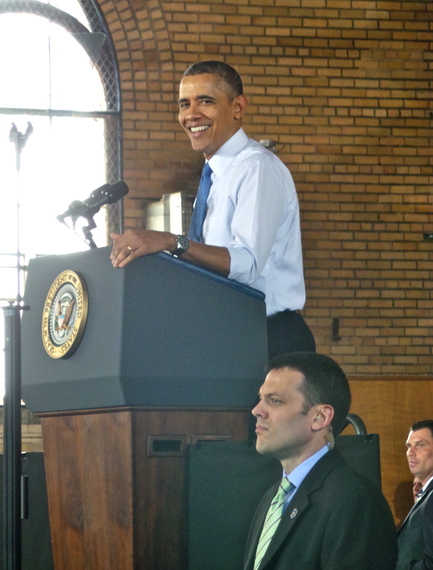 Calling all HuffPost superfans!
Sign up for membership to become a founding member and help shape HuffPost's next chapter