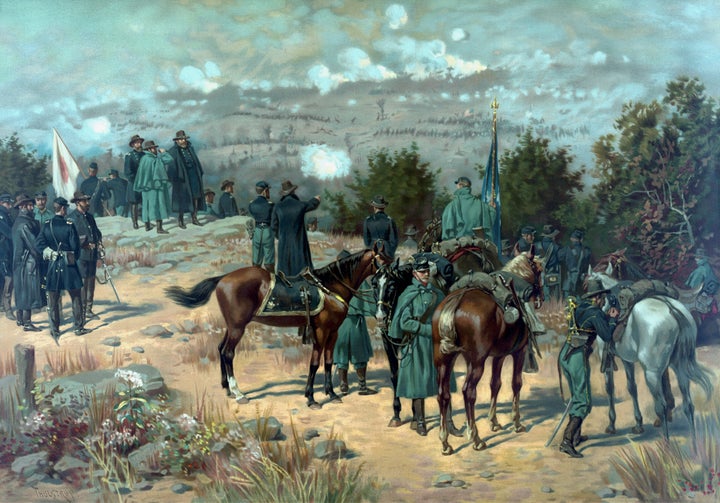 Abraham Lincoln's likeness in marble may be the most famous (some eight million people visited the Lincoln Memorial in DC last year), but even the Civil War's losing side has its share of statues. Yet there are a number of lesser-known heroes and figures of the war whose memorials have yet to be carved. From a volunteer nurse and a black Medal of Honor recipient, it's time we take a moment to honor these often-forgotten folks. We partnered with the PBS Civil War-era drama Mercy Street to shed light on these largely unfamiliar figures in American history.
1. Mary Phinney von Olnhausen
Widow of a German baron, Von Olnhausen answered Dorothea Dix's call for volunteer nurses during the early days of the war, landing a post at Mansion House Hospital in Alexandria, Virginia. She later shared her nursing experiences in a memoir, Adventures of an Army Nurse, in which she wrote about her fight to procure adequate rations for her patients, as well as her conflicts with surgeons over their treatment of soldiers. She volunteered her services for all four years of the war.
An active abolitionist, the Scottish-born Pinkerton used his barrel-making shop outside Chicago as a stop along the Underground Railroad before establishing a detective agency in 1850. During the Civil War, one of Lincoln's commanders commissioned Pinkerton to gather tactical information for the Union Army. Though he acted as a civilian, Pinkerton went by the pseudonym Major E.J. Allen during the war. He, along with his team of 16-18 agents, often interviewed runaway slaves in order to obtain information.
Statues and monuments aside, Union Landsman Aaron Anderson at least deserves a reissue of his Medal of Honor. The African-American navy man enlisted at age 52 and served valiantly aboard the U.S.S. Wyandank, which fell under attack on March 17, 1865, during an expedition up Mattox Creek in Virginia. Though fire from the rebels wiped out half the oars on the boat, Anderson continued to row and the Wyandank escaped without a single casualty. Anderson earned a Medal of Honor for the courageous feat; however, the award was issued under the name Aaron Sanderson, due to an earlier spelling error in the ship's log.
Her gender and age didn't hold back this Virginian, who became a Confederate spy by 17. Boyd's greatest weapon? Old-fashioned flirtation. In one instance, she wrote to a Union soldier, thanking him for flowers, poetry and "a great deal of very important information." All in all, she was arrested half a dozen times and served one month in the Old Capitol Prison in Washington, DC, in 1862.
In 1861, the same year the Civil War began, Harriet Jacobs published her book Incidents in the Life of a Slave Girl under the pseudonym Linda Brent. Though she'd already escaped slavery, Jacobs wasn't done fighting. During the war, she nursed black soldiers and called on fellow abolitionists to gather clothing and other goods to aid black refugee camps in Washington and Alexandria, Virginia. Additionally, Jacobs worked on educating freedmen, setting up a school in Alexandria called the Jacobs Free School. Though Jacobs is quoted on a Virginia memorial—built in 2014—she doesn't have a statue in her own likeness.
Dubbed "the first black Civil War hero," Andre Cailloux was born into slavery, bought his way out of bondage and became a Union captain during the war. Battling white racism in his home state of Louisiana, as well as disrespect from white officers and enlisted men, Cailloux and his troops charged on. On May 27th, 1863, Cailloux was asked to lead his men into what's been described as "an almost suicidal assault." After nearly losing his arm in the battle, Cailloux continued to fight, but died when he was hit by a Confederate artillery shell.
7. Loreta Janeta Velázquez
Call her Loreta or call her Lieutenant Harry T. Buford of the Confederate army. Velázquez, who was born in Cuba in 1842, went to school in New Orleans and later eloped with an officer in the Texas army. When her husband joined the Confederates in 1861, Velázquez asked him if she could enlist, too. When he refused, Velázquez—not one to take no for an answer—disguised herself as a man and joined the troops. Her husband died soon after from a weapon malfunction, but Velázquez went on to fight at Bull Run and the Battle of Ball's Bluff before taking up a life of espionage (dressing once again as a woman) and becoming a member of the detective corps.
While they may lack a memorial statue, many real-life historical American figures, including Nurse Mary Phinney von Olnhausen and abolitionist Allen Pinkerton, served as inspiration for characters in season two of Mercy Street. Tune in to the PBS Civil War-era drama for a look into the lives of these, and many more other influential Americans, of the Civil War.
Calling all HuffPost superfans!
Sign up for membership to become a founding member and help shape HuffPost's next chapter