Have you ever been watching a movie and realized that you have no idea whats going on because you're checking out the wallpaper, draperies, and furniture in the set? We know the feeling and decided it was time to get inspired by some of these classic movie sets. These 7 iconic films are sure to leave you ready to redecorate!
Gone With The Wind 1939- epic historical romance set in 19-Century American South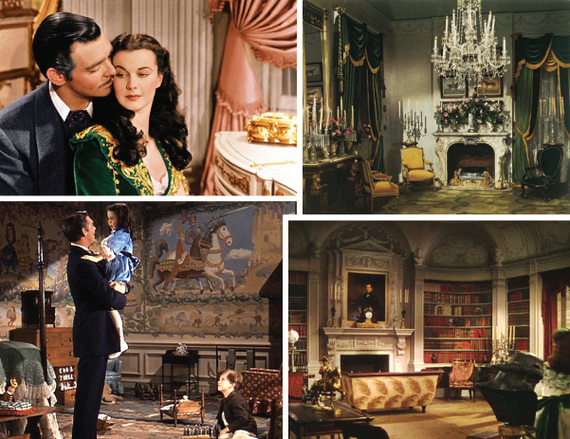 Why We Love It: This movie set offers pictorial splendor, visual energy and a TRADITIONAL design aesthetic! Use rich wood finishes, ornate detailing, dramatic chandeliers, and traditional patterns in opulent fabrics for upholstery.
The Seven Year Itch 1955 -American Romantic Comedy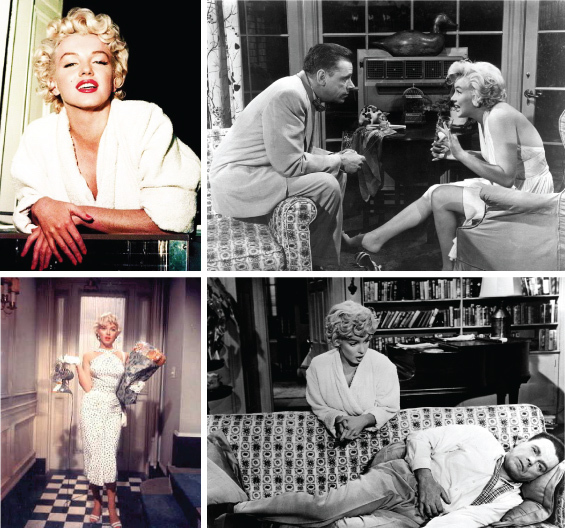 Why We Love It: Besides the iconic images of Marilyn Monroe, the interior design is brimming with MID CENTURY MODERN eye candy! If you love this look, keep design within the era by using fun floral and geometric patterned fabrics. Complete the look with gourd shaped vintage lamps, clean lined book cases, mid century modern tables and chairs and top it off with some fun, kitschy decor....a brass duck anyone?
Vertigo 1958 - masterpiece by Alfred Hitchcock set in 1950's San Francisco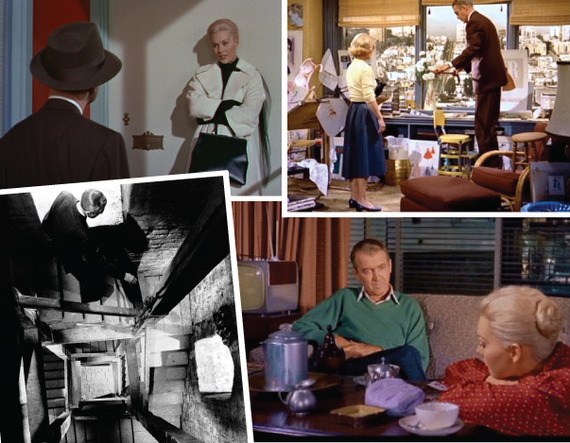 Why We Love It: A retired San Francisco detective suffering from acrophobia resides in the MINIMAL MODERN pad on Lombard Street, San Francisco. This iconic 1950's gent has minimalist style. It also has a west coast vibe; rattan elements such as the chair and ottoman, subtle tones in the drapery and furniture as well as natural elements in the woven window shades. A grey-blue and auburn color palette is the perfect way to create a modern replica.
Breakfast at Tiffany's 1961 -American romantic comedy set in New York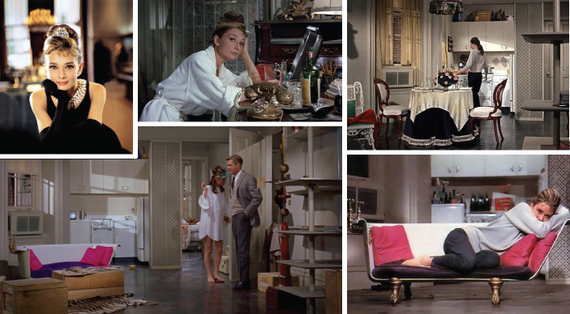 Why We Love It: Holly Golightly, the naive eccentric cafe society girl in her ECLECTIC apartment! Living the New York dream on a waitress salary, Holly was no stranger to getting big bang for her buck with her fun accents and repurposed decor. Glitzy vintage pieces, patterned wallpaper or wall panels, bold pops of color in accent pillows, zebra rug, repurposed items and a clean, neutral paint palette can accomplish this charming DIY glam/chic look!
Annie Hall 1977 -American Romantic Comedy set in New York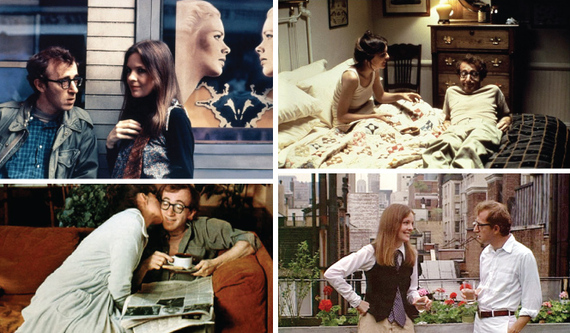 Why We Love It: The BOHEMIAN style in the film lends to the charm of this romantic comedy. The color palette in this film is fully 1970's with muted blue, persimmon red, sage green and browns. Use vintage furniture (that mom is ready to toss) along with patterned fabrics, psychedelic moody art and shaggy textured pillows to achieve this boho style.
Blade Runner 1982 -American dystopian science fiction film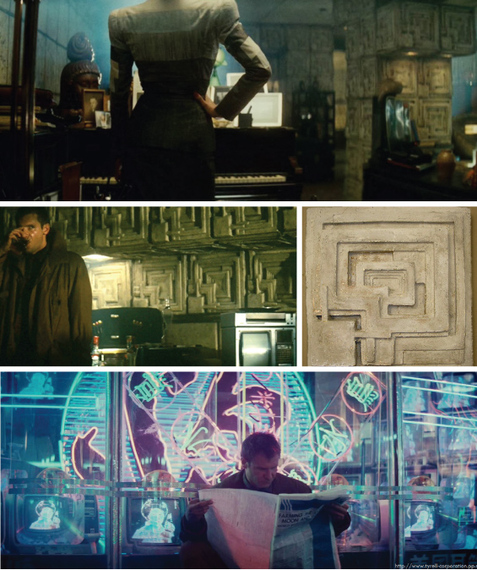 Why We Love It: The dark and sultry space of bounty hunter Rick Deckard pushes visual vibrance from textures, neon lighting and pattern for the 1980's FUTURISTIC style. The most striking feature is the tile (actually a Frank Lloyd Wright design from 1924 for the Ennis Brown House where scenes were shot) which has an impressive graphic design reminiscent of a computer board. Everything in this look is high design. Intriguing light features, bold vignettes such as the Buddha head on the piano with framed art, neon lights and high technology all make this look.
Pulp Fiction 1994 -American crime film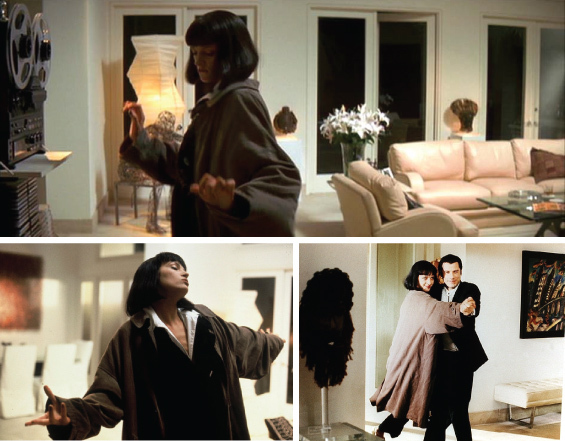 Why We Love It: What an ironic mix of humor and violence...and amazing sets to die for! Mia's living room scene shows a glam CONTEMPORARY style which is exactly what you would expect from this foxy character. Make this look yours with a monotone cream and white palette, leather furniture, glam glass vases, art and artifacts on display, floor lamps and obviously a killer stereo system :)
Amalie 2001 -French romantic comedy of whimsical Parisian life set in Montmartre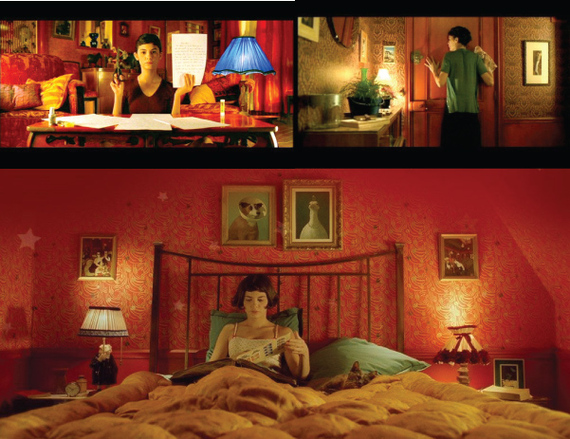 Why We Love It: This film is the whimsical depiction of the life of a shy french waitress. Her home is full of VINTAGE ECLECTIC visual treats. Bold rich colors, wallpaper in intricate patterns, lamps with fun bases and frilly shades, Parisian furniture with gilt details, damask upholstery, fluffy fabrics, silk pillows and nonsensical well framed art will give you the look of this eclectic dreamer.
The Grand Budapest Hotel 2014-American film that recounts a concierge's adventures in a famous European hotel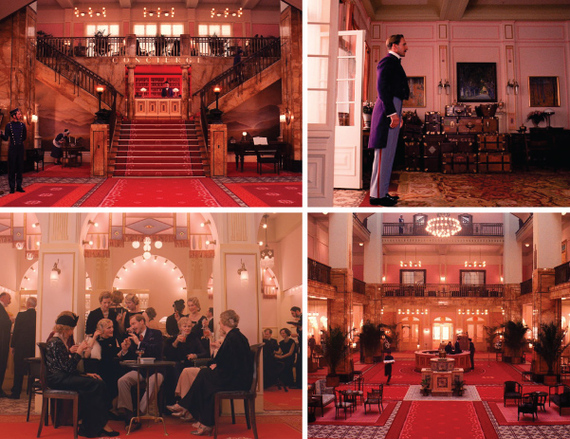 Why We Love It: Brimming with opulence, this film is packed full of beauty, color, lighting and details! A gem of CLASSIC design with an adventurous twist! The name itself tells us of its grandness...the symmetrical design, red carpeted entry, art deco wall details, golden age lighting and wood inlaid features scream elegance and sophistication. Focus on bold colors such as red, coral, fuschia, art deco patterns and gilded lighting to make your Grand space come to life!
If you're charmed by the cinema we hope these sumptuous sets will spark some fun in your space!
Laurel & Wolf is the world's leading interior design marketplace. We provide online interior design services to residential and commercial spaces powered by our talented community of professional interior designers.
For a one time flat fee, you will receive multiple designs for your space with all the information you need to execute the design. All designs are fully customized to your space, budget, taste, and more!
Support HuffPost
A No-B.S. Guide To Life
Related
Popular in the Community