In this decorator's opinion, there's nothing like gold spraypaint to take almost anything (Home decor accessories! Picture frames! Furniture!) up a notch.
Here's a quick round-up of some clever and unexpected things you can embellish with gold spray paint.
1. Create a Centerpiece
One of my all-time favorite decorating tricks is to bring the outdoors in. There's nothing more simple or beautiful than a large branch laid simply on a table like this one from Eat Drink Garden, and it's made even more beautiful with a layer of gold spray paint. The touch of gold makes the branch more special and it looks almost like a piece of art. This trick works equally well, I might add, with white paint.
2. Transform Your Boring Accessories
You can change the look of your entire room by spraying a few of your accessories with gold spray paint. I took these drab and basic metal orbs, and made them shine by applying a coat of spray paint. Took me two minutes, and the entire room sparkles with just that one touch of gold.
3. Elevate Your Storage
Gold spray paint can transform even the most mundane objects. Bridal Musings took small plastic animals -- you know, the kind that little kids play with -- and spray-painted them gold before gluing them to mason jar lids (which she also spray-painted gold). I can just picture all kinds of craft materials stuffed in those jars, lining the shelves of some adorable play room. This has to be one of the best decorating hacks I've seen.
4. Create 3-D Art
This elegant art installation looks to be nothing more than a bunch of plastic leaves spray-painted gold and stapled together. It creates a playful, textured look for just a few dollars. The fun part is, anyone can do this. Look around your own home and try to see objects with new eyes -- what might be spray-painted gold, hung on the wall, and used as "art"?
5. Give a Personalized Gift
This is a great example of using a boring everyday item and transforming it into something really special with just a touch of ... you guessed it, gold spray paint! That gold vase you see on the left is actually a fish bowl that I scored at my local thrift shop, and it cost me $1. The vase on the right is left over from a flower delivery years ago, left to collect dust in my basement. Both were given new life with a coat of gold spray paint. Even better, I used self-adhesive letters from my local craft store and stuck those on the vases before I spray-painted them, giving the effect of a charming monogram. Filled with flowers, I don't think you can find a better, more personalized gift for someone.
6. Revamp Your Budget Furniture
Gold spray paint can make even the most inexpensive furniture look like a million bucks. Here's a great example! IKEA makes a simple black shelf called the Vittsjo, and it retails for under $80. This brilliant blogger from Glitter and Girls took matters into her own hands and coated her Vittsjo shelf with gold spray paint, and voila -- a stylish, design-forward piece of furniture.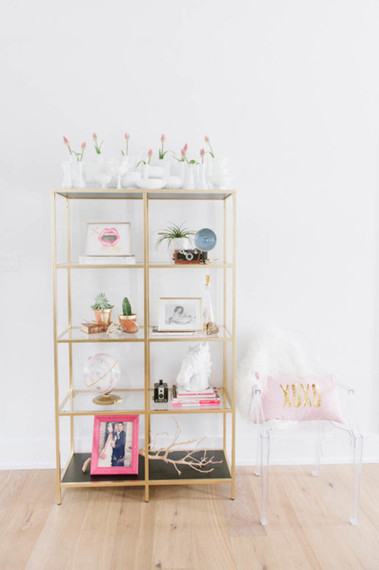 Via Glitter and the Girls

7. Make Your Books Feel Important
This is another brilliant gold-gilted DIY project using simple materials. The designer from A Beautiful Mess cut PVC piping into different sizes, spray-painted each piece a shiny gold and then nailed a few pieces together to create a sturdy book end. The effect is gleaming and gorgeous.