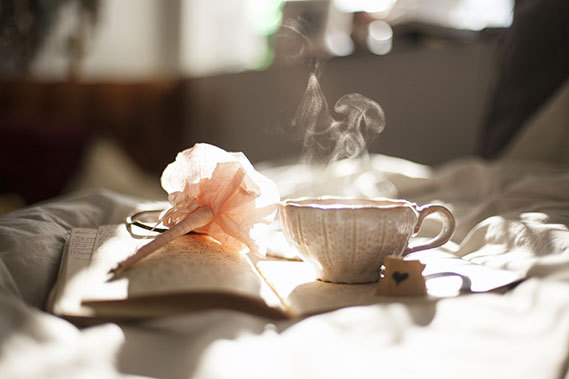 Have you ever tried to keep a journal, but you haven't known what to write about? Did it end up being a boring list of things that you did in the past 24 hours? Did writing feel like a chore, rather than a rewarding, beneficial, or inspiring practice?
If you answered "yes" to any of these questions, I promise that you are not alone in feeling this way. Many of my clients and loved ones tell me that they've attempted to start a journal practice but have given up a short time later. They had heard that there were many benefits to journaling, but it had just seemed like another job to add to their to-do list.
I have found that when beginning a journaling practice, it can help to use some prompts or subheadings. These might include:
1. List three things you are grateful for today

Practicing gratitude can increase your health and happiness. You don't have to be a philosopher or a poet to establish a gratitude practice -- you can simply list three things ranging from the mundane to the spiritual. Maybe you are grateful for the new tea range you've just discovered, or for your friend who dropped around soup when you were sick, or for your husband who rubbed your feet after a big day at work.
2. Write down something that you are going to do for yourself today
It is so important in our busy world that we take time out for ourselves to relax and just "be." Writing down what we plan to do for "me time" each day can help us ensure that we make self-care a priority. A daily "me time" practice doesn't have to be expensive or time-consuming. It might be as simple as going to bed early, reading a chapter of your favorite book, going for a walk, or savoring a cup of tea. You can find 40 self-kindness ideas to get you started here.
3. Write down something that you are going to do for someone else today
I am a big believer in the power of random acts of kindness and think it is a beautiful idea to commit to doing something nice for someone else every day. You might choose to make your partner breakfast in bed, take your son to the park, buy a loved one some flowers, or leave a lotto ticket under someone's window wipers. It doesn't have to be a big gesture -- just something small can make a huge difference to someone's day. You can find 40 ideas for simple acts of kindness here.

4. Write about how you are going to move your body
Depending on what time of the day you write in your journal, you might like to write about what you're going to do to move your body, or what you have already done. You can talk about what your goals are, how you felt or want to feel, and where any aches and pains were/are.
5. Reflect on how you are currently feeling and how you want to feel today
Take a moment to go within and listen to how you're feeling. Put this on paper. Do you feel tired? Do you feel stressed? Do you feel happy? Are you excited?
Now write down how you want to feel today. Do you want to feel liberated? Connected? Energetic? Patient?
Reflect on what you can do to help you feel the way you want to feel today.
6. Reflect on the past 24 hours and write a lesson or takeaway from it that you can carry forward to today

Think back over how you've felt over the past 24 hours. Did anything notable happen? Was it uneventful or boring? Did you have an argument or misunderstanding with someone? Were you frustrated at any point? Were you incredibly joyful about something? Did you have any "ah-hah" moments?
Take the time to reflect on the day, write about it, and try to find a lesson or takeaway that you can be mindful of today and in the future. Sometimes it can be helpful to turn this lesson into an affirmation or mantra to repeat to yourself throughout the day.
7. If you meditate, write about it.
There is so much evidence out there on the benefits of meditation. If you are a regular meditator, reflecting on your meditation practice can bring a whole other realm of awareness. If you are new to meditation, writing about your experience, difficulties and lessons can help you significantly enhance your meditation practice.
I encourage you to go out and buy yourself a beautiful notebook or journal and get started using the above prompts as a guide. You'll find that over time you will organically discover a journal practice that suits you and will no longer need to use headings like those suggested as a guide.
Support HuffPost
A No-B.S. Guide To Life
Related
Popular in the Community