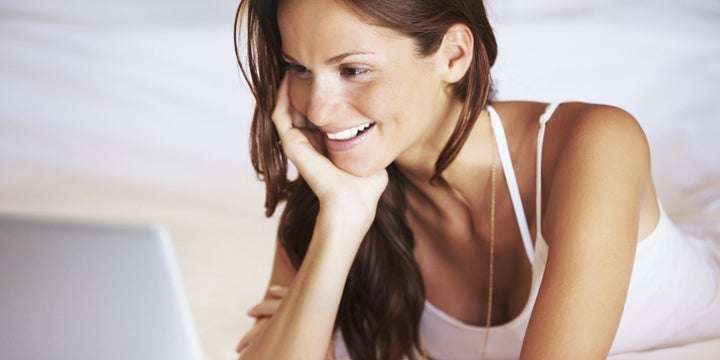 There are some unique challenges facing the women over 35 online. The good news is, they can be overcome. It's true that statistically speaking, a 35+ woman is going to get fewer matches online than a 25 or even 30 year old.
Quantity of men asking you out online might decrease over 35, but the quality of your matches doesn't have to suffer.
Luckily for you, being the most popular woman online isn't your goal. Meeting the amazing man who is out there waiting to meet you is!
Follow these 7 tips to increase your chance of success in finding him online:
#1 Get outstanding photos
Make it easy for the men who are looking for you to find you. There is an eye-rolling, generic blandness to most online dating photos. You are a woman who knows who you are, so show it! It might not be fair that you have to work harder to stand out than a 25 year old, but would you really want to be 25 again? Probably not.
Don't hide behind outdated photos, Snapchat filters, too much retouching, or duck-lipped selfies.
Confidence is the sexiest quality there is, so be secure and unapologetic about who you are. Let your personality shine!
#2 Sign up for a traditional online dating site
Dating apps like Tinder, Bumble, etc can be a great resource, but the most serious singles online are on traditional sites like Match.com or OKCupid.com, particularly for the 35+ set. It takes more effort, but that's precisely why you want to connect with the men who are willing to put in that effort.
If you're already on a site, refresh your profile. Update your photos. Get a second opinion about the overall look and tone of your profile from a friend you love and trust. If you've tweaked and tweaked your profile and the site you're on just doesn't work for you, try a new one. The same profile on two different sites can perform differently. Find what works best!
Forget about worrying if you're being too forward. No matter if you're on Match.com or Tinder, as a woman you are 35% more likely to be successful if you send the first message.
(Not to mention that it can be downright disheartening to only be contacted by men you have zero interest in. That's par for the course for any woman online, no matter her age.)
You want dates, so go ahead and send that first message! And when possible, personalize it by referencing something that caught your eye in their profile. You'll stand out, in the best way.
I get it – you want someone "age appropriate" and that has traditionally been defined as a man who is either your age or older. But that was then, and this is now. There are plenty of younger men out there who are excited to date older women.
The reality is, the older men get, the younger the women they message online. That's why you're getting hit on by so many 70 year olds when you're 40. According to OKCupid, (and they would know):
"A 40-year-old woman will have better luck messaging a 25-year-old man (60% reply rate) than she would a 55-year-old one (36% reply rate)."
I have a challenge for you - pick your desired age range, and then lower it by 5 years. And see what happens!
You might be surprised to learn how many men are happy to be your online chatting buddy and never meet in person. After you've had a bit of a get-to-know-you back and forth with someone and you're still reasonably interested, propose a face to face meetup. If he doesn't seize this opportunity to experience your amazingness in person, chances are he's not serious about meeting at all.
Hear me out – I have no doubt that you are already highly selective. But some of the most "selective" singles I've ever met are also the ones with the lowest standards. Most highly selective singles are picky about superficial traits like physical type, height, educational level, profession and particular tastes in hobbies, music and movies.
When I say to raise your standards, I mean becoming selective about two things: character and intention. Being open to a man who might not be your usual physical type, but treats you with respect and enthusiasm and consistency, that's raising your standards.
Not allowing yourself to be strung along by someone who checks the boxes on your list of desired traits but isn't all the way into you is raising your standards. Being an active participant in creating chemistry with an available man who is on the same page with you and not passing him over for instant chemistry with someone who isn't — that's raising your standards.
Get curious about what works for you and what doesn't. Let your profile and strategy evolve if necessary. Which of your photos get the most compliments or likes? Make it your main photo.
Are you only reaching out to the men with near perfect profiles? What is your response rate? Are you sending enough messages? Are you are missing out on potential matches who might not be great at online dating, but are actually good guys? What happens when you give a chance to someone with less than great photos, but speaks passionately about wanting to find love?
Online dating can be daunting, but the more work you put into getting a great profile and using the right strategy, the more rewarding it will be. Happy dating!
Francesca Hogi is a dating and life coach for extraordinary singles. Follow her on Twitter @dearfranny and even book a free session at francescahogi.com!
Popular in the Community