Model 3: Enabling immigrant and refugee entrepreneurs to take flight in their new economy
I had a client who was a refugee from Sudan. He lived in a refugee camp; he used to sell stuff—buy it from local markets and sell it in the refugee camp. He came here [to the US]; he couldn't speak English. He needed help; he needed to do something. He needed work because he had no formal skills whatsoever. The skill he had—the invisible capital—was that he knew how to navigate the refugee camp and make money there. So my thinking was, I started imagining back in Africa and people that I used to see in the village where I was growing up. Even my mother used to go from market to market. I thought, 'What is similar to that in America?' And then the idea of the flea market came to my mind. The flea market! Yeah! You go to this market, you buy stuff here. You go to the next one, you sell. And then instead of bicycles or donkeys, you just need a minivan. Get a beaten [up] one, $2,000, and somebody to show you how to get to the next market, one market to the next, and you're in business! That's what he does now. It's so fulfilling that he never knew how to drive, and in a very short time, he was able to get a minivan, buy stuff, go to the next market. It's the routine. Now he can go to NYC to get his merchandise.
Herman Nyamunga lights up when describing the entrepreneurial lives of his clients, both their successes and challenges. He works primarily with new Americans who have drive and innovative business ideas but lack networks, capital, or deep knowledge of the American business ecosystem. Once a businessman himself, Nyamunga now serves as the director of the Global Enterprise Hub and small business development at the Welcoming Center for New Pennsylvanians. Nyamunga likes to point out that William Penn, the very founder of Pennsylvania, was himself an immigrant entrepreneur. Indeed, over 40% of Fortune 500 companies were founded by immigrants—including Clorox, 3M, Home Depot, and Google—and a 2012 report noted that immigrants are more than twice as likely to start up a new business than Americans born here. Nyamunga wants to make sure that immigrants and refugees are able to continue making these positive contributions to American society.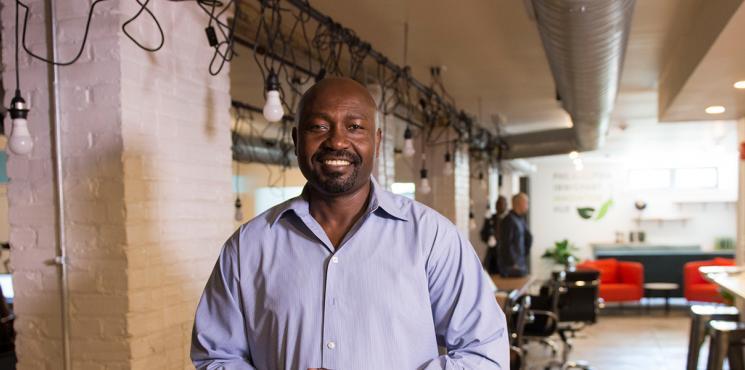 Nyamunga offers business training programs for immigrants and refugees. Group classes and workshops range from two days to six weeks, covering topics like how to develop a business plan and how to start an import-export business. Drawing upon experience, Nyamunga hopes to help new entrepreneurs avoid common pitfalls, like relying on third parties for purchasing, a tactic likely to drive prices outside of the competitive range. "Accessing information about starting up businesses in the city of Philadelphia was difficult, [so we] gather the information, put it in a booklet form, then translate it into languages that meet the demographics that we are serving," a vast array that includes Korean, Chinese, Hispanic-speaking, Bangladeshi, and Vietnamese people in addition to large groups of people from countries across West Africa, including Côte d'Ivoire, Liberia, Mali, Mauritania, and Senegal.
Nyamunga also provides individual technical assistance to people who already have businesses or are in the process of starting them, sharing crucial insight and experience as these budding entrepreneurs navigate the process. Listening to him describe this work with clients, one senses the care and devotion that he invests in each case. Talking about the process of helping a Senegalese woman to franchise her restaurant, for example, he says, "She has the fire in the belly. She knows what she's good at and where she needs help." Or, in describing his work with an Egyptian immigrant who is working to produce and market the spice dukkah (or duqqa) from her grandmother's recipes, he says, "when you put it in your mouth, it creates a sensation that is just like being in heaven." He even arranged for the woman and her colleagues to meet with the product purchasing team at Shoprite. (The women are still looking for the capital to produce their goods commercially.)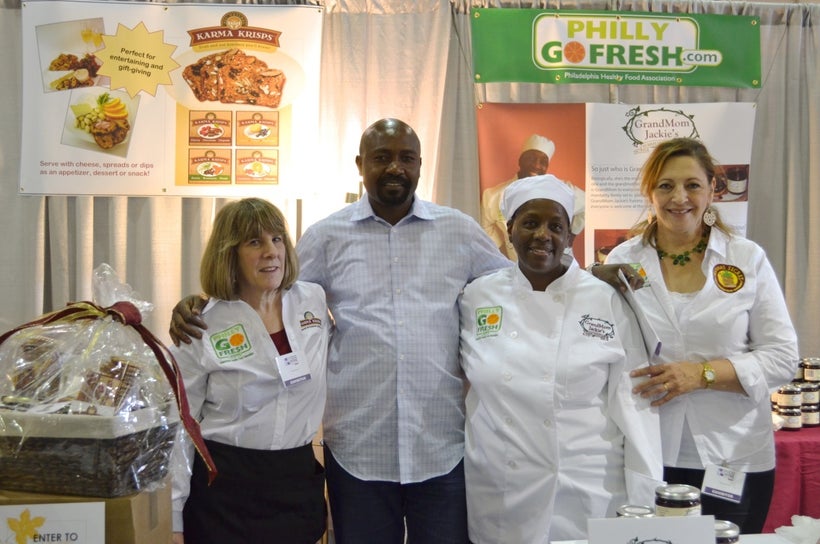 Entrepreneurialism runs in Nyamunga's blood. He managed import-export businesses in his native Kenya, where he also owned a small factory that made car batteries. Soap and detergent making were also part of his activity roster before he came to the United States over a decade ago. Although he no longer runs businesses himself, recent endeavors include owning and managing a commercial cleaning business and a transport business that distributed products to Starbucks locations throughout the Northeast, exporting solar lanterns and air conditioners from China to East Africa, and running of an art gallery and custom-framing shop that, in addition to retailing, also sold on consignment to museums such as the African American Museum in Philadelphia as well as specialty stores throughout the region.
Despite his own successes running business, Nyamunga strongly felt the need to give back to society and to share what he had learned. "While entrepreneurship thrills me, I think I am a teacher," he explains. "There is so much that I've learned, and although I could have used that knowledge and sold it and made money, the people who could benefit from it could not afford to pay for it. The urge to do more, the idea of volunteering, the idea of giving back was very strong." Looking around Philadelphia to see if there was any organization with a program to help entrepreneurial immigrants to reach their full potential, he didn't find what he was looking for, so he reached out to an organization called ACANA [African Cultural Alliance of North America] and offered to start up a program there. "I went there and told the guy, 'This is my background. This is something I'm really passionate about, and if you do not have a program yet, I can help you create one.'"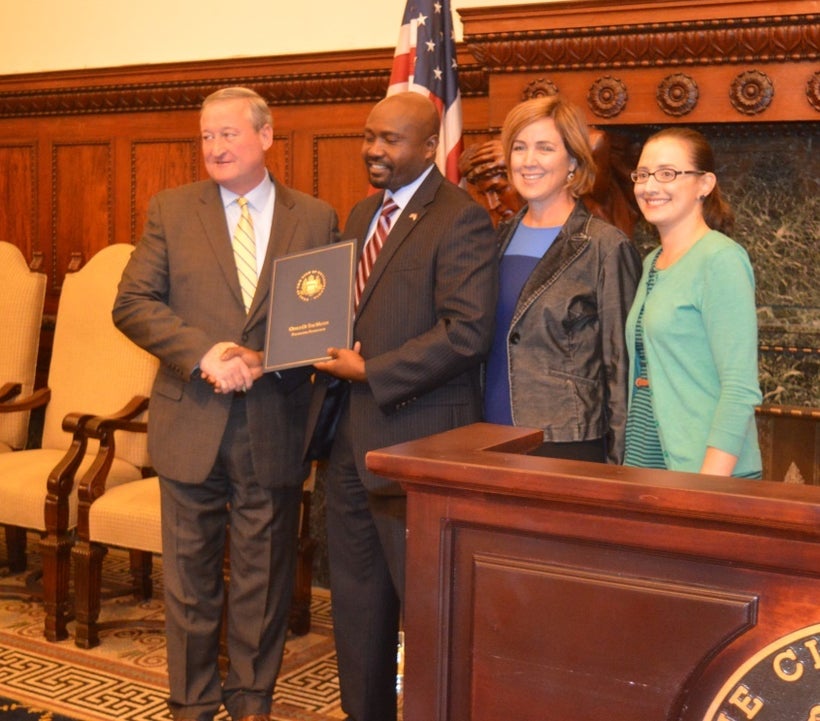 And so he did. Some six months into the program, the Welcoming Center received seed funding from the city of Philadelphia to start up a similar program, and Nyamunga fit the role to a T. The program continues to expand, and a new partnership with other organizations led to the launch of the Philadelphia Immigrant Innovation Hub, or the PhillyiHub. Throughout it all, Nyamunga remains inspirationally humble: "It would be disingenuous to take credit in any of the successes because it's a collective. Each and every client that has come to us has been touched by different touch points." ▪
About the 7 Kinds of Kindness series
Many of us are wondering how to make positive, concrete contributions to a society that seems increasingly fractured and polarized. As someone who has worked overseas with refugees and displaced populations for many years, I have been dismayed to see many Americans choose to adopt an anti-refugee, anti-immigrant stance that does not represent the best and the strongest of who we, as Americans, are and can be. That disappointment is why I am writing this series, "7 Kinds of Kindness," which highlights ways that Americans and others are choosing to take concrete pro-refugee and pro-immigrant action. The first article in the series highlighted the work of teaching artists using drama, dance, and the visual arts to communicate with refugee children and youth who are integrating the American education system while the second article featured the organization Welcoming America, which facilitates a network of leaders advocating for their cities and communities to become more welcoming to immigrants and refugees.
Calling all HuffPost superfans!
Sign up for membership to become a founding member and help shape HuffPost's next chapter
This post was published on the now-closed HuffPost Contributor platform. Contributors control their own work and posted freely to our site. If you need to flag this entry as abusive,
send us an email
.