Yahoo columnist David Pogue always cracks me up when he riffs on the inanity of the Internet of Things. "It's grammatically twisted," he says. "It sounds like some sort of Yoda speak. People just don't talk like that," says Pogue. "It's like calling your pants the "jeans of blue."
But what the Internet of Things does mean is that you can now control a mind boggling array of gadgets from your phone's app. Some are clearly more essential than others.
Why are there so many bizarre web-enabled devices? For the moment, it's a proof of concept. They do it to show it can be done. Why does the price tag on these devices give you sticker shock? Add a Bluetooth chip and an app developer to any kitchen gadget and you're adding at least $50 - $100 if not more.
Other than door locks and remote webcams, my sense is that once you've gone through the bother of installing an app and pairing the device, most gadgets get used a few times fall into drawers for potential regifting.
Ultimately the systems for connecting devices will get smarter and recognize that having a phone-full of apps to connect each product in your home to is pretty silly. The winner will be the gadget that can adopt itself to be a part of a larger system, say Apple, Google or Samsung Home. Or maybe Alexa.
But for now, with Mother's Day, Father's Day and outdoor cooking all looming, one of these devices, found by roaming the aisles of the famed housewares show in Chicago, may speak to you. They all use your phone to control their features and they are all brilliant in their quirky way.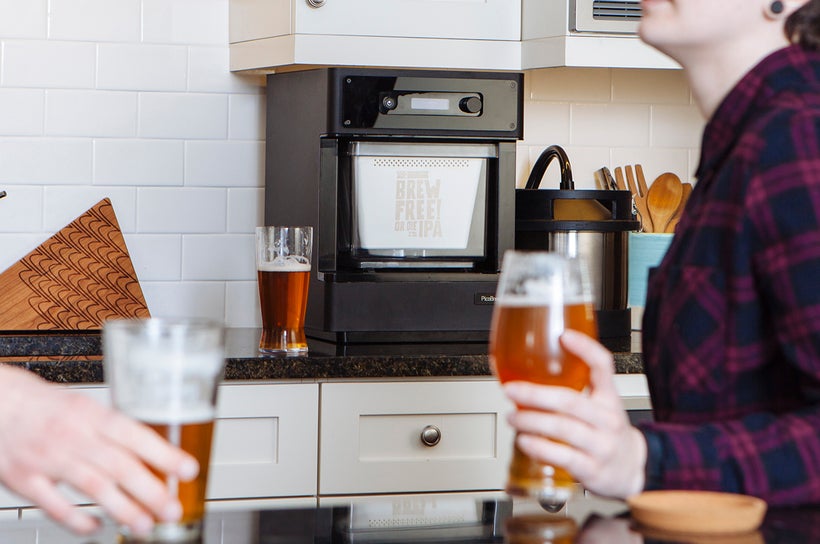 PicoBrew is the season's Kickstarter darling with its new Pico Model C. It's a countertop craft beer brewing appliance that lets you automatically brew 5 liters of fresh craft beer at home in about 2 hours using special packs of hops and grains from award-winning breweries worldwide. New add-on products, like the PicoStill for distilling essential oils and liquor (if you have a license) and the sous-vide cooking attachment, have turned this smart beer making appliance into a platform for cooking with chemistry (starting at $329).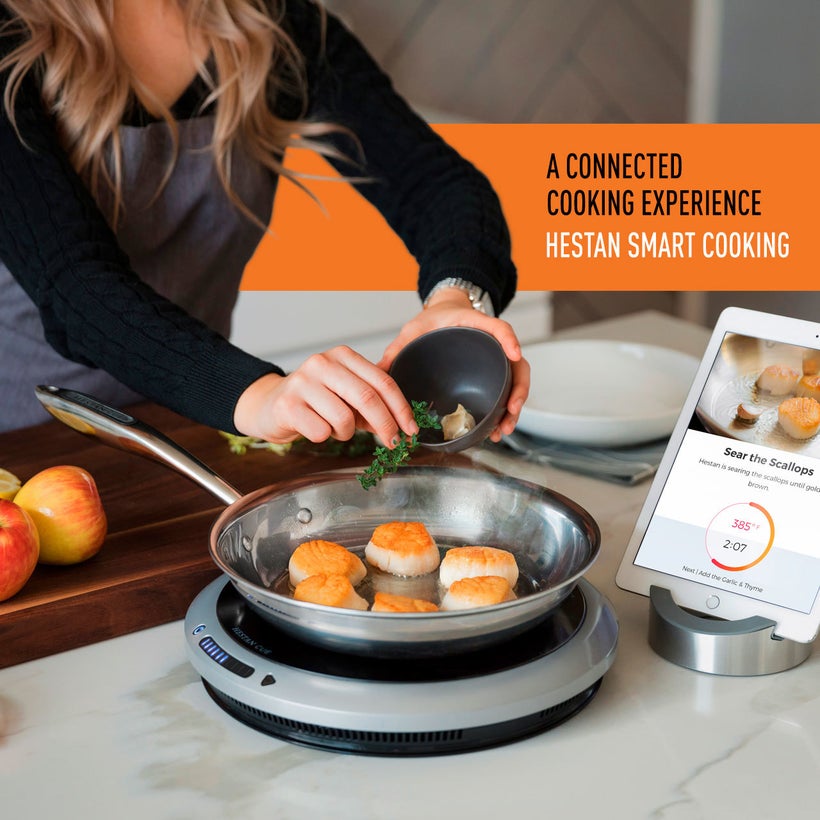 Hestan Cue – Induction cooking generates heat through magnetics. It requires a different culinary set of skills than using thermal or electrical conduction. So, when you buy a Hestan induction cookstove and pan, not only can you control the cooktop heat directly from your app, but you get a lovely recipe app to teach you the tricks of the induction trade. The app takes you through every step of making hundreds of recipes, with high quality video tutorials ($549 on the company website).
Behmor – I'm having trouble understanding why you wouldn't just preset your coffee pot to start brewing, but if you're dead set on starting the coffee maker from your bed, the Behmor has a great app. It can control the brewing temp and adjust based on your preferred coffee taste. The company also gives back to coffee communities in Guatemala, El Salvador, Costa Rica and Burundi. Too bad you can't use your app to measure and grind the beans! (Starts at $299).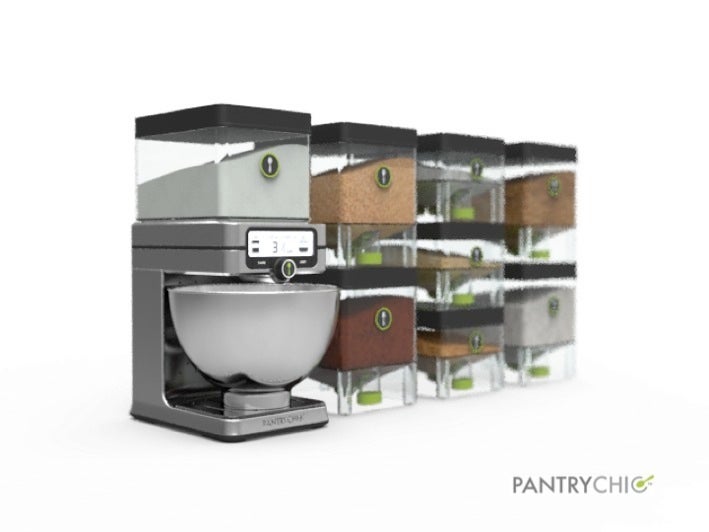 Pantry Chic – Brilliant! You store your flour or sugar in these airtight canisters. When you're ready to use them you simply set the canister into the countertop device. It then smartly converts volume to weight and dispenses the perfect amount of ingredient. Recipes are of course, included on the app. It's a no muss, no fuss answer for every baker (In production).
GeniCan – Here's the answer to the "I'm out of eggs and it's midnight" dilemma. GeniCan is a scanning device that you clip into your garbage can. As you toss your empties, you scan their barcodes. The items are automatically added to your shopping list for reordering. The GeniCan also works with Amazon for ordering and delivery. No barcode? No problem. Just hold the item in front of the scanner and it will prompt you to enter the product by voice ($140, still in pre-production).
Vitamix Ascent Series – These blenders from Vitamix can talk to Perfect Company's Perfect Blend Smart Scale + Recipe App. The blender communicates with the app using Bluetooth and can download and automatically run a precise blending program that is tailored to the recipe. The scale, which has been on the market and works with any blender, lets you measure the perfect amount of an ingredient for hundreds of recipes in the app (there are baking and mixed drink versions as well). Now, you can use the scale and Vitamix blender to precisely measure ingredients and blend your health drink (Blenders start at $399, but you can also purchase the Perfect Blend Scale separately starting at $49).
June -- While it sounds a little "Leave it to Beaverish" but has a Trump-era price tag, the $1,400 + induction oven, June is so smart that it knows what food you're putting in it and will cook accordingly. Hidden inside the demure little oven is an HD camera that recognizes your food and suggests the best cooking treatment. It'll tell you when it's done. And it's all controlled by an app. It's small, so you won't be entertaining dozens, but if your family has flown the coop or you're living alone this might be a great investment ($1,495).
Now go out and play in the kitchen!
Robin Raskin is founder of Living in Digital Times (LIDT), a team of technophiles who bring together top experts and the latest innovations that intersect lifestyle and technology. LIDT produces conferences and expos at CES and throughout the year focusing on how technology enhances every aspect of our lives through the eyes of today's digital consumer.
REAL LIFE. REAL NEWS. REAL VOICES.
Help us tell more of the stories that matter from voices that too often remain unheard.
This post was published on the now-closed HuffPost Contributor platform. Contributors control their own work and posted freely to our site. If you need to flag this entry as abusive,
send us an email
.