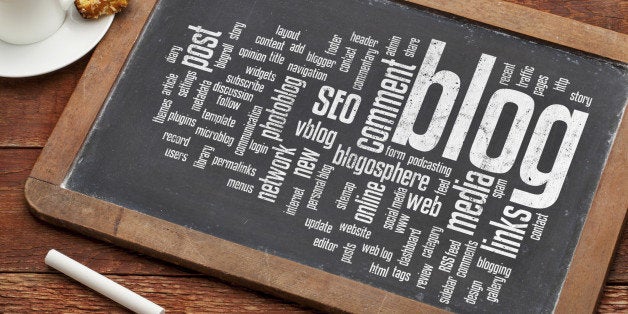 I started blogging my book Accidental Soldier: A Memoir of Service and Sacrifice in the Israel Defense Forces before I knew it was going to be a book. This was at the time when blogging your book suddenly had mass appeal. I loved writing, but at the time, I wasn't quite convinced of the benefits of blogging.
Once I took a few memoir courses, I turned to the next outlet -- blogging. Because blogging requires an "outer" type voice, I needed to feel comfortable sharing my story online. Over time, I started learning how to engage my audience and in doing so, I created a following.
I tried blogging my book at least three times a week. Then, I blogged just once a week. And when I got back into the blogging swing, I found there was still an engaged readership but a much smaller one. Once the contract for the book was signed, I still kept all the original blog posts because I still believe those blog posts have value. I still blog the themes and lessons of my memoir. Here are seven very important lessons I learned from that two year blogging experience:
1. Don't wait until your book is perfect to start blogging. Many writers get trapped in "perfection paralysis" which means they'll usually wait until their book is perfect before they start blogging. The danger with this mindset is that there will always be a reason not to blog. A book is a constant work in progress and there's no "right" or "wrong" time to blog but the general rule of thumb is to start blogging as soon as you feel comfortable with your story knowing that it will develop over time.
2. Stick to a blogging schedule. When your readers find that you've been off the grid for a while, they start losing interest. Whether you're blogging once a week or every other day, your readers want to see consistency. If you're blogging to snatch a book deal, publishers, too, want to see that you're serious about establishing an online presence.
3. Think how the themes of your posts can appeal to a wider audience. One of the great benefits of blogging is that you develop tremendous clarity about who you are blogging for and what you are blogging about. As you're writing, ask yourself, "how does this post support a bigger theme of my book?"
4. Don't be afraid to share relevant snippets of your story but don't share chapters. Reading through text can be tedious and your average online reader doesn't have time for it. Instead, use short story snippets to highlight points you are making.
5. To increase online engagement, tie in the themes of your book with timely newsy events. Is there a new trend or craze that's particularly hot right now such as a food or travel issue? Can you tap into what is happening in the news today -- a specific current event?
6. Use good copywriting techniques to sustain engagement. Print and online are two vastly different formats. Reading an author's blog is different than reading that same version in print. Bold your subtitles, bullet points, use shorter paragraphs (2-3 lines work best) and don't forget to include keywords anchored in SEO. (Search Engine Optimization)
7. Use images and videos. The posts that had gotten the most reads from my website had compelling images and videos. The key is to use the right image or video that effectively compliments the text.
While it takes great courage to blog, all too often this fear of suddenly being known and exposed causes bloggers to freeze up. But truthfully, your online readers are seeking connection.
There have been many bloggers who have gotten book deals, expanded their readership and increased their online visibility all due to blogging efforts. But the most important thing is to have fun and enjoy blogging your book.
Calling all HuffPost superfans!
Sign up for membership to become a founding member and help shape HuffPost's next chapter