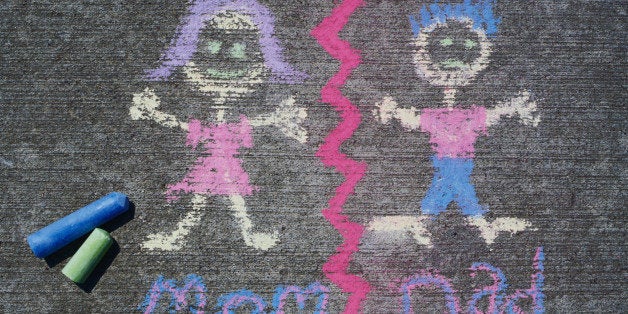 I was just 12 years old when my mom told me the words that no parent ever wants to say to their children:
"We're getting a divorce."
Going through my parents' divorce was one of the most impactful experiences of my life. 23 years later I still learn how to cope and manage one of the most extreme changes my family has gone through. The journey has had its ups and downs, confusing and awkward moments, bouts of sadness, anger, and anxiety. And still, at times, I admit that I have to work extra hard at being an accepting, forgiving, and positive person.
Overall, I'm so grateful that I've learned how to cope, manage, and accept this change that impacted my family so long ago. Even though it was a painful, life-changing experience, I came out a stronger, more resilient, and wiser human being for it.
Here are seven life lessons I learned from my parent's divorce that has helped me immensely through life and has helped create the woman I am today:
1. Change is the only constant
I learned early in life that change was inevitable. Whether we plan for it or not, life is always going to be in a constant state of change. And instead of hiding from it, it should be embraced. Getting comfortable with change and the fact that it's inevitable, helps prepare oneself for life's unexpected curve balls, excitement, and tragedy that's impossible to dodge over a lifetime.
2. No one is perfect
We're human, and with all the beautiful aspects that come with being human, there are also certain characteristics we must accept: We all breakdown. We all have moments of weakness. And we all have areas to grow and improve on. Remembering this as we deal with difficult situations, whether within our family or any other relationship, is they key to understanding and working together to move forward.
3. Acceptance is the key to happiness
Life doesn't always go according to plan and some things, unfortunately, are left out of our control. Instead of fighting it, accept it, knowing it's all part of the Universe's plan for you and no matter what, you will grow from it. I promise you this.

4. Don't sweat the small stuff
When you go through something traumatic, it teaches you not to fuss over the little things. It's not always easy when you're faced with an issue (big or small), but when you are aware that the situation will pass and won't affect you in an hour, a day, or even a year, you can learn not to sweat it too much!
5. You are stronger than you think
Even when the world seems to be crashing down, know that you have the strength to get through it and to stand back up again. Humans are so resilient, and when we tap into our inner strength, we can get over any hurdle if we stay positive and put our mind to it. During painful moments, just remind yourself of how strong you are. You will get through it!
6. As your world changes your mind expands
Going through a family divorce is an automatic ticket to having an open-mind, in my opinion. From early on I had to live in two separate homes, adapt to a step-family, and learn to accept new relationships and places into my life. Going through this has expanded and stretched my mind for the better. Ironically, I am in a loving relationship with a divorced man with kids. I guess I started getting prepared (and having an open mind about this) long ago. :)

7. What happens to you prepares you for what's to come
This might sound crazy, but I am grateful I went through this tough time with my family. Yes -- grateful! I know that this experience created the strong, resilient, and well-rounded woman I've become today. The pain I've experienced has been the motivation for me to help others achieve happiness. As Tony Robbins said: "Your problem is your GIFT."
It's defined the person I am today and has been the driving force behind why I do what I do. It's given me the passion and fuel to help others' create happiness in their lives.
What have the painful experiences of your life taught you? How has this experience made you the person you have become? Share below!
Sign up for my free life tips and inspiration at my website and receive a free guide & workbook "10 Ways to have Extraordinary Confidence".
Related