All writers thank mom around Mother's Day. Usually, it's a predictable list of qualities filled with all the platitudes about moms one would expect from a generic Mother's Day piece.
However, my mom is anything but generic.
I won't lie -- her style is not the norm, and it's not for everyone. I could easily write a Top 7 Things My Mom Did That Drove Me Nuts column, but just about any kid could do that about their parents, too. Instead, I want to celebrate some of the stuff my mom did that made her cool. And different. And completely insane in some instances. But whatever the case, these things I'm listing today are small things that meant a great deal to me. Things for which I never thanked my mom. Things she probably doesn't even think I remember.
So happy Mother's Day (and birthday), mom. And don't worry, this isn't your only present.
7. Always coming to see my games.
I played three sports a year, and my mom went to all my games. I'm not just saying that as hyperbole, either. It's a fact. My mom went to ALL my games. Didn't matter if it was 7-year-old rec league basketball, my all-star baseball teams as an early teen or cross-country matches in high school. She was there. Always. Guaranteed. Even when we traveled to competing high schools, she was there. Wanna know how she swung that? She drove the bus. Yup, that's right. My mom was a school bus driver when we were younger, and so she used those contacts to secure the gigs driving to all our away games in high school. I won't lie -- sometimes it made talking about chicks with the guys on the bus a little awkward with mom at the wheel, but having her there rooting me on was something I always appreciated. Even if I never let on before now.
6. Signing me up for things against my will.
I know you guys won't believe this, but I was a whiny kid. A REALLY whiny kid. I cried about everything, especially sports. If I struck out, it was the end of the world. If I only scored six points in basketball, I was a failure. After the season ended, I always swore I was never playing again, and I told my mom not to ever sign me up. Even when registration rolled around, I'd maintain my stance and tell her under no circumstances did I want to play. But then all my friends would get excited about the season and team assignments, and suddenly I'd freak out because I'd want to play but it was too late to register. Except it wasn't too late, because my mom had already signed me up, knowing I'd come around. Because she knew me better than I knew myself.
5. Helping me on my first day of middle school.
I don't remember specifically why, but I was terrified of middle school. The thought of going to a new school and mixing in with kids from the other elementary school who I didn't know scared the bejesus out of me. I swore I wasn't going to go. But my mom took me for a tour of the school beforehand, and since it was the same school she had gone to she showed me spots she liked as a kid and it made me feel a whole lot more at ease. Sometimes it's the little things.
4. Making me go to my first school dance.
At the end of fifth grade, we were able to attend a middle school dance. I was TERRIFIED (are you noticing a trend with me here?). In fact, when we pulled up to the school, I started freaking out and refused to go inside. I didn't know which of my friends were in there, who I could hang out with, where to walk in, where to stand, etc. My dad would've just kicked my ass out of the car, but my mom let me calm down while she walked in and performed some recon. She reported back to me which of my friends were there, where I was supposed to go, what the layout was, etc. It took me another 20 minutes, but I eventually did it. Of course, her thanks was that I immediately waved her away because it's uncool to have your parents dropping you off. But today I say thank you -- even if it is 25 years late.
3. Being cool about my first kiss.
My dad did not deal well when I started liking girls. When I told him I got my first French kiss at the age of 11, he nearly veered off the road and basically told me to stay away from girls. But it was my mom who came to me after everything calmed down. And while she gave me the talk and told me to be respectful and safe, she also congratulated me on my first kiss and told me she was proud of me. Mom has always been cool like that, and her attitude is the reason I felt I could communicate openly with my parents about almost anything. As a parent myself now, I see how valuable and important that is.
2. Never going the same way to and from places.
Driving with my mother is... an adventure. She has very little sense of geography, and routinely ignores or miscalculates the time it takes to get from Point A to Point B. And one thing she does that drives many people batty is refuse to go back the same way she came. She ALWAYS takes a different route. It used to make me insane, but as I've gotten older, well, I find I do the same thing. I take back roads because she taught me to enjoy a little diversity and find the beauty in the scenic route. So what if it takes a few minutes longer? It's better to enjoy life a little.
1. The best/worst sex talk ever.
Every parent worries about kids when they become sexually active. Most of them are hesitant when it comes to discussing it. But not my mom. On December 25, 1996 (when I was 17), I unwrapped a present on Christmas morning and discovered: a 36-pack of Trojan condoms. They were from my mom -- her way of making sure I was being safe. I wrote about it in full detail here, but it was an especially brilliant move because every time I needed a condom I was forced to think of my mother. Can you say "deterrent"? Interestingly enough, this tops the "Things My Mother Did That Drove Me Nuts" list as well.
All in all, I couldn't have asked for a better mom. Happy Mother's Day, happy birthday, and thanks for always being there -- even when I wished you weren't. I love you, mom.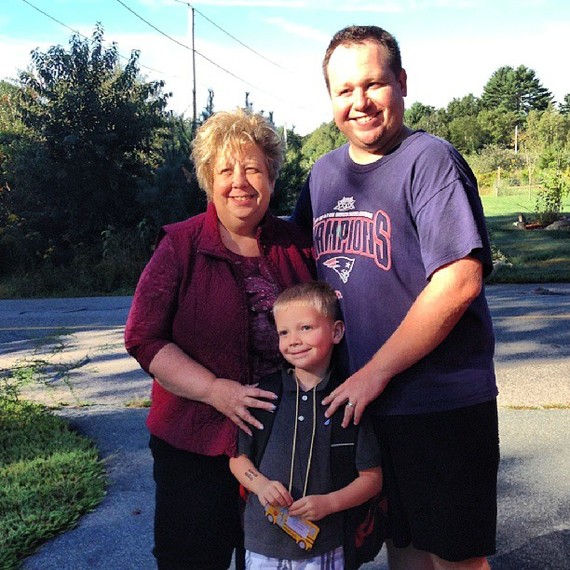 This post is part of HuffPost Parents' Mother's Day series, exploring the lessons our moms taught us about parenting.