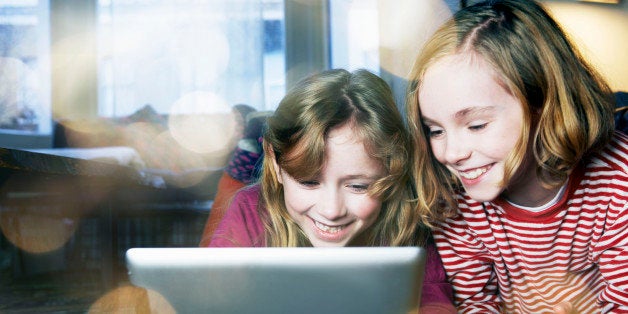 There are two types of people in the world: New Year's resolution makers and "let's-just-wing-it" types. Whichever category you fall into, our media resolutions (or "suggestions" for the latter group) are designed to be easy, fun, totally doable and family-strengthening.
And whether you're a planner or a play-it-by-ear person, your family will undoubtedly face media and technology issues in 2015 as they become more ubiquitous, affordable and essential to daily life. There's a lot to look forward to -- and a lot to manage. Consider one or more of these New Year's resolutions and you'll weather anything that comes your way.
Focus on content quality, not screen time quantity. It's not that screen time doesn't matter (kids need a balance of activities for healthy development). But trying to tally up all the minutes your kids spend in front of a screen -- and feeling guilty when they go "over" -- helps nothing. This year, focus on becoming actively engaged in your kids' media. Help them make quality, age-appropriate choices, play or watch together when you can and talk about any issues that come up. Some days they may spend a little more time on the computer learning to code, but the next day they may end up making crafts all day. It balances out.
Play a game with your kid. Maybe you love video games, maybe you'd rather do just about anything else. The point is, kids love games. There's a certain kind of bond that develops when families compete -- plus, it's fun. Playing games with your kids also imparts important skills, such as taking turns, winning graciously, losing gracefully and practicing good sportsmanship. Look for video games the entire family can enjoy.
Play: Starter Games for Parents to Play with Kids; Family Video Games
Learn something online. Make this the year you finally learn to crochet, play guitar or master a foreign language -- whatever you've longed to do. With so many opportunities for online learning, from casual how-to's to formal lessons, there's no excuse not to. Your kids will see you work toward a goal, manage your time, be patient with yourself, and discover you're not perfect at everything. Bonus points for taking a class with your kid!
Try: Instructables; Duolingo; Thrively; LessonFace
Embrace the next new thing. At some point this year, a killer app, viral video or hot new show will take your kids by storm. Keep an open mind and explore this new thing along with them. You'll learn more about what your kids are doing, how they can safely use new tools and how to guide them through a changing landscape.
Ask: What's your favorite new app, game or website? What do you like about it? How can you make sure you're using it responsibly, respectfully and safely?
Do some good. Show your kids that the real power of the web is in how it can connect those in need to those who can help out. In addition to traditional charities, there are sites that let you target your gift to specific donors, find volunteer opportunities, promote causes you believe in and even let your kids lead the charge.
Explore: JustGive; DonorsChoose; Kids Can Give Too
Stop texting and driving. Nobody wants to admit it, but the accident statistics tell the real story: We are still texting and driving. Not only is it dangerous, it also sends a bad message to your kids when you ignore the law. Consider an app that temporarily disables the phone when you're driving (and install one on your kid's phone, too). Download: AT&T DriveMode; Live2txt; Text-Star
About Common Sense Media
Common Sense Media is dedicated to improving the lives of kids and families by providing the trustworthy information, education, and independent voice they need to thrive in a world of media and technology. We exist because our kids are growing up in a culture that profoundly impacts their physical, social, and emotional well-being. We provide families with the advice and media reviews they need in order to make the best choices for their children. Through our education programs and policy efforts, Common Sense Media empowers parents, educators, and young people to become knowledgeable and responsible digital citizens. For more information, go to www.commonsense.org.
Related