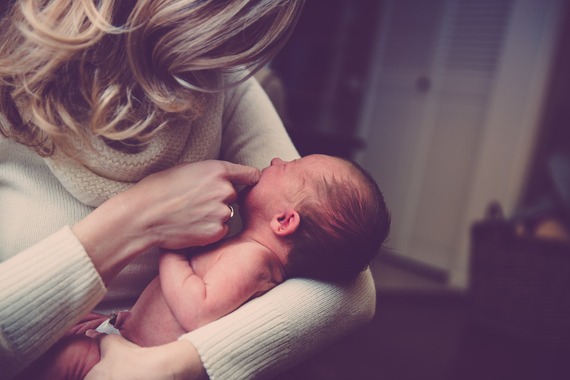 It's finally here. After 10 months of preparation, excitement, and venting, your friend has delivered her first (or second or third) child. You're thrilled for your dear friend who is finally at the end of her pregnancy journey... And at the beginning of a new lifetime one.
You want to celebrate with her, but understand her need to withdraw temporarily from her public to bond and care for this new human being. Yet you want to express your sincerest congratulations and give her something that she can really use.
So -- what to give? More clothes for the baby? A swaddling blanket? Diapers?
Perhaps... Or perhaps something a bit more memorable. Having gone through this journey three times now, I've been grateful for friends who have come up with special ways to celebrate the birth of each child with me.
Adult dinner at a nice restaurant.
Just you and your friend.
She will fight you. She will lament at how she cannot possibly leave her infant yet.
I've been there. I had a friend who insisted that I shower, put on something other than sweats, and leave the house for a nice dinner away from my precious baby.
I didn't want to. I felt guilty about leaving. And as the hour drew nearer I began to panic about leaving my baby. But it was too late to cancel.
So I went. And we sat. Ordered a bottle of wine. Ate. And talked. Not solely about the baby -- but about everything we've always talked about.
It was one of the most memorable post-baby gifts I've been given.
What many don't recognize is that after a mother gives birth, she often feels forgotten. She has gone from months of being a celebrated vessel of life to becoming a walking feeding machine and pooper-scooper. Add a good dose of postpartum hormones to the mix and it is a recipe for complete deflation.
So giving your girl friend the gift of focus on her and the gift of your time is one of the kindest gestures you can make.
Trust me -- your girlfriend is drowning. She is a walking zombie who has lost all track of day and time. She may or may not let you know this (for some reason, our society dictates that we must cheerfully do it all with smiles plastered across our exhausted faces). But know that she is lost in the abyss of insanity that occurs right after a new baby is born.
Offer to help. Not a vague let me know if you need anything. But a real, tangible offer of help. Something along the lines of:
I am coming over this Wednesday at noon and will be staying with the baby until 5:00 p.m. I will not be talked out of it and you cannot keep me from this precious baby. I encourage you to go out and do something for you. Take a walk, go to a movie -- heck, go to Target. That time is yours and whether you stay or go out, I will be there.
This type of an offer -- the firmness and concreteness of it -- will be something she never forgets.
Same as above, your assertiveness will be critical. But this time let your friend know that you will be coming over and taking the baby out (for a walk or to your house) for a few hours so that she can simply sleep. Deep, blissful, uninterrupted sleep.
Ask for the key so that you don't have to disturb her when you return. Reassure her that you will call or text the absolute second you have any questions about the baby. Bring over a few of her favorite magazines, make her a cup of tea and honey, and send her to bed.
If you are an amazing friend (and who isn't??), give her the night off completely. Stay over, learn her feeding routine, and let her know that you will be the one to handle every cry, every diaper change, and every feed for an entire night. The key here is to actually DO it too -- within a timely manner so Mommy doesn't wake.
Yes, I know, it is a night lost... But you will likely be rewarded with sobs of gratitude, and a rested and more rational girl friend.
As busy as new moms are, there is a lot of down time too. By "down", I mean a baby laying down on Mommy while she feeds and rocks her to sleep. And while a good portion of this time will be spent caressing the baby's hair and gazing into her eyes, another portion will be spent not-scratching-that-itch, not-sneezing, and not-moving-a-muscle in a desperate attempt to not wake the baby.
This is the perfect time for Mommy to NOT Google, but instead to watch, read, or listen to something entertaining. I highly recommend media gift certificates here. Let her pick her poison -- a movie, book, or music -- and have at it.
Make sure you write clear instructions on the gift card, advising her that the gift must be used for some form of media entertainment for her and her alone.
Chances are, your friend's house looks like a tornado hit. Keeping the house tidy is likely at the bottom of her priority list right now. Even still, the mess bothers her. It makes her feel even more frazzled and just plain makes it difficult to find anything.
Help a girl out! Hire a housekeeper to come out and complete a one-time deep clean. Allow your friend to clear her head with a fresh and clean house. Getting her to a point where it just needs to be maintained instead of deep cleaned will lighten her load and immediately eliminate some of her stress.
You can never go wrong with food, but make it thoughtful.
If she is breastfeeding, make her something to assist with lactation (there are several types of lactation soups or cookies to help with this).
If she has a family of five, bring over a fully prepared meal for everyone. Heat it up, set it out buffet style, and let them dig in. Clean up afterwards as an added bonus.
Bring a treat for the poor dog who likely hasn't been fed in days. Bring a bottle of your girl friend's favorite sparkling juice or wine. Uncork it and pour her a glass or four.
Bring juice for the kids. Paper plates, cups, and utensils - all the better. If you're not much of a chef, order food. There are multiple restaurants that cater, or you can simply send a pizza and breadsticks to her home - she will be just as happy.
A personal item to mark the occasion.
Find your girl friend something special just for her. She will already be receiving flower arrangements, baby clothes, and diapers. While helpful, these types of gifts tend to blur together. You're looking to do something meaningful, something she will remember.
So get her something to celebrate her. A pair of earrings (perhaps yielding the birthstone of her baby), an engraved locket, or a personalized mug. A nice wallet or handbag (NOT baby bag) that she has been eyeing.
Steer away from clothing until her body has had the opportunity to get back to normal. Think perfume or slippers. Tickets to see a favorite band or show. A tablet if she is techie. Anything that is for her, her comfort, or her enjoyment.
The overall theme here is to focus on your girl friend as your friend first. Remind her that she is still an individual and that she is important just by being her (in addition to now being a mom). Listen to her. Support her. Help her where you can.
She will be more grateful than you can imagine.
Faye is an almost-40-something mother of three who has recently left a 20+ year career in the financial services industry to pursue her passion for writing and to spend more time with family. Her work has appeared on Mamapedia, Modern Mom, and in various other publications. She chronicles her experiences in making the leap to self-employment, her adventures in parenting, and her other favorite topics on her blog at Leap of Faye. She can also be found on Facebook, Twitter, and Pinterest.