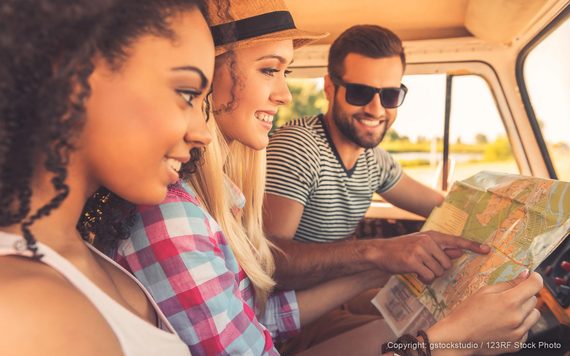 By Charlene Oldham, Contributor
2016 will be a record-setting year for gasoline consumption and total miles traveled thanks, in part, to fuel prices that are at their lowest levels since 2009, according to figures from AAA. You can save money on your summer road trip by planning ahead for hotel stays, food, attractions and more. Here are seven tips to help you save on your vacation on the road.
7 Tips to Saving Money on Your Road Trip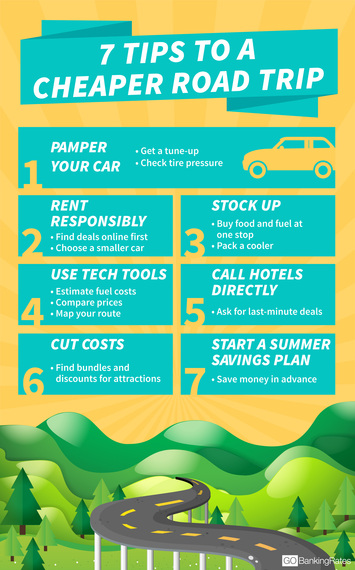 1. Get a Tuneup and Cut Weight
Preventative car care before a summer road trip can help you save on gas and make it less likely you'll spend part of your summer in the sweltering sun on the shoulder, waiting for roadside assistance. Karen Hoxmeier, founder of the savings site MyBargainBuddy.com, suggested getting your tires checked and your oil changed, if needed:
"Improve your gas mileage by up to 3.3 percent by having your tires inflated to the proper pressure," Hoxmeier advised. "Gas mileage can be improved by 1 to 2 percent by using the manufacturer's recommended grade of motor oil in your car."
Before you hit the road, you'll also want to remove any unnecessary weight from your ride. An excess 100 pounds in the trunk can cut fuel economy by 1 to 2 percent.
2. Rent Responsibly
If you're renting a car, avoid airport outposts and seek out deals online. Choose the smallest car that meets your travel needs. "Not only will you save on the rental, but you'll save on gas, too," Hoxmeier said.
3. Stock Up Before Hitting the Road
Retailers like Sam's Club and Costco offer food and fuel savings in a single stop, said Maggie McCombs of travel management company Creative Lodging Solutions.
"Take your cooler there to stash [up on] bulk yogurts, cheese snacks and lunch meats for the road," she said. "These stores also have great deals on individually-bagged snacks like KIND bars, SmartPop! and nuts."
4. Use Mobile Apps to Save on Gas
Sites and apps like GasBuddy include features that can help you calculate fuel costs for a trip or compare prices at nearby gas stations. For example, a recent search of stations in Los Angeles found per-gallon prices ranging from $2.77 at warehouse stores to $3.19 at several stations throughout the city.
Planning your route ahead of time can also cut costs. The best option is not always the shortest distance between point A and point B, said Hoxmeier: "Map out the most efficient route based on mileage and possible traffic," she said. "Apps like Waze can help."
5. Call and Book Hotels Directly
Sites like Expedia, Hotwire and Priceline all have search features specifically devoted to finding last-minute deals on hotel rooms and other travel products, but their results don't always represent the best offers.
"Once you've found the hotel you want and the best rate online, call the hotel directly to see if they can beat the rate -- or at least match and upgrade your room. They'll save money by not having to pay the online travel agency and will often pass that savings to you," McCombs said.
6. Get CityPass or Coupon Books for Food and Fun
If you plan on visiting attractions like Atlanta's World of Coca-Cola or New York City's Metropolitan Museum of Art, consider investing in a CityPass, which bundles discounted admission to top attractions in 12 U.S. locations. The Entertainment Coupon Book is also available for several areas and offers discounts on everything from attractions and travel products to restaurants and retail stores.
7. Start a Summer Savings Plan
You probably won't have time to build a big bankroll in time for this summer, but online savings tools can help you get ahead of some expenses.
"Use apps like Digit as a digital piggy bank. It automatically withdraws small amounts from your checking account. You'll barely notice -- until you get your first notification that you've saved $100, which is enough to afford gas for a long road trip," McCombs said. "The system uses special algorithms to find how much you can afford to save."
More from GOBankingRates:
Related