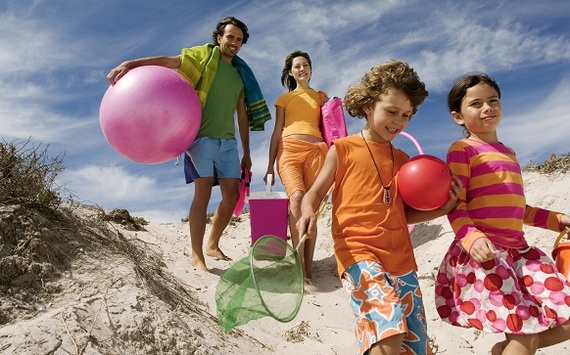 Here's the drill: it's 2016, and summer is around the corner. If you're thinking of travelling, now is the time to try something different from the way you've been traveling for years. If this is your first time, then it's never too late to start out in grand style.
Sure, going to the beach, hiking or camping is fun. But I want to take it further. Traveling doesn't have to follow the conventional anymore. Thanks to technology, travel's not only fun but memorable too.
Yeah, I know you've got a Smartphone and social apps to break the boredom, but what I'm talking about will totally blow your mind. I've got a list of items that is the real definition of fun, unique and innovative. Yes, I've got you covered from suitcase to flip flops.
1. Sim cards That Keep You connected
The vacation wouldn't be much fun if you couldn't stay connected to folk at home as well as connected online. Rather than subscribing anew to new networks whenever we take a trip, It would be a great idea to subscribe to an international sim card that can serve you on most trips.
With these international sim cards, you can stay connected while travelling, get prepaid internet at very low costs in numerous countries, reduce your data roaming charges and much more so that you don't have to worry about additional spending. You can also use them in a portable wifi router. This Sim Card is especially necessary for you if you are embarking on a multi destination vacation.
2. A suitcase that can turn into a scooter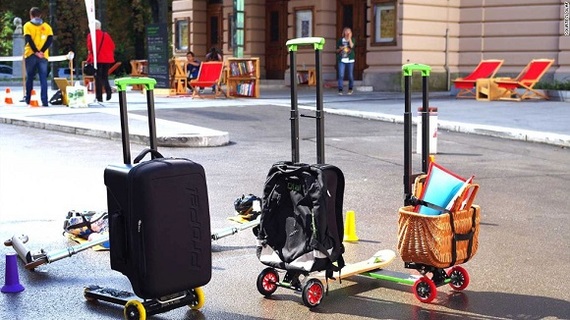 Yes, it's possible! Micro Luggages Scooter converts a suitcase into a scooter such that it acts as a kickboard scooter, a carry-on bag and a trolley at the same time.
To make it simply irresistible, Its even got a built-in Bluetooth Sound2Go speakers which allows you to listen to music as you glide this baby out of the airport. Once you're done, you can easily collapse the scooter and it turns back into a suitcase. That's the best luggage carrier ever!
3. A suitcase that plays music while you sit
Trip Sound by Travelteq is a unique suitcase that functions as a chair. No need to worry about where to sit in a crowded airport or while waiting for your ride. Its integrated sound system with USB and aux inputs allows you to also listen to music while you sit.
You've got a seat plus you're entertained with your favourite songs. So, that , lull in between travels is much more bearable. As if it wasn't awesome enough, It's battery can also charge gadgets. Awesome!
4. A camera that takes pictures above and below the water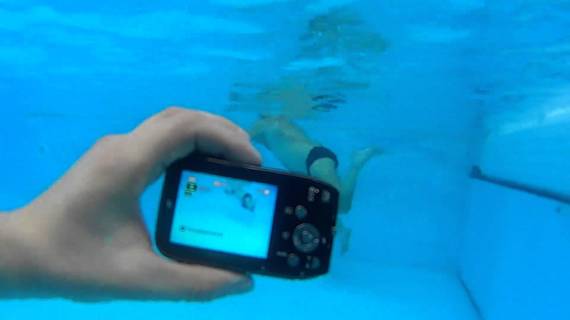 Save all your best moments with GoPro. With its impressive picture and audio quality, GoPro allows you to take pictures and record videos of everything including the breathtaking scenery underwater.
Although the GoPro Hero4 Black is more recent than GoPro Hero4 Silver, installed with a built-in screen, Hero4 Silver gives you - guess what - a better user experience and a longer battery life!
5. A portable bar in a bag
The Tailgater Backpack Drink Dispenser is a must have when you're thinking of having a party with friends and family while on holiday with its 210-ounce capacity it can dispense your favorite drinks.
It has a dual tank and two gravity-fed hand taps to keep the drinks flowing. Its mesh bag is ideal for keeping extra cups if you need some. This nifty piece really acts like a full fledged bar in a bag.
6. A beach mat that doesn't let the sand in
You know how annoying it can get when sand goes everywhere even though you spread a mat on the beach? Well, Sandless Beach Mat is the solution. This incredible mat is made of specially woven polyurethane which filters sand that falls on the surface of the mat.
It's literally impossible to cover the mat in sand. Goodbye sand-that-tries-to-interrupt-you-while-chatting-on-my-Smartphone. Hello peace and relaxation!
7. Flip flops that drop a message
What if with each step you take you drop a message? Flip Sidez's Custom Sand Imprint Flip Flops and Sandals can make this happen. Flip Sidez personalizes flip flops or sandals to have the text or symbol or your choice, so as you step your foot in the sand, you'll see your personalized imprint. For instance, I could walk all over a Hawaiian beach with the message; "Toby was here!" all over the sand, Way to leave your mark on the land right?
There you have it! Arm yourself with these 7 incredible items or any of your choice and make your travel a memorable one. Adiós boredom!