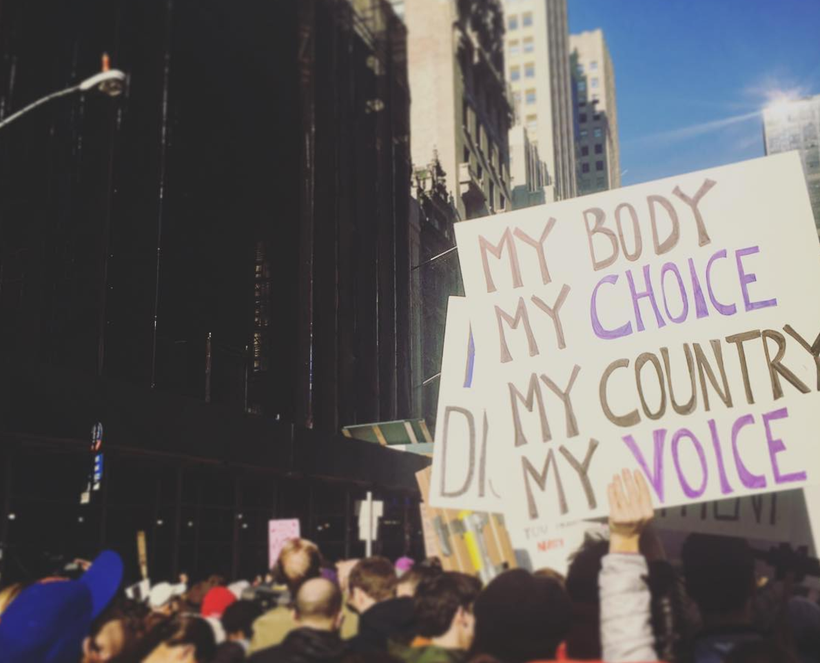 As founding-editor of Luna Luna Magazine, I am honored, along with my staff, to be able to read, edit and publish stories by many diverse voices. Our goal is to be intersectional, and to continue educating ourselves and readers on the importance of intersectional feminism and the work of the ally. This is because women, the LBGTQIA community, people with disabilities and people of color tend to see their voices erased, not prioritized. But these voices are necessary; they not only create but strengthen our country, which is why marching to promote those voices — over the voice of oppression — was so vital. Put simply, going forward, must not normalize erasure, racism, sexism and xenophobic ideologies.
Gloria Steinem told Cosmo, "I have never, in my long life, seen so many people marching and demonstrating and saying, this is our government, we're going to take it back." That is a loaded statement; it means times are powerfully changing, but it also mean we need to make sure we're including and fighting for all the people directly affected by oppressive policies and ideologies.
We, as people, are an engine — and we have a responsibility to keep it rolling. The next four years will require serious energy and activism, because, Audre Lorde said, "Your silence will not protect you." Remember that.
1. RECOGNIZE THAT INCLUSIVITY AND UNDERSTANDING IS A NECESSITY — AND PUT ENERGY INTO EDUCATING YOURSELF AND OTHERS.
Because many activists benefit from cis and white privilege and are able-bodied, we have to realize and work on knowing when to listen and how to speak out. Because many other people are marginalized and silenced. It is imperative now to make space for those voices so that we can all unite in solidarity, as friends and allies, to fight against oppression. Read this piece — How to survive in intersectional feminist spaces 101— and share it. And examine how race intersected with the Women's March. 
2. CALL CONGRESS — EVERY SINGLE DAY.
3. MAKE ART. KEEP MAKING ART. HOST POLITICAL POETRY READINGS. COLLABORATE. 
Now is the time to use your words and your art and your vision. Whatever that means to you, do it. Do it because it is an expression. Do it because it forges community. Host a poetry night that explores politics, invite friends to make art. Write and submit your work to journals that are open to it.
4. LEARN TO SPOT FAKE NEWS. 
I can't believe I'm saying this, but it's 2017 and "fake news" is a legitimate term. Even worse, there's a difference between what intelligent humans call "fake news" and the real news that President Trump is calling "fake news." So, thank you, post-apocalyptic Twilight zone. 
This organization allows people to create meet-ups that will plan and organize for the road ahead. Sign up here. According to their site, you can make outreach plans and actions plans: "Our gatherings will focus on how we can start this process so that ultimately, we can increase the number of people willing to go to bat for social justice issues....We'll support each other in outlining concrete action plans to push forward the issues we care about as individuals." 
6. RUN FOR OFFICE, SERIOUSLY. 
Through She Should Run, women are empowered to run for office. The organization demystifies the process and provides resources so women can run. From their site: "She Should Run's robust Ask a Woman to Run program provides a community that encourages women to run and then connects women with resources, people and organizations who can help start their path towards public service. The She Should Run Incubator is our online program to help more women envision themselves in public leadership, and our way of providing thoughtful guidance and support for women considering a future run."
Everything you need to do is clearly and easily listed out — so there's no reason not to. We'll see you over there. Let's do this.
REAL LIFE. REAL NEWS. REAL VOICES.
Help us tell more of the stories that matter from voices that too often remain unheard.
This post was published on the now-closed HuffPost Contributor platform. Contributors control their own work and posted freely to our site. If you need to flag this entry as abusive,
send us an email
.