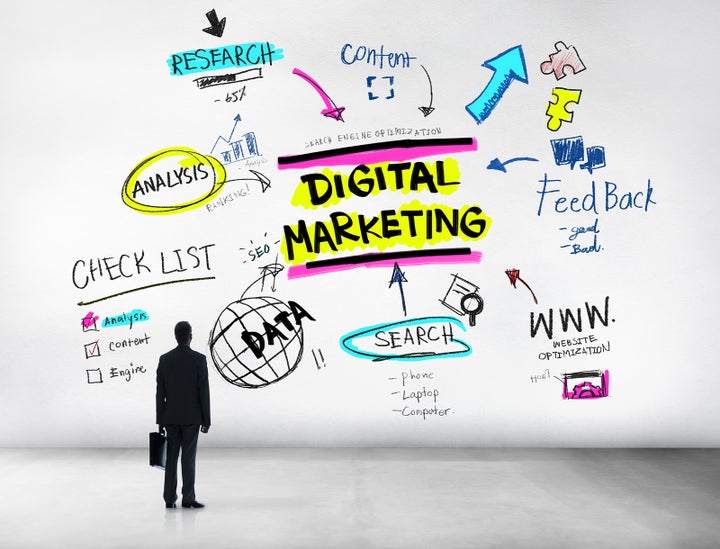 The rise of the social web has given rise to many a channel and formats for reaching out to potential customers. However, as this industry has grown, a number of big names have emerged from the market. These top online influencers in the digital marketing world have managed to change the market for the better.
In a digital age, where most users have computers and mobile devices, accessing websites, social networks, and other online media, has become part of day-to-day living. Thus, many companies have adopted digital marketing strategies to continue to promote their products and services to these users via these channels.
Even though the fundamentals of marketing remain the same — creating unique or innovative messaging, knowing who your target audience is, knowing where to find them — one has to continuously acquire new skills, learn and understand as the consumption patterns change over time.
Here are Top Six Online Influencers in Digital Marketing to Look out for In 2017.
Deep Patel is a serial entrepreneur and marketer, and the author of A Paperboy's Fable. Most recently, he spoke at A.T. Kearney's Consumers@250 event on a panel of 30 Fortune 500 A-list execs, including the CEO's of Foot Locker and Warby Parker, and executives from Google and Spotify.
He has worked on marketing campaigns with viral Kickstarters and VC-backed companies, and is now working on his latest project at Slyde Handboards, an Ashton Kutcher and Mark Cuban backed startup. His work appears regularly in Entrepreneur Magazine and Forbes.
He is a serial entrepreneur, marketer and author of A Paperboy's Fable: The 11 Principles of Success, dubbed as the 'best book for entrepreneurs in 2016' by Entrepreneur Magazine. It was also listed it as one of '5 unique books that successful entrepreneurs love' by Inc. Magazine.
Leonard Kim is managing partner of InfluenceTree. Leonard has grown his personal social media following from 0 to over 250,000 followers within three years, then on top of that, he has helped both people and companies like Keck Medicine of USC go from around 9,000 to 90,000 followers in a year.
Leonard Kim is recognized as a personal branding expert and renowned speaker. He has been featured in leading media publications, ranging from Fortune, Inc., Entrepreneur, Forbes, The Huffington Post, Thought Catalog, Los Angeles Times, GQ, Business Insider, Medical Daily, Newsweek, the BBC, SEMrush, Slate, TechDay, Workboard, Search Engine Journal, Tech In Asia, Brand Quarterly and many reputed portals.
Nicolas Cole is a writer and essayist, and Top Writer on Quora. He is an author, columnist for Inc Magazine, and a Top Writer on Quora with over 13,000,000 article views. He has his work published in TIME, Forbes, Fortune, The Huffington Post, Entrepreneur, Business Insider, and more.He is best known for writing true stories about self-development.
He teaches people how to take what they love and build a Personal Brand. He helps you discover what your unique value is, and then helps you understand who needs what you can provide. In short, he gives you the tools you need in order to live your dream.
Featured in YourStory, AppFutura, and SmallBizTrends; Contributor to HuffingtonPost, Entrepreneur, Inc42, YourStory, Wealthy Gorilla, Business, e27, Business2Community, Tech.co, Influencive, Pratik Kanda is CEO of 360 Degree Technosoft, a paramount mobile application development company and Founder of The App Entrepreneur.
Pratik is proficient in mobile app development, social media strategies, mobile marketing, and digital lead traction. He writes for the same on various blogs and gives important insights to the readers. His Company 360 Degree Technosoft ranks in the Top 10 mobile app development companies globally.
A husband, father, ultra trail runner, skater, resident of Hong Kong, and Mormon, Josh Steimle trains busy executives and entrepreneurs on how to become thought leaders and influencers. He is the author of Chief Marketing Officers at Work and have published 200+ articles in publications like Forbes, Entrepreneur, Mashable, TechCrunch, Inc., and Time.
Since 1999 he has been running the digital marketing agency MWI and this blog is where he shares tips from his experiences with marketing, customer service, and startups. He also reviews business books.
He is a former Associated Press reporter, a professional speaker, and the author of seven books. John Nemo is the author of the Amazon bestseller LinkedIn Riches: How to Leverage the World's Largest Professional Network to Enhance Your Brand, Generate Leads, and Increase Revenue! As a LinkedIn trainer and consultant, John has helped hundreds of small-business owners, coaches, consultants, trainers, sales professionals, and business development executives utilize LinkedIn to generate more sales leads, clients, and revenue.
Author of The Weak Point Dealer & 'Will You Walk A Mile?'; Contributing Author to Entrepreneur.com, Elite Daily, YourStory.com, e27.co, Inc42.com, BusinessZone, Influencive, Business.com, and Techinasia, Guest Poster at LifeHacker, BuzzFeed, InternetBillboards, BroBible, Bhavik Sarkhedi is the Founder of 'Write Right' and a helping partner to many Content Marketing Business across India.
Being bibliophilic in nature and engaged in personal diary writing since he was 9, the enthusiasm he has for writing can be expressed clearly when he writes about the intersection of Technology, Startup, Entrepreneurship and Juggle them. Bohemian by nature, Rapper by Passion, Story-Teller by Soul, and a Wanderlust, he wants to explore the intersection of philosophy and psychology. He is smartly dumb, genius moron, dynamically stubborn and occasionally an engineer.
Sujan is the leading expert in digital marketing. He is a hard working & high energy individual fueled by his passion to help people and solve problems. He is the co-founder of Web Profits, a growth marketing agency, and a partner in a handful of software companies including ContentMarketer.io, Pick.co, Quuu, and Linktexting.com. Between his consulting practice and his software companies, Sujan's goal is to help entrepreneurs and marketers scale their businesses.
He is writing for many famous online magazines like HuffingtonPost, Entrepreneur, Inc.com, Forbes and many reputed firms.
Please do not hesitate to chime in on this topic in the discussion forum below. Do you see other influencers who should be mentioned? Please reach me here.
Related
Popular in the Community