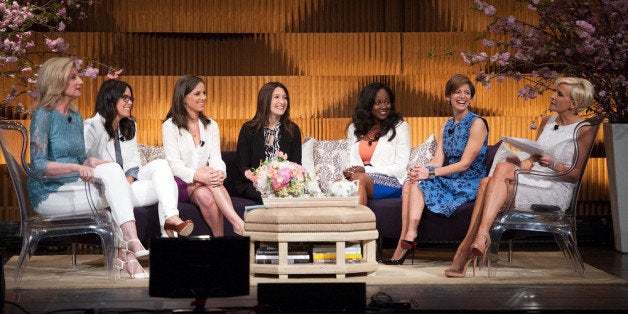 Many jewels were dropped on the stage of the Third Metric live event, Thrive. Held at the beautiful New York City Center, the affair promised to be something more than your average hotel conference.
A mixture of performance, discussion and inspiring keynotes held the audience's attention over two days. It's impossible to recap the entirety of the experience in a few paragraphs. Each attendee took away something of personal resonance, but here are a few quotable moments that spoke to me.
1. "I realized you can complete a project by dropping it." -- Arianna Huffington
How often do you force yourself to finish something in which you have absolutely no interest? It's one thing to leave others in a bind by refusing to meet your commitments. It's quite another to change your mind when you are clear something is not priority, and the world's fate is probably not at risk. This was a great reminder that you have the option to simply say no.
2. "Know your value and you'll get that value." -- Lucy Danziger
This presents a challenge for many people. Knowing your worth is crucial to everything else you experience in your life. The truth is, whatever you accept in life will continue. When you are clear on your worth, you will not tolerate anything that does not measure up. In addition, you will also attract people and opportunities that reflect your belief.
3. "Reclaim our bodies as sacred." -- Latham Thomas
We place valuables in safety deposit boxes. We even get sturdy cases for our precious phones. If only we treated our spirits with the same fervor. Our bodies house the most precious thing of all and yet we often treat them with disregard. We need to recognize the wonders of the human body and the highest role it plays. After all, what can be more sacred than the thing that houses the most sacred thing of all, our spirits?
4. "The real meditation practice is how we live from moment to moment." -- Jon Kabat-Zinn
Meditation is often thought of as a routine, but it extends far beyond the designated time in which it is performed. Just as physical exercise helps overall functioning of the body, meditation sets the tone for moving through the world. The beauty of meditation is the awareness you carry back with you for the other hours of the day when you aren't actively meditating. The power of meditation isn't really in the doing, it's in the being.
5. "[Being] cynical is the protection against the vulnerability of being open." -- Alanis Morissette
Every cynical person you've ever met clearly falls under this category. It's more important to examine where you have been cynical in your thoughts. Vulnerability often disguises itself when it plays out in our own lives. It's easy to recognize in others but takes much more self-discernment to see it for what it is. Check your inner cynic for its true origin.
6. "Liberation is the acceptance of one's self and one's life as it is." -- Panache Desai
Perhaps you are held hostage by the nagging voice in your head that constantly critiques you. Moments of self-doubt are to be expected, but for some, that voice is the one that predominates. Acceptance of your entire being holds the key to inner peace. Freedom from self-judgment is the ultimate liberation.
7. "If we only value money and power, we will never have enough." -- Arianna Huffington
The idea of the Third Metric exists because of this statement. Conventional definitions of success have us chasing our tails. Contemporary outlooks will have us living in truth. This new perspective of success has to include the intangibles of happiness and purpose. Only in these pursuits can the experience of authentic joy be attained.
Thrive was a remarkable event for those seeking something more in life. These discussions are needed to expand the message of holistic success throughout all our communities. What are some of your own takeaways from the conference?
REAL LIFE. REAL NEWS. REAL VOICES.
Help us tell more of the stories that matter from voices that too often remain unheard.