Smoothies have a fabulous way of tasting like a treat, yet it's easy to pack a multitude of vitamins, minerals and protein into each one. The result of blending these healthy ingredients? A sweet, delicious taste with no added sugar and plenty of cancer-fighting, immune-boosting, hearty-healthy options.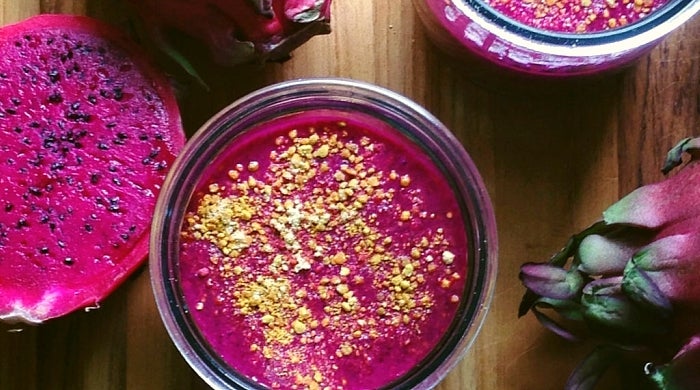 Don't be fooled by its name or fiery color! Not only does dragon fruit taste delicious, it is a known cancer-fighting food that is relatively low in carbohydrates, but filled with vitamin C and antioxidant phytochemicals. Paired with blackberries (which offer fiber and antioxidants), unsweetened coconut milk and vanilla whey powder, this Dragon Fruit and Blackberry Smoothie will be a recipe you go back to again and again for breakfast or a filling snack. Beyond the delicious creamy, sweet taste, the whey powder will help your body absorb nutrients as well.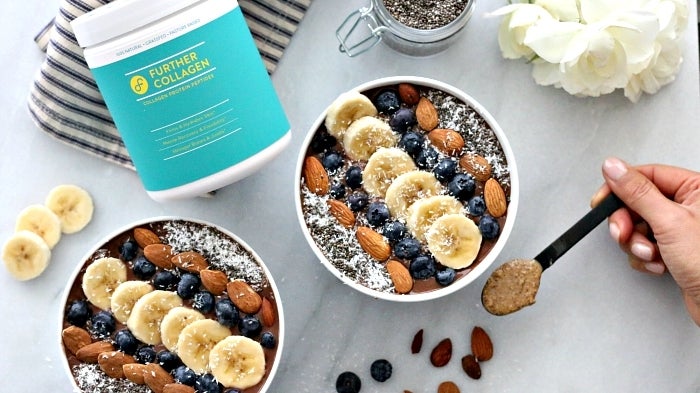 As a nutritious breakfast drink or a post-dinner protein-filled dessert, this Chocolate Collagen Power Protein Smoothie or Smoothie Bowl will no doubt be the highlight of your day! Packed with antioxidants and minerals, it is a go-to for a quick and easy boost of energy and health. Thanks to the cacao, this easy-to-make smoothie gives you essential antioxidants with heart-healthy properties, helping to prevent the onset of cardiovascular disease. It provides your body with your daily dose of potassium—and sweetness—from the banana. In addition, the dairy-free almond milk and almond nut butter give this shake a sweet, nutty taste, which is nearly impossible to resist! Add some collagen protein for reducing future hunger pains and to keep yourself feeling fuller longer!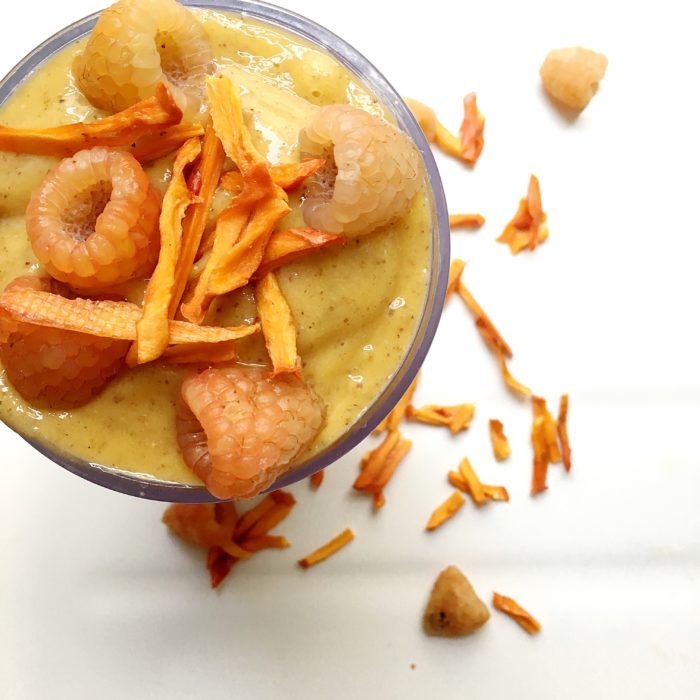 This protein smoothie is easy to love! Not only does it contain the delicious tropical fruit mango, it also tempts your taste buds with raspberries and dried persimmons. Mangoes are an excellent source of beta carotene and vitamin C. They are also high in pectin and fiber and low in calories! This smoothie is a great meal replacement and for those who have a low potassium level.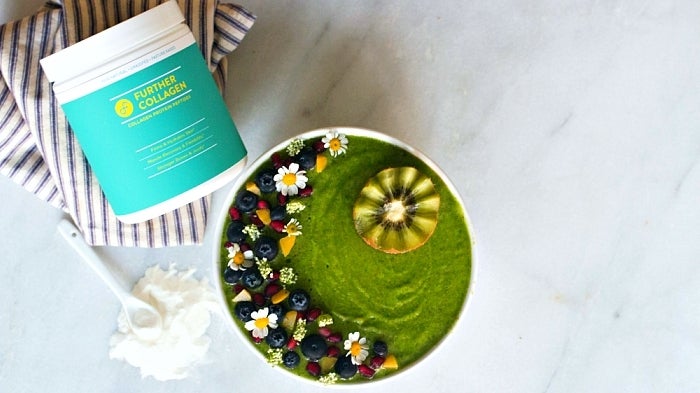 Go back to those bright summer days with this Tropical Green Smoothie! Its vibrant colors and refreshing look go perfectly with its refreshing, light taste. A mix of antioxidant-rich tropical fruits like mangos, oranges and pineapples with heart-healthy avocado is not just irresistible but also extremely powerful. Adding collagen protein powder is ideal for post-workout nutrition due to its high amino acid content that supports the body's protein needs during and after exercise.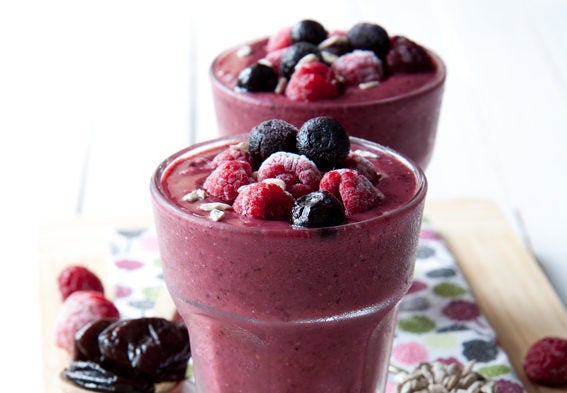 Boost your body with antioxidants in this berry protein smoothie! And add a secret super healthy ingredient-prunes! While dried plums (aka prunes) are best known for relieving digestive tract issues, their benefits also include potentially lowering risk for heart disease, osteoporosis, Type 2 diabetes and obesity. Plus, flaxseed, sunflower seeds and blueberries-so much beneficial goodness and fiber in this one smoothie! And who doesn't like purple?!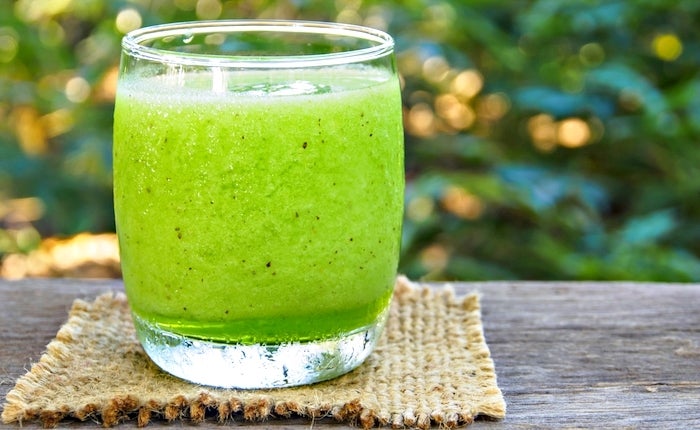 This simple protein smoothie is perfect for a delicious and quick breakfast! Kale is an excellent source of so many good for you vitamins and minerals including beta carotene, vitamins C and E, folate, calcium, iron, and potassium! Blueberries add just a touch of sweetness to this smoothie, and collagen helps keep you feeling full so you're not tempted by a mid-morning snack.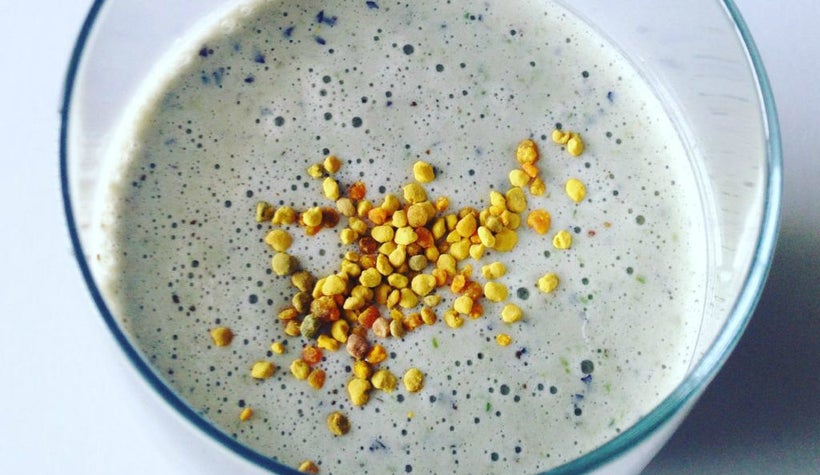 Not only is this protein smoothie delicious, it's a beautiful color! This shake is simple with just a few ingredients, but packs a punch with taste and nutrition. The bee pollen adds a nice touch for texture and additional vitamins and nutrients. Blueberries give us dietary fiber, vitamin C and manganese, which you need for bone development. Baby spinach contains more than the daily value for vitamin K, allowing proper blood clotting, and vitamin A which aids in healthy vision, immune function and bone and skin health. It's hard to believe you can have all this in one glass!
REAL LIFE. REAL NEWS. REAL VOICES.
Help us tell more of the stories that matter from voices that too often remain unheard.
This post was published on the now-closed HuffPost Contributor platform. Contributors control their own work and posted freely to our site. If you need to flag this entry as abusive,
send us an email
.