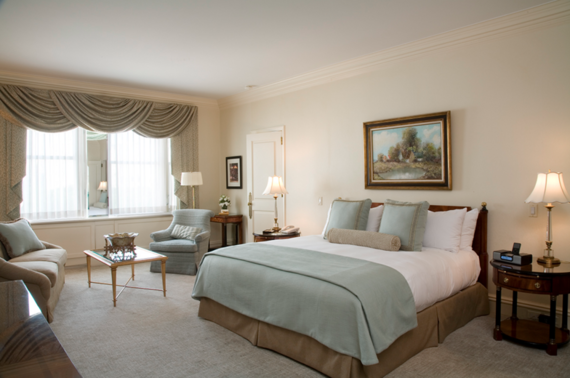 TripAdvisor has named New York's Sherry-Netherland Hotel the #1 Travelers' Choice Hotel in the U.S. for 2016. Whether you know "The Sherry", as the locals call it, or never heard of it, here are seven unusual facts about the hotel that might help explain why it's so beloved by its guests.
1. It's not technically a hotel.
It's a New York City Cooperative Hotel, meaning that it's owned by the building's apartment owners. And it makes staying at The Sherry feel more like staying in a grand apartment building -- because it is.
2. It has only 50 rooms and suites for transient use.
Most of the apartments in the building, including the full-floor apartments in the tower, are exclusively residential. With so few rooms, staff can provide every guest with personal attention. It's the reason so many Tripadvisor reviewers rave about the service.
3. Every room is individually decorated.
That creates quite a variety -- from grandma's house (if grandma was a wealthy upper east side matron), to contemporary pied á terre. Some have museum-quality art, all have luxurious appointments. Be sure to discuss your preferences with the reservations staff.
4. Elevator operators run the lifts.
It's a great safety and security benefit, and also a service benefit -- an additional employee to greet and assist you every time you return to the hotel. And there's a seat in the elevator, if you've literally shopped 'til you dropped.

5. The lobby ceiling mural was inspired by one in the Vatican Library.
Although it was painted over after a flood in the '70s, a painstaking restoration in 2014 returned it to its 1920s opulence. The wooden elevator panels were copied from the Vanderbilt Mansion elevator. The Sherry is as old-world NYC as it gets.
6. Every guest receives a box of Louis Sherry Chocolates
Although Sherry, a prominent Gilded Age restauranteur, hotelier and candy maker died a year before the building was acquired by his company, the hotel remains named for him. In addition to his namesake chocolates, fresh flowers await every guest in their rooms.
7. Harry Cipriani provides room service.
Located on the lobby level of the hotel, the restaurant -- a virtual copy of the famous original in Venice, Italy -- offers room service and a 20% dining discount for hotel guests. Try the Baked Tagliolini. It's Harry's signature dish.
Photo Credit: ©The Sherry-Netherland Hotel
Popular in the Community