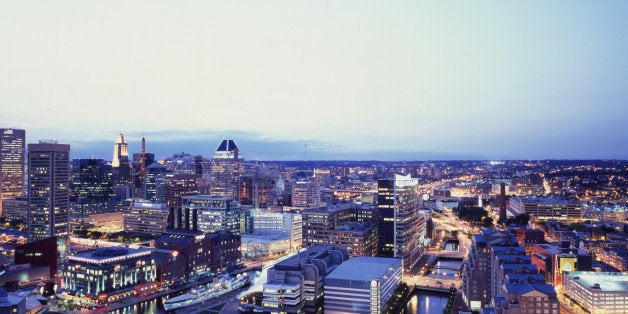 If you want to see a city with pride and passion, come to Baltimore on the Friday before a Ravens football game. The entire city is purple, our home team's color. School kids wear purple. Working men and women wear purple. The cupcakes at local bakeries are -- you guessed it -- purple.
A Ravens game might be the occasion, but our pride and passion are bigger than our team. During Orioles games, we sing "Oh" as loud as we can during the national anthem that was penned right here ("Oh say can you see by the dawn's early light"). We put Old Bay (thank you McCormick Spice, a Baltimore company) on everything from crabs to ice cream.
We are also passionate about the future of this city, and if you visit, you'll see it in a single word printed on bumper stickers and billboards across the city: BELIEVE.
But we know believing is not enough. We also have to do something to address the very real economic challenges facing our city. The good news is, we are. Groups across the city are investing to harness the power of innovation to create a new economy based on the organic growth of technologies, products and ideas born right here. We are nurturing conditions that will enable this growth to thrive because we understand the importance of supporting a start-up ecosystem. We understand what needs to be done to attract and retain the best and the brightest, fuel economic growth and create new jobs and opportunity that includes and lifts all our citizens and communities.
Here are seven reasons why we believe that Baltimore and its startup ecosystem hold promise for the future:
Baltimore is a place with a deep well of innovation

spanning multiple sectors with distinctive regional strengths in biotech, educational technology and cyber security. Education innovator Sylvan/Laureate is based in Baltimore as are many other promising education and technology companies. High growth cyber security companies like Cyberpoint, RedOwl, and Zerofox are staffing up to provide inventive solutions to the nation's growing cyber threats. And companies like Sonavex are using technology to improve surgical outcomes.
Baltimore is home to many top-ranked educational and research institutions

such as Johns Hopkins University, the University of Maryland-Baltimore, Morgan State University, and MICA, all with exceptional talent from around the world working tirelessly to create new technologies to address some of today's most vexing problems. Johns Hopkins has received more federal research funding than any other institution for 34 years in a row, with results to show for it. In 2014 alone, more than 516 disclosures of inventions were filed by researchers and 16 new start-ups were created licensing technologies out of Hopkins.
Innovation hubs are springing up across the city

, reflecting the demand for affordable, communal space in which entrepreneurial talent can co-work and collaborate. Betamore, the Emerging Technology Center, University of Maryland-Baltimore's BioPark, Johns Hopkins' FastForward, Under Armour's City Garage, and BARCO's Open Works are just a few of the new places that provide entrepreneurs of all stripes creative spaces to work.
Investment in acceleration is real

. From Accelerate Baltimore to DreamIt Health Baltimore, the city and its economic development partners are investing in accelerators and intense bootcamps for entrepreneurs to move forward companies with the most promise.
State support for innovation is working

. From the biotech and cyber security tax credits given to angel investors of Maryland-based companies, to the Maryland Venture Fund to TEDCO, the state has played a critical role in providing much needed funding for all stages of technology commercialization.
Local foundations are providing more than just grants

to support start-up ecosystem infrastructure. Some, like The Abell Foundation, are investing directly in companies in exchange for promises to stay located in the city.
There is a thriving social innovation scene in Baltimore

supporting a wide range of mission driven and non-profit companies committed to solving some of society's and Baltimore's most pressing social challenges. The Impact Hub, Living Classrooms, the Social Innovation Lab at Johns Hopkins and other organizations are growing in numbers and strength and represent the passion of our citizens to make an impact in a tangible way in the lives of their neighbors.
The rest of the country is taking notice of the progress Baltimore is making. A recent feature in Entrepreneur Magazine cited Baltimore as the second hottest start-up city that isn't San Francisco or New York, and this Christian Science Monitor article called Baltimore one of the top "cool" cities for Millennials who want to live in affordable, entrepreneurial, culturally rich and impact-oriented cities. And on September 28, legendary entrepreneur and investor Steve Case of AOL and Revolution fame, will be in town to kick off his next Rise of the Rest Tour, focusing on America's next great start-up cities.
When Case and his Revolution team are here at the beginning of Baltimore Innovation Week, investors and entrepreneurs around the country ought to be watching. Baltimore is a place where passions run deep, and more and more people across the country are starting to BELIEVE.
Calling all HuffPost superfans!
Sign up for membership to become a founding member and help shape HuffPost's next chapter