Traveling to Galapagos Islands has been on my bucket list for a very long time, and I was finally able to cross it off last month. The Islands are undoubtedly the most unique place I have ever been to, and here's why it needs to be on your bucket list, too.
1. The Galapagos Islands are one of the most protected places on earth.
There are very few spots left in the world that are untouched by human development and preserved in their natural form. Located 600 miles from mainland Ecuador in the Pacific Ocean, the archipelago is made up of 61 islands and islets with 13 main islands, all surrounding the equator. In 1978, UNESCO designated the Galapagos Islands as the first World Heritage site. It is also one of the few locations in the world that does not have an indigenous population. The first recorded visit to the islands was in the year 1535, and currently 25,000 residents inhabit only five of them.
Most of the islands in Galapagos are remote, with no human life. The number of visitors allowed into the Galapagos National Park per year is restricted, and you must travel to protected areas with a licensed guide. Even when you are out on your cruise ship, you will see that there are no loading docks or landing ports at most of the islands. It simply means that visitors must disembark from the yacht into a panga (a modest-sized raft), and make a wet landing onto the beach, leaving the local ecology undisturbed.
2. It is an open-air classroom where you can witness evolution and Darwinism in action.
The Galapagos Islands are a natural laboratory where you can closely observe land and marine life in their native habitats. You may know about El Niño (ocean weather patterns) or have read the book The Origin of Species by Charles Darwin, but you will never before have had a chance to go behind the scenes and watch those theories unfold in front of your own eyes. Darwin's concept of evolutionary adaptation through natural selection became central to modern evolutionary theory, and it has now become the unifying concept of the life sciences. The Galapagos National Park naturalists will point out particular species and their evolving traits that led Darwin to conclude his research.
3. It's a rare opportunity to get up close with endemic wildlife like you never have before.
From the giant tortoise, fur sea lions, and marine iguanas to the blue foot boobies and Galapagos penguins, the endemic wildlife is abundant and fascinating. Nowhere else in the world can you get this close to wild animals without threatening their territories. The animals here are relaxed and not bothered by humans. They will allow you to walk around them and take pictures, and they will carry on with their daily lives as usual.
You may pinch yourself when you see a synchronized procession of dancing sea lions, a fast swimming Galapagos penguin, a pelican dive followed by a hammerhead shark, and a whale pass before you in a matter of minutes. It feels surreal, as if you are at a giant aquarium observing an orchestrated show.
4. You might get a chance to swim with Galapagos Penguins, snorkel with sea lions or overcome your fear of sharks.
You are hundreds of miles away from the nearest continent with nothing but vast open waters and a handful of boats. Aquatic lovers can enjoy the rich marine life by scuba, snorkel, swim or kayak. Beware though this is no "swim with trained dolphins" theme park. Playful sea lions and even sharks may get very close to you, courteously sharing their playground.
The Galapagos is second only to the Great Barrier Reef National Park of Australia in terms of the size of protected marine area. Over 444 fish species have been documented in this area, of which 10% are endemic. Expect to see sea cucumbers, sea urchins, crabs, shrimps, sponges, rays, mantas, black corals, sea slugs, chitons, scallops and sea stars among hundreds of other colorful marine life. There is hardly any area that doesn't make for a good spot for snorkeling, a daily activity encouraged by the naturalists while visiting the Galapagos.
5. You will become a professional photographer by the end of the trip.
Unique landscapes such as the Galapagos carpet, volcanic mountains, dramatic rock formations, perfect skies and amazing sunsets over the Pacific Ocean call out for National Geographic-quality images. And when you have dancing blue foot boobies, mating frigatebird, smiling giant tortoises, motionless golden iguanas, slow-moving crab families, and animated sea lions all within a distance of two feet, you really don't need a special lens to capture the perfect shot.
With ideal scenery, close proximity to animals, and frequent wildlife sightings, even if you are not a professional photographer, you will still leave the island with some of the most amazing photos of your life.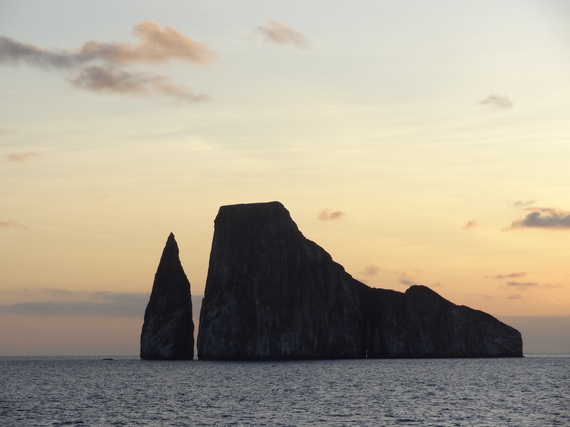 6. The Galapagos have some of the best beaches in the world.
Turquoise blue water unadulterated by pollutants, white sand that has barely been walked on, and not a soul as far as you can see-that is what a typical beach at the Galapagos is like. Expect no beach umbrellas or fizzy drinks here, but you will need to share the beach with inhabitant sea lions, pelicans, penguins, and sometimes even sharks. Many locations are great for beach snorkeling as well.
From December to May, it is very warm and sunny in the islands, making it ideal for swimming in the comfortable shallow waters.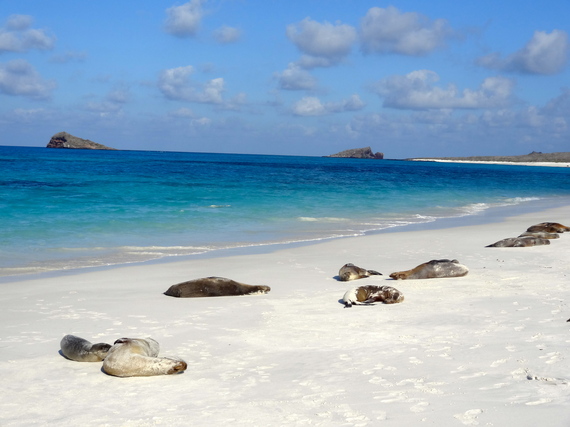 Photo by Sucheta Rawal
7. It is cheaper than you think.
Due to the location of the Galapagos Islands and the limited number of tourists allowed, traveling around the islands is not very economical as compared to most other destinations. However, there are several options to reduce the cost of travel by land, air or water.
It is possible to fly from Guayaquil to San Cristobal (USD 400 round trip) and then travel via speedboat between the towns of San Cristóbal, Santa Cruz, and Isla Isabela and Floreana Island. Speedboats cost USD 30 one-way and hotels/hostels are available on each of these islands from USD 10 to 500 per night. Alternatively, mid-range cruises start at USD 1400 (for four nights), while luxury yachts are USD 3000+ per person.
Some of the larger cruise liners carry 100 passengers and may be cheaper, but you sacrifice the intimacy of day trips. It's always best to check the tourist to naturalist ratio (have at least 1 guide for every 15 tourists) as well as the itineraries, as they are mandated by the National Park.
I went to the Galapagos with Ecoventura, a touring company based in Ecuador that organizes yacht cruises on three 20-passenger boats. A one-week cruise is perhaps the best way to see the islands, as you can visit a few different places and enjoy the open waters and diverse landscapes while maintaining a home base at the yacht's cabin. Ecoventura also has a 10:1 tourist to naturalist ratio that facilitates learning and safety.
Click here to read more from my trip to the Galapagos.