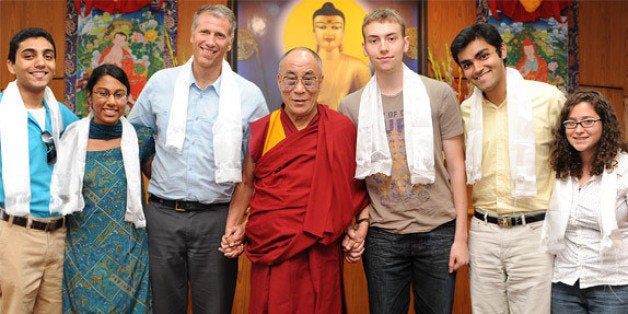 Whether you are about to step foot on your future alma mater for the first time or are returning to pick up your college life where you left it last spring, you should definitely stop by the chaplain's office this semester.
Most private American colleges have some religious origin.* Even if your school is not overtly religious today, there is often a college chaplain on staff to help people of all faiths and no faith feel at home on campus and to connect students with the spiritual and emotional support they need to thrive at college.
I spent eight glorious years at Princeton University as associate dean of religious life and the chapel and I had the privilege of serving students, staff and faculty from every tradition and background. Our office was a magnet for people from every corner of the world with a huge range of beliefs, but all of whom were looking for a place on campus where they could hang out and be themselves.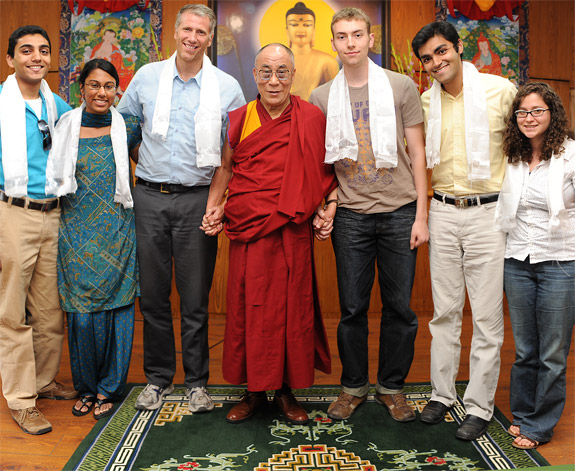 Rev. Paul Raushenbush, center, is joined by Princeton students for visit with HH Dalai Lama in Dharamsala, India.
Having worked with chaplains from other colleges around the country, I can assure you that they are some of the most compassionate, well-traveled, non-judgmental and quirkily intellectual people you are likely to meet on campus.
Ok, here are seven reasons why you should run not walk to your college chaplain's office:
1. Chaplains are interested in the big questions.
While college chaplains may at one point have been involved in the business of providing answers to the big questions, today most view it as their responsibility to provide provocative and open forums where students are able to grapple with the questions that are at the heart of a liberal arts education such as: Who am I? What kind of life do I want to live? What do I believe? How will I contribute to this world? These conversations are held in a non-graded space so it is ok, and expected not to know all the answers.
This is not to say that you cannot seek wisdom from your college chaplain. They often have wonderful perspectives and personal spiritual world views that will benefit you. However, the chaplain will not expect you to adopt their views as your own; and they are just as interested in the questions as the answers.
2. Chaplains have your back.
Spending time getting to know the chaplain, and letting the chaplain know you can be of immense help during the twists and turns of an education. There may be times when you just need someone with who you can talk to without fear that it will go beyond the two of you. Most chaplains honor confidentiality as long as you don't talk about harming yourself or others. Having this kind of sounding board can really help when dealing with relationships, the pressures of being a student, or just figuring out life.
There may also be a time during your academic career when you make some not-so-great choices. If you have taken the time to get to know your chaplain they will be there and go to bat for you if you need an advocate in the administration. Chaplains often understand how the systems of the college work and can really help you when times are tough.
3. Chaplains go on fantastic trips.
This will depend from college to college but often the university chaplain has budget for trips for community service as well as spiritual exploration. During my time at Princeton I took students to India, Australia, India and Jordan to name just a few places. Chaplains often also have small stipends to help with travel for studies that include some spiritual exploration, especially if you agree to offer a presentation upon return.
Yeah, pretty much always a place to get bagels, cookies, candy etc. It's like a 7-Eleven in there.
5. It's a place of peace.
Sometimes chaplains have inherited a beautiful chapel that they have opened up to be a special place on the hectic campus where you can go and sit, breath and reflect -- and where nobody will bother you.
They may have religious services there once a week that reflect the original tradition of the school, but to which anyone is welcome. Religious services of all different traditions can be explored even if you are not of that tradition. It is a great learning opportunity as well as a way to spend an hour not dedicated to either hard study, or hard party.
If your school does not have a chapel on campus, there is often a room that is set-aside for prayer or meditation. If you spend even 10 minutes a day in these places it can help you be centered and more peaceful, and may help you to handle the stress of college.
6. Chaplains can help you understand your roommates.
There are three questions that I emphasized during my time as a college chaplain: What do you believe? What does your roommate believe? How will your beliefs influence your actions?
The second question is really important. College is an opportunity to be in close contact with people who may view the world very differently than you. At your chaplain's office you can engage in intelligent discussions with your classmates that will equip you to interact productively with diverse people after your graduates.
Discussions on interfaith relations, science and religion, ecology and faith, art and spirituality, mindfulness and happiness happening at your chaplains office can help inform you of your neighbor's belief and also hone your own opinions. And if you don't see the discussion you wan to have, most chaplains will be very glad to help you start a new one!
7. Chaplain offices are often a locus for social justice work.
If you are looking for a way to make a positive difference in the world, your chaplain's office is often one of the most active locations for service organizations and social justice groups. This work is often not faith-based, instead it is about the wider goal of creating a more just and beautiful world. People of faith as well as spiritual and secular are equally welcome to take part.
So as you enjoy your first days at college this fall, stop by the chaplains office and say hi. And tell them Paul sent you. (Actually, you don't have to do that.)
*Public universities probably won't have a chaplain paid by the university but there will be chaplains representing different denominations. These might be more interested in getting you interested in their tradition, but they will also be a great place to discuss the big questions.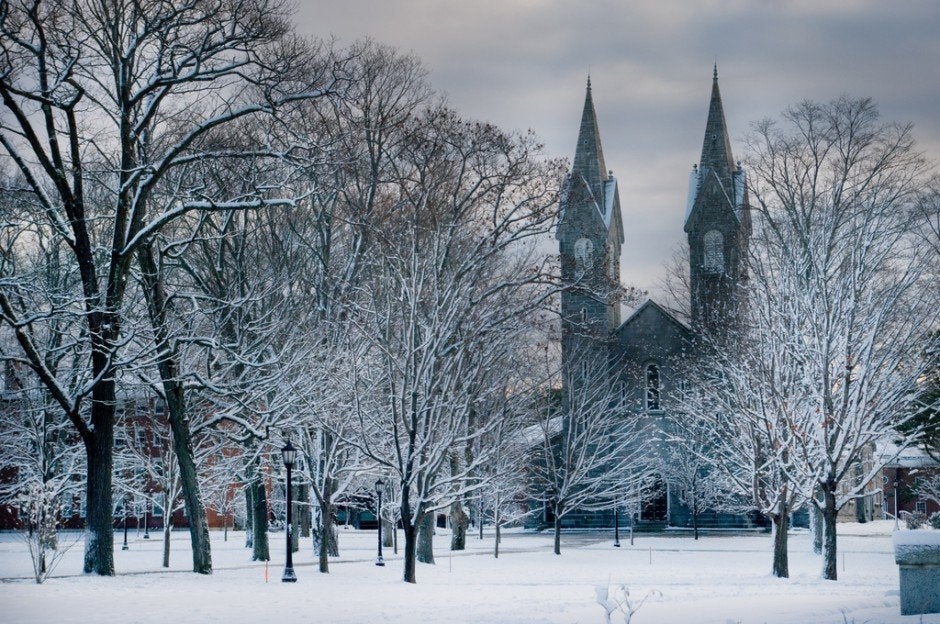 America's Most Beautiful College Cathedrals
Popular in the Community