 Mindy Kaling is nothing if not completely willing to express her strong opinions. Not much escapes her wit or powers of observation -- even birthdays. "Anybody can have a birthday. It requires nothing," she told Vulture. "Murderers have birthdays. It's the opposite of anything that I believe in."
Today, on her birthday, we pay homage to one of our favorite women on TV. Here are 7 reasons we should celebrate Mindy Kaling every day of the year.
1. She was a nerdy kid.
Kaling has been pretty up front about her less than glamorous past. "If you've seen a photo of me from when I was a kid," Kaling told NPR's Renee Montagne, "I don't think anyone would have expected that going in front of the camera was something that I was going to do. I can't believe how little effort my parents put into making me seem like an appealing little girl." But, ever the skilled comedian, Kaling has been able to turn her geeky childhood into a source of comedy. "There's photos from our high school musicals, and I'm comically in the deep background, wearing a beggar's costume" she told Montagne.
2. She's a Twitter star.
Mindy Kaling currently has over 2.3 million Twitter followers - – and for good reason. When Bookish asked Kaling about her tweeting habits, she said, "I can't get in every idea I want on [The Mindy Project] no matter how hard I try to bully the other writers. [Tweeting is] a way of me getting out other comic ideas and immediately getting feedback." Whether proclaiming her undying love for Anderson…
or saying something we've all thought before...
... Mindy's tweets always makes us laugh.
3. She talks honestly about being an Indian woman in the entertainment industry.
Mindy is open about discussing the fact that she's a woman and racial minority in an industry notoriously dominated by white men. Last month she joked with Jon Stewart about how thankful she is for her success, considering, "I'm a minority chubby woman who has my own show on a network. I don't know how long this is going to last!" But she's not interested in having any labels define her or her work. "I never want to be called the funniest Indian female comedian that exists," Kaling told Vulture in September of 2012. "I feel like I can go head-to-head with the best white, male comedy writers that are out there. Why would I want to self-categorize myself into a smaller group than I'm able to compete in?"
4. She's a body image role model.
Kaling's greatest act of promoting a positive body image hasn't been constantly speaking out against narrow beauty standards -– it has been the opposite. As Huffington Post blogger Sheila Moeschen noted about "The Mindy Project":
"By refusing to make body criticism a focal point of the show (in terms of plot and character development), Kaling embraces the notion that more women could benefit from spending less time preoccupied with body transformation and more time enjoying and accepting themselves."
"I fall into that nebulous, quote-unquote, normal American woman size that legions of fashion stylists detest. For the record, I'm a size 8 -- this week, anyway. Many stylists hate that size because I think to them, it shows that I lack the discipline to be an ascetic; or the confident, sassy abandon to be a total fatty hedonist."
But Kaling refuses to lose weight just because she's on TV, and by simply being herself she does a great service for her thousands of viewers.
5. She's not afraid to be unapologetically girly.
Kaling has always been outspoken about her love of thoroughly "girly" things –- proving that women can be smart, accomplished and enjoy things like fashion and rom-coms. "I, like most women, I dress for other women," she told NPR last year. "I think If I was going to dress for men, I think in general I would be just wearing, like, a fitted black T-shirt and tight jeans every day." She wrote about her unabashed love of romantic comedies brilliantly in the New Yorker and in her book and even played a hilarious romantic-comedy based game with Jimmy Fallon on his show recently.
6. Despite her major success, she keeps it real.
When she appeared on "The Daily Show with Jon Stewart" last month to talk about the success of "The Mindy Project," Stewart asked if Kaling had time to sleep, to which Kaling replied, "Your name is in your own show. It's kind of a dream job. So…When I'm awake is so much more fun than when I'm sleeping."
7. You want to be her best friend.
Like the ultimate BFF, Kaling has a way of perfectly articulating everything you're thinking. "I'm not married, I frequently use my debit card to buy things that cost less than three dollars, and my bedroom is so untidy it looks like vandals ransacked the Anthropologie sale section. I'm kind of a mess," she wrote in Is Everybody Hanging Out Without Me? . She also understands the importance of female friendship. As she told Entertainment Weekly last year, "Personally, I, Mindy Kaling want to spend like 80 percent of my life hanging out with women."
Related
Before You Go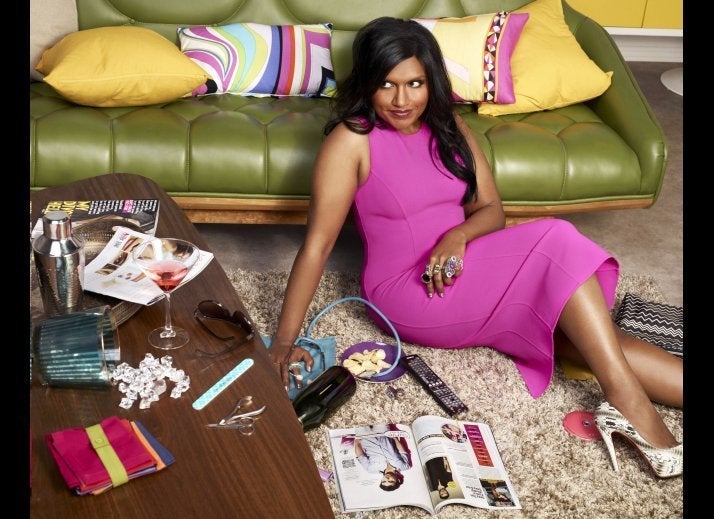 'The Mindy Project'
Popular in the Community