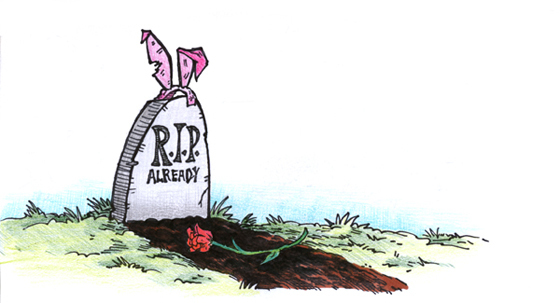 The Easter Bunny Bonanza is upon us ... baskets of delectable bunnies everywhere: milk chocolate bunnies, caramel bunnies, marshmallow bunnies, foil wrap bunnies stuffed with god-knows-what and, it seems, Playboy Bunnies. Ex-Playboy Bunnies, to be more precise. They're in the early spring air too.
For the last few months I have read testimonials in a variety of media, from AARP to New York Magazine, from ex-Playboy Bunnies about what an "empowering place" Playboy was. I have seen stunning, kick-ass, successful women in their sixties donning the Playboy costumes, preening Playboy Bunny ears ... not an "empowering" vision...
I have nothing against ex-Playboy Bunnies. I feel empathy for these women. Hey -- I am from that generation. I remember applying for a cocktail waitress job somewhere in the boondocks of Jersey. The boss man declared me a "bartender" upon sight -- putting me in required booty huggin' hot pants and cleavage showin' tube top. When I brought up the fact that I hadn't a clue as to how to mix a drink -- that I, in fact, applied for the damn slag job -- the man eyed me up and down and declared "it's not how you make it, baby. It's how you shake it." Ewwww. But those were the days and I took the job, made my semester's tuition, had some laughs and quit the place within a few months. So, I know what it's like to come from that time capsule. And I get that these women may have had a great time as a "Bunny." But "great" is different from "power". My problem is the handing off of their EMPOWERMENT to Hugh...
H_UGH. I cannot believe that I am even typing that name in 2015? Hugh Hefner ... still out there? Still being talked about? And more importantly, getting credited for "empowerment"?
He is. By women of our generation.
I never wanted to be a "pet" -- I want to protect them. And in that spirt -- the spirit of Easter - can we just shut tight the Playboy bunny hutch? Can we agree H_UGH is more of a piggy then a bunny, and that the whole damn bunny legacy is extremely dated, damaging on many levels, no longer relevant -- and just needs to go away -- never to be resurrected again?
Here are seven reasons why...
1. We shoot our own damn centerfolds, thank you! And it's livin' on our smartphones. SELFIES! Now that's POWER! And we don't have to expose ourselves to "bunny hunts." We can control the lighting, we can control the angles, the "costumes" and we get to explore our sexuality without middlemen and avoid the usual pouring of dairy substances upon our pouting lips and genitals ... boooring. According to Gary Vanerchuk, social media guru, we 50+ women are the fastest growing demographic on Instagram for selfies. We can do it for ourselves or for our significant others ... OUR choice. And bonus! We get to keep our....
2. FUR! We get to keep our tails, fellow Bunnies! It's creepy that fur is not shown in these magazines. I realize Playboy is not alone. Looking through a few issues though, the playmate is no longer the girl-next-store. It's plastic surgeoned Barbie -- minus fur. I cannot say it better than hilarious comedian, author Caitlin Moran: "I can't believe we've got to a point where it's basically costing us money to have a vagina. They're making us pay for maintenance and upkeep of our lulus, like they're a communal garden. It's a stealth tax. Muff excised. This is money we should be spending on THE ELECTRICITY BILL and CHEESE and BERETS. Instead, we're wasting it on making our Chihuahuas look like a skanky chicken breast. God DAMN you, mores of pornography, that have made it into my undies." I love this quote so much ... but really, how did this happen? Yes, we have fur! Controlled fur or maybe jungle fur ... it's our choice and one not handed over to the man who nurtures little girl fantasies. UGH.
3. Playboy magazine's official style guide declares: "There is no such thing as a former Playmate. Once earned, the designation as sex symbol is one a woman retains for life." Oh, thank you H_UGH who, at 88, is married to a 27-year-old third bride. Pssssssst. You're off trend, H_UGH! We 50-somethings are the bomb in the under-40 dating world! Just sayin'...
4. The Mansion Parties. Please ... the amount of people in and out of that cave and its legendary locales: the Grotto, the Game House, the mirrored bedrooms ... with Hef on the sideline scampering around in his jammies ... so bad Caligula. The list from his early days in the 70s -- from The Rat Pack's Frank Sinatra, Dean Martin, Sammy Davis, to Tony Curtis, James Caan, Jack Nicholson, Bill Cosby (several women who have accused Cosby of rape have connections to the Playboy organization) and to present day Bill Maher, Kevin Costner ... oh, you know "the bachelor mystique" and their attending Bunnies.
which leads me to...
5. Frat houses ... and what is happening RIGHT NOW with women on our "party" campuses.
6. Speaking of frat boys and misogyny -- because we are -- I look again through a current Playboy that feels in many ways like a magazine from the 1970's. The Playboy Party Jokes page with lame "Mad Men" type quips, coupled with illustrations by my least favorite artist in the universe, the now departed Leroy Neiman, who once ogled me at a photo shoot when I was a baby art director.
7. Terry Richardson who photographed the current Playboy "Special" on stands now. Yes, Terry Richardson, called "Uncle Terry" to his models and who was exposed to scandal after scandal on countless blogs, including Jezebel. And yet ... he shot H_UGH's special issue....
H_UGH was never our savior.
Let's embrace the spirit of Passover here too ... and liberate ourselves from Hugh, his cronies and hang up the Bunny ears one final time -- not even for nostalgia -- not ever again.
We're the key holders now baby!!!
Maryjane Fahey is a writer, designer, animator and co author of DUMPED, a breakup bible for women.
You'll find her new project, GLORIOUS BROADS on:
instagram.com/gloriousbroads
Facebook: facebook.com/gloriousbroads
Twitter: @gloriousbroads
Email: Gloriousbroads@gmail.com
Web: Gloriousbroads.com
Illustration: John Hogan, thejohnhogan@gmail.com
PHOTO GALLERY
Most Common Sex Myths About Boomers
REAL LIFE. REAL NEWS. REAL VOICES.
Help us tell more of the stories that matter from voices that too often remain unheard.