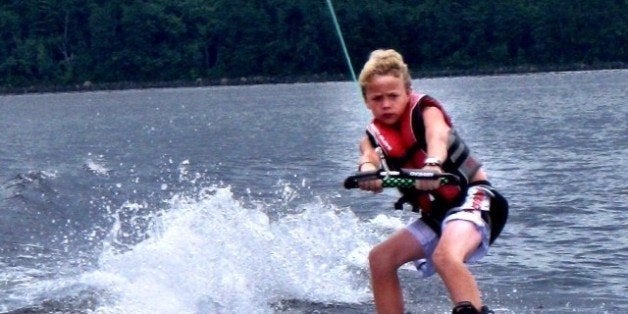 Last week, like millions of other children across the country, my 13-year-old son left for his fifth year at sleepaway camp. The days leading up to his departure were filled with excitement, anticipation and milestones. He spent his last day with his best friend from school, we took him to his favorite restaurant for his last meal and we stayed up late binge-watching his favorite TV shows. The next morning, we hugged goodbye, and off he went for eight weeks in Maine. There was no sadness on our part, or on his. How could that be? you may wonder. Well, let's just say this: I come from a long line of sleepaway camp junkies. Like my son, I went for 11 years to a traditional eight-week summer camp in Maine when I was a kid. In fact, both my mother and grandmother did as well! I truly believe that sleepaway camp is one of the best gifts you can give your child -- and here's why.
While I would never call myself a helicopter parent, I'll admit that there are times when the realities of juggling three kids through the daily hassles of life make me bend on expectations. I've made his bed for him on mornings when we're running late, brought forgotten books to school and have even found myself making a grilled cheese sandwich when one of the kids just refuses to eat what I prepared for dinner. But, at camp? Well, there is no one to make his bed if he's late for swimming and no one to run his basketball jersey to him if he leaves it in the cabin. And there's certainly no one to make him a separate meal if he doesn't like what's served at dinner -- and I love that! Welcome to real life, kid.
2. It's a much-needed break from social media.
This is one of the greatest gifts of a good overnight camp -- and one of the benefits that didn't even exist back in my day. In today's world, where kids are glued to their iPhones and iPads, and documenting every party, sporting event and play date, I love that he's off the social media grid for a few weeks. (At his particular camp, devices with video, email, text and Internet capability are prohibited.) And, surprisingly, he is somewhat relieved not to have the added pressure of posting cool pics and "liking" the hundreds of updates and images that his friends are posting daily. His friendships at camp are built on shared experiences -- living in confined spaces, eating meals together and playing cards late at night in the cabin. They're not being influenced by Instagram photos, texts and emoticons.
3. It allows for personal reinvention.
Camp is a welcome break from the pressures of home and school. Let's face it: Middle school can be rough. By going away to camp, kids can shed elements of their persona and work on new personality traits. A sporty kid at home can try painting at camp... or an artistic kid can play football without fear of reprisal. Imagine how you'd feel to hear that your child participated in something unexpected. We were quite surprised during our son's first year at camp, when our sporty kid, who had never set foot on a stage, told us he had a musical solo in the camp play. It's terrific to hear about that role as DJ for the camp radio station, or how they learned to slalom behind a ski-boat. I feel that kids are sometimes bucketed as the "sporty one," the "musical one" the "class clown"; camp allows them to place those monikers on a shelf for a bit and explore parts of their personalities that have been dormant.
4. It teaches kids they can play sports without their parents cheering them on.
I don't know when the presence of parents on the sidelines at every game became a requirement. When I was growing up, our sporting events took place at school, and if it was convenient, one of my parents would try and show up for a game or two during the season. These days, though, it's an unspoken requirement for parents to be standing on the sidelines relentlessly cheering little Johnny on at every game. At camp, the only cheerleaders are other campers and counselors. Kids are free to miss a shot, score the winning goal and fall down on the court without their parents witnessing it as if it was a play in a Grand Slam match. If there's ever a disagreement about a call, or they skin their knee or pump their fists in the air after making a dunk, they can have the moment for themselves and share it with their teammates.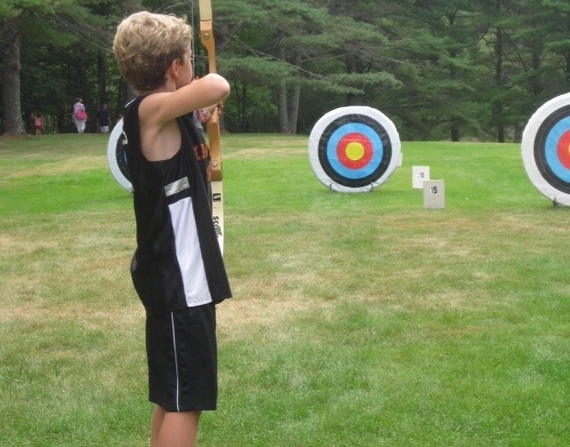 5. It gives parents a chance to reconnect with one another.
In today's world of dual working parents, travel sports teams, after-school clubs, band practice and mountains of homework, it's easy for us parents to make our whole world about the kids. Too often the parental relationship is put on the back burner. (Time after time, I hear of parents who have to reestablish their relationship when the kids leave for college.) When one or more of our kids are away, we can catch our breath and take some time to reconnect -- my husband and I take a weekend away, go out to dinner or even just take an evening walk.
6. It exposes them to new experiences.
Growing up in New York City in the '70s, I know that I never would have learned to fence, water ski or light a fire without a match if I hadn't gone to camp. My son? Well, he's fallen in love with archery and wakeboarding since beginning his camp journey five years ago. These are activities that he simply doesn't have access to on a daily basis in downtown Chicago.
7. It allows them to grow up.
Delaying homesickness is delaying adolescence. Yes, I know, this is a strong statement, but I think it's really true. In today's cell phone environment, we're in constant contact with our kids -- something that just wasn't true years ago. Admittedly, there are times during the summer when I get anxious just being able to send one-way emails to him. Or having to wait until the end of the week to see pictures the camp posts on their website or social media. Or the few and far between letters he send home. But it's an important development in our relationship. Kids need to learn to manage the feelings of missing home and missing mom and dad. It's critical to their maturity and development that they gain coping mechanisms to survive without their parents and the creature comforts of home. Learning to sleep in a cabin with other kids (and pesky mosquitos!), without their plush down comforter and the AC blasting on high, are important life skills of adaptability. Don't be surprised when your camper returns home a taller, wiser and more confident version of his or her former self.
Chrissy Jones is a born and bred NYC girl who successfully transplanted to Chi-Town. As the founder of Beyond the Park, she loves writing about the best of kid-friendly Chicago. She lives with her three kids Big (12 yr old boy), Middle (7 yr old boy) & Little (4 yr old girl) and her husband in the Gold Coast. Follow Chrissy on Twitter @Beyondthepark1

Related