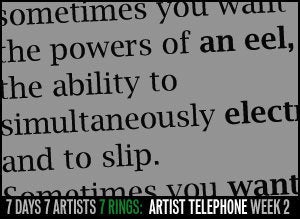 The Physics of It

It was an accident. Who wears wooden shoes to a banquet? I was being as careful as I could be, carrying my plate of fried chicken, which really only counts as banquet food if the cooks forego the mashed potatoes and try to spice up the menu with something contrarian, but there wasn't anything I wanted nearly as much as mashed potatoes. Well, maybe something. Mashed potatoes are the quintessential comfort food and yet sometimes you want something more than comfort--sometimes you want the powers of an eel, the ability to simultaneously electrify and to slip. Sometimes you want the swimmers to knowingly stay out of the water. Just for you. Sometimes you want the landscape dotted with potential blues and yellows so energetic that the water positively swims with you. So, without mashed potatoes and with, instead, the rather viscous macaroni and cheese I did let my plate fall to the ground in the spot right behind me and right before you and had you not been wearing those shoes, if you had not been there before, if it hadn't been you, needing to make that loud sound, if you hadn't simultaneously required and been given the attention of the banqueteers and, simultaneously, the attention of the chefs, then you would have noticed the mac and cheese swirling on the floor beneath you. All the greasy electrons pulling your protons down. It should have been your feet that hurt. Your ankle. Your loud noise. You were wooden. I should have taken comfort in the percussion but instead I sank and sank and sank. If I were carpenter and if I were, simultaneously, a ladder, I would have found my own saw teeth biting in my ankles. For every rung, I shrank. Took myself down a notch.
Nicole Walker's book of poems, This Noisy Egg, was released this spring from Barrow Street Press. She teaches poetry and nonfiction at Northern Arizona University.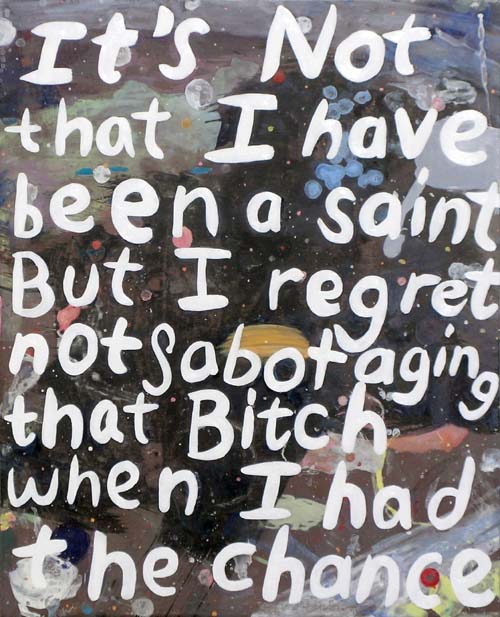 Kristin Calabrese, My Only Regret, 2010, oil and acrylic on canvas, 16 x 20 inches

All of a Sudden You Reached that Age

All of a sudden you reached that age. On the other side of which lies The End. When everything is deja vu instead of deja new. When the perfect murder is an entertaining fantasy involving yourself as victim instead of somebody else. That age.

You could hike up a mountain, you could carry a bottle of too many pills, you could crawl into a cave, you could go to sleep.

Asleep, you might dream, exigencies and emergencies, everything exhausting.

If the children were young...

If it all hadn't already been done...

You should have named the dog Ironical. Because it's he who'd rescue you. Faithful companion, alibi, witness, optimist. Whose perpetual forgetting is his gift: Hello! Hello! Hello! Better to be brain-damaged, his grinning face proclaims. Hike! Hike! Hike!

So here you go again. Facing the funny fact that making coffee requires having already ingested coffee. That you need your glasses to find your glasses. Need the pills to feel like taking the pills. And need the scissors to open the container containing the scissors.

Artist Kenichi Hoshine responds to Nick Flynn's poem, Wisconsin Death Trip.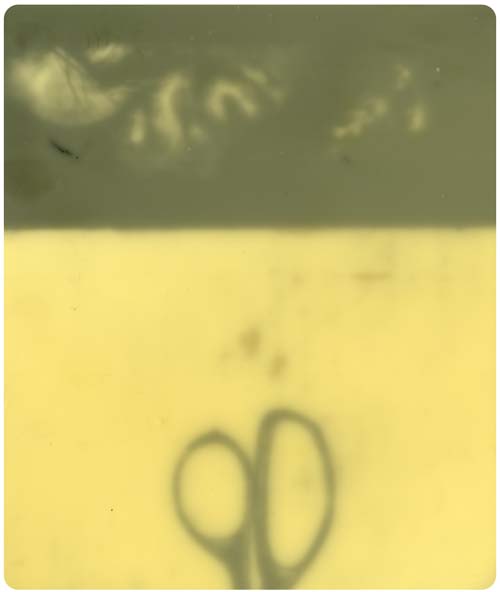 Kenichi Hoshine, Untitled, 2010, Charcoal, Acrylic, Wax on Wood, 8"x10"

Wisconsin Death Trip

Something Wisconsin

Death Trip in this, something Exploding

Plastic Inevitable, something Weather

Diaries. Zapruder something, Michelangelo

something--the hands, unfinished, like his

slaves. Remember Cindy Sherman? At first

she looked scared, then it all turned

scary. Or Nan Goldin & her black eye, now

forever? If I listen to the playlist called NOISE on

my Ipod it will take 1.7 days--this

I can know. Tonight, between the guacamole

& the pork belly, our two year old threw her naked

body against the yoga ball, again &

again, each time with a burst of maniacal

laughter. It's still taller than she is. She'll grow up to be

Buster Keaton, Bowe said. They

threw him against the wall, Bill said, his parents,

night after night. Vaudeville people. The Flying

Keaton's or something, Adam said. Keaton was

given the name Buster by Houdini, Adam

said. His real name was Chester, his real

name was Carlos, his real name was

Carleton, by then I wasn't really

listening, by then I was doing the dishes, thinking

about the flowers Lili brought, wrapped in

newspaper, the headline about serial

killers. I was thinking about the first human

being to be photographed, getting his boots shined

on a Paris street, his leg is all that we see, the rest,

like everyone else on the street in those few

moment the shutter was open--every horse-drawn

carriage, every passerby--the light finding its way

onto the emulsion, everyone but this man's leg

is less than a blur, less than a trace. Shine on

you crazy diamond dog day afternoon

delight. I rinse each plate before putting it into

the machine--maybe this is a waste. I saw

a bronze nameplate once, nailed at eye-level

--POPLAR--the tree swallowing it

whole. I thought of the disaster, of the live

feed--does it prove the plume is now several

plumes, is that what I heard? Or that no one

can find the oil, that it has all simply

vanished? The weeks we watched, through sheen

& top kill--for all we know

they simply moved the camera, for all we

know the earth simply swallowed it. I don't care

what they say--Michelangelo's Slaves

are the best thing he ever did. Only a fool calls them

unfinished.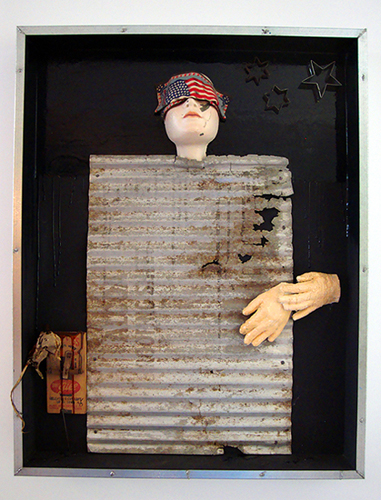 Nancy Reddin Kienholz, Rebecca's Dream, 2010, Mixed Media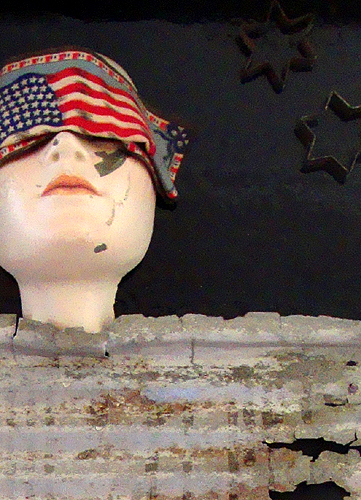 Nancy Reddin Kienholz, Rebecca's Dream (detail,) 2010, Mixed Media


This is not a poem

I am not supposed to tell her there is anything wrong.
Perhaps I can distract her from the larger picture. There is no war
but I admit to her there is dust and sand.
I can't explain the gun but perhaps I can explain the way

metal ripples like bed sheets. It is not beautiful but cylinder
plus sheen equals energy. You can't ignore kinesis. The ship powers
forth. The plane flies over. The helicopter turns. They all have
to land somewhere. Who am I to complain about physical

forces? I brought this iron ore on myself. I believed in hard
and impermeable just like I believed in birth control and garage
door openers. There are some things about this present I cannot give up.
And there are others: Brain pan. Heart Valve. Brass Knuckle.

Look at the rivulets, the whorls, the shared characteristics.
Qualities that suggest good and intention. See all the work
they can do: Spin, smooth, train, direct. What you admire in metal
you can admire in the human. It is solid. It can bend.

That should not, necessarily, make us nervous, but
I have crawled into her bed and slept next to her before.
I can pretend I was protecting her but you can see
in the morning whose small hand wraps around whose.

Painter Rebecca Campbell Responds to Huffington Post Headline, "Wake Them When It's Over" by Jason Linkins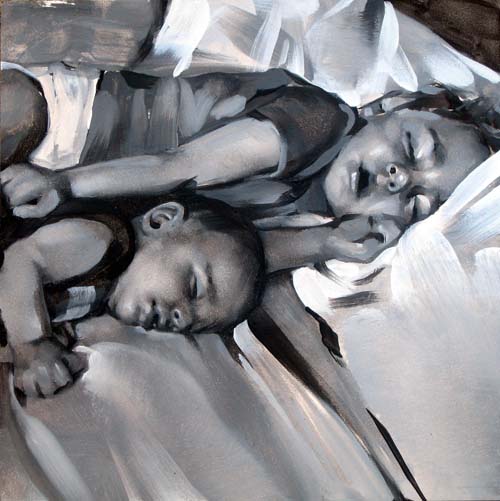 Rebecca Campbell, Wake Them When It's Over, 2010, oil on panel, 10" x 10"
7 Days, 7 Artists, 7 Rings, is a living, responsive work of art created by Rebecca Campbell and Nicole Walker. Each week the painter and poet, respectively, alternate kicking off the current week's collaborative artist project. Painters and poets, photographers and essayists, musicians and story writers will collaborate to create ongoing, live-made art. The responses will come daily, with artists having only twenty-four hours to respond to each others' work. Click here to learn more about this project, the creators and participating artists.
Related
Popular in the Community