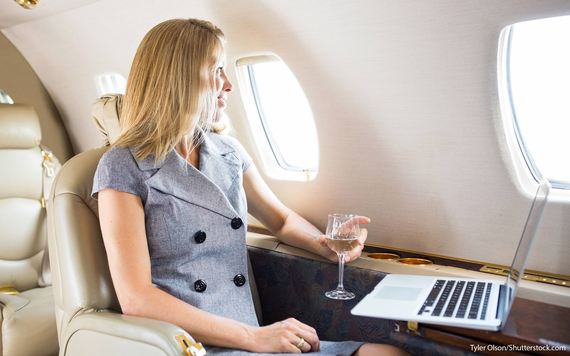 By Holly Hammersmith, Contributor
If you like to vacation in style but you're on a budget, you probably know that travel isn't so cheap. The average cost of a vacation is $1,005 per person, or about $4,000 for a family of four, according to a 2015 survey by American Express.
Fortunately, travel upgrades can come at a great discount -- or for free in some cases -- when traveling. Here are the lesser-known tricks travel insiders use to upgrade vacations and still save money on all the vacation basics, including hotels, airfare, attractions, dining and more.
1. Take Advantage of Hidden-City Ticketing
Airline ticket prices aren't based on distance traveled, but by market demand, said Jessica Festa, a travel blogger for Jessie on a Journey and the editor of Epicure & Culture, an online tourism and culture magazine.
"Your most direct flight won't always be your cheapest option," she said. "In fact, adding an extra leg to your itinerary that you won't actually fly can save you tons of money."
Festa said you can play around with what city leg combinations work best, or use Skiplagged.com, a website that does the work for you. "Just make sure to book two one-leg trips, instead of two round-trips, as once you don't complete a section of your booking, the rest typically gets cancelled," she said.
Potential savings: Save up to 80 percent on airfare using this method, according to Skiplagged.
2. Use Free Days and Discounts for Attractions
Many top attractions in cities are free or can be discounted, said Katie Lara, Forbes Travel Guide correspondent and travel blogger for Travelingpanties.com. "For example, there are plenty of free museums or at least days where fees are waived," she said. "You just have to do your research in advance."
In New York City, museums like the Metropolitan Museum of Art suggest an amount to pay, but any amount can be paid for entry, even though it isn't advertised, Lara said. Museums that offer this practice usually use wording such as a "suggested ticket price."
"Most parks and outdoor attractions are free, and this is often where locals actually hang out," Lara said. "Central Park, for instance, is the best place to hang in NYC, and it's totally free."
A student ID can also help snag discounts on attractions and possibly even free admission. "Even if you're no longer a student, if it's not expired, it will work," she said. "Some museums also offer teacher discounts so bring your I.D."
Potential savings: The Met's suggested ticket price for adult general admission is $25 per person. Offer to pay $20 at the door and save $5 per ticket.
3. Upgrade to First Class at the Last Minute
Consider a same-day travel upgrade on airfare, and fly first class for as little as $50 more. Buddy up with check-in agents at the airport and see if you can get an low-fee upgrade on your ticket at the time of check-in. Also, ask for a travel upgrade on any connecting flights, said Meghan Khaitan, a travel expert and the founder of MyBuckleMate, a device that makes it easier to secure seatbelts.
"Today it doesn't take a hefty chunk of cash or a ton of air miles to upgrade to first class," she said. "Can't swing first class? Request business or premium class instead."
Potential savings: Travel upgrades can be added for as little as $50, according to USA Today.
4. Use a Travel Membership Program
By becoming a member of a travel membership program, travelers can save on everything from rental cars, to cruises, hotels and more, Festa said. One such website is SnazzyTraveler.com, which has a $99 per-year membership
"I'm a member myself. The deals are fantastic, not to mention you earn rewards to redeem for later travel," Festa said. "They also have a free membership, though it's limited to $100 savings -- with the other membership you stand to save a lot more -- and there's no rewards program."
Potential savings: Save as much as 75 percent on all travel-related expenses, according to SnazzyTraveler.com.
5. Be an Airline Club Member for a Day
Instead of paying fees to be an airline club member year-round, join the club for just one day, Khaitan said. "Instead of hanging out at the souvenir shops, use your wait time to relax and kick back in style," she said.
This deal can be especially lucrative when traveling as a family. For example, with the American Airlines program, up to three children can upgrade with an adult at no extra charge. American Airlines charges only $50 per person for a one-day pass, she said. This allows the flyer to gain access to club rooms full of free snacks and free WiFi access.
Potential savings: A new annual membership with American Airlines starts at $400, according to its website.
6. Take Advantage of a Loophole
"You have to enter your credit card information before you bid, and if Priceline accepts it, it automatically charges your credit card a non-refundable booking," Hannon said. "When Priceline asks for your credit card information, use a prepaid Visa gift card with a small balance -- i.e. $2."
When you bid what you are willing to pay for a room, if Priceline accepts it, it will say it was unable to charge your credit card, Hannon said. "Now you can re-bid at a lower rate, and continue doing so until it rejects a bid," he added. "Then you know the best possible rate, and you book it at that rate with your real credit card, and not pay a penny more."
Potential savings: The amount will vary depending on each hotel, but this tactic might just help you get the best possible rate.
7. Travel Where Your Money Counts for More
When determining where to take your next vacation, purposely travel to a location where your dollar will go far, Festa said.
"You would be amazed at how luxurious your travels can get once you travel somewhere your currency stretches far," she said. "For instance, I recently went to Honduras and had a Caribbean vacation, where I enjoyed free beachside cabanas serving $6 margaritas, lavish meals for $5, a gorgeous waterfront hotel with a private hammock-clad balcony for $30 and access to over 150 dive sites."
Potential savings: Exchange rates vary depending on each country and the economy.
More from GOBankingRates: