Seattle is renowned as the home of Kurt Cobain, the venti Frappuccino and depression-inducing drizzle (see: Cobain). But it's also home to the chillest cops in the nation, Eddie Bauer's iconic down jacket and a weird rivalry with Tacoma. Here are a couple of other Seattle secrets you may have never known:
1.The entire thing burned down in 1889

Seattle didn't kick-off as an official American city until 1851. The first white settlers attempted to call their landing site "New York." After hearing that was taken, they opted for "Seattle." The drastic pivot in nomenclature honored a Duwamish Indian leader named Sealth who had helped them move in.
Talk about a housewarming. Just 40 years into city life, a woodworker's shop at Front and Madison caught fire and for 18 hours the flames swept southward across 100 acres of Seattle's business district and waterfront. Donations in excess of $120,000 helped the fledgling frontier city rebuild from the ashes.
2. You Can Find Authentic Mexican Tacos in a Dingy Mall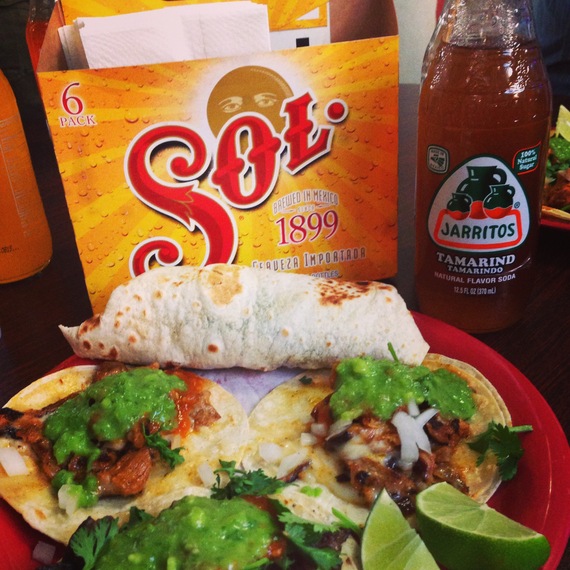 Photo (c)2014 Kerri Allen. All rights reserved.
The Pacific Northwest is not known for its Latin culture, so it's astonishing to find authentic Mexico City-style tacos in Seattle. More astonishing is where you'll find them. On the ground level of the Broadway Alley Mall is a smoke shop, a body jewelry store and a sushi bar. But look up. A small foam-core sign dangling from the ceiling reads, "Arriba, arriba, ándale, ándale," à la Speedy Gonzalez. It points to Tacos Chukis, a hidden restaurant on the second floor. In a small open kitchen a few guys sling wonderfully fresh, savory tacos, tortas and quesadillas. Wash 'em down with a bottle of gem-colored sugar known as Jarritos or the fresher rice milk horchata or hibiscus juice jamaica. Hurry, hurry.

3. The Starbucks Coffee Tastes Better

You know how everyone says that Guinness tastes better in Ireland and bagels are better in New York because of some something-or-other in the water? I didn't realize a similar myth applies to Starbucks coffee in Seattle. At the franchise on East Olive Street in Capitol Hill, the Colombia Nariño blend has a richer flavor and smoother taste than the bitter blends I'm used to in New York. Also surprising and somewhat enchanting were the glass-enclosed rooms available for rent for meetings or parties. (Who knew some Starbucks even serve wine and beer?)
4. Cops Are Totally Chill About Marijuana Laws, Man

Yes, pot is legal in Washington State, but no, you can't smoke it anywhere. As with alcohol, you may legally purchase and consume it inside of your own home. That said, the Seattle Police Department isn't quite enforcing that law. (Remember when cops doled out Doritos at last year's Hempfest?) A first offence will get you a warning; a second offense will cost you a whopping $27. A June 2014 story in Seattle Weekly quoted the city's police Sgt. Sean Whitcomb: "The spirit of the law is voluntary compliance. If there's an opportunity for leniency, that's preferred." Groovy.
5. The Roast Beef Sandwich at Homegrown Will Blow Your Mind

It's hard not to roll my eyes at the "sustainable sandwich shop" with its guilt-inducing waste-bin labeling: Compost. Paper. Landfill.
OK. I get it. Just give me a sandwich.
Worth all of the shaming, however, is Homegrown, a eco-focused eatery inside of Melrose Market. A gauge-wearing, shaggy-faced hippie will slice up a singular roast beef sandwich with raw-milk swiss, pickled red onion, rosemary horseradish aioli and arugula to write home about.
Bonus secret! Stay in the market after recycling your dishes and composting your biodegradable spork to check out Butter Home, a small shop full of farm-chic house wares and jewelry. (I nabbed a pair of "x-stud" earrings by Baleen).
6. The Space Needle is a Tourist Trap. Go Anyway.

It took me a long time to understand what the Space Needle actually is, but like the Eiffel Tower in Paris or the Unisphere in Queens, N.Y. it's little more than a show-off structure with an observation tower. When America was in its Space Age phase, we were making things like the Space Needle as a projection of what a 21st century skyline would look like. (Eh, they were a bit off.)
It's expensive and there's not a ton to do but walk around and look at the Seattle skyline, but it's worth it. Like a trip to the top of the Sears Tower or Empire State Building, it's a nice check off of the ol' bucket list and provides panoramic scenes to post online.
7. Watson Kennedy is a Preview of Heaven

Who is Watson Kennedy? Such a commanding, stately name. Is he a senator? A business mogul? No, it's the name of a store owned a man named Ted Kennedy Watson. Ted is the glorious curator and purveyor of beautiful and mostly useless objet. The Pike St. shop is a Seattle must-see for anyone who thrills at a bowl of antique silver bells or a bottle of Belberry fresh lime vinegar. (I unabashedly do.) Each section of this retail wonderland is arranged by color and style. Wander around the clustered vignettes while strains of Dinah Washington's greatest hits fill the lavender-scented air. That's one Seattle secret worth sharing.
This is not a sponsored post nor does it contain any affiliate links. I received no compensation from any party mentioned. All opinions are my own.
Related