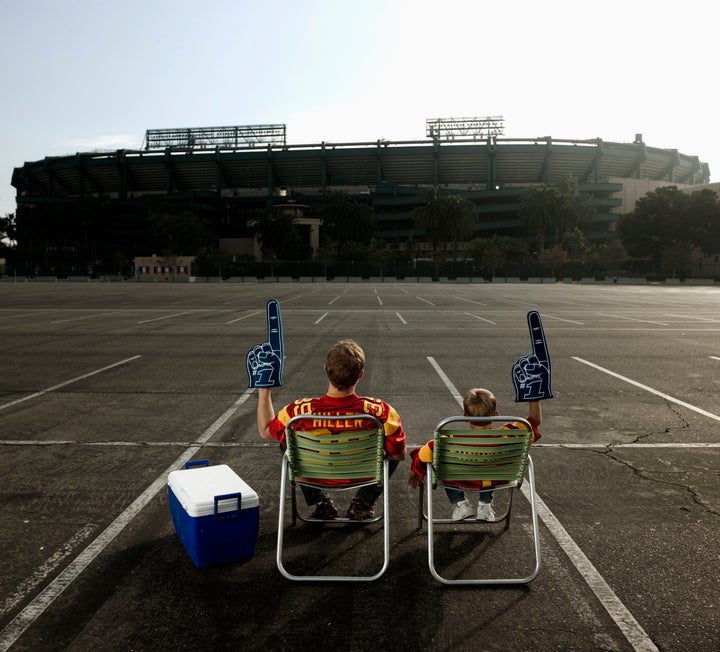 Nothing screams football fandom like an epic tailgate party! Whether you're a rookie or a seasoned pro, a little planning can help you throw an epic tailgate party that your family and friends will be huge fans of this football season. Staying organized will help you avoid party fouls like missing utensils, and team-themed treats will get your crew pumped for the big game.
According to a DirecTV study of NFL fans, tailgaters spend around $600 every season on food, drinks and supplies. That's why we've teamed up with the BuyPower Card from Capital One to help you stretch that party budget right into the endzone with tailgate hacks that will reward you with MVP status!
1. Stash Your Grill Kit In A Toolbox
The best grill masters need the right tools for the job. To make sure you're never without your best accessories, keep a toolbox in the trunk of your car full of all your necessary grilling utensils and gadgets. The right box will leave you room for basics like spatulas, tongs and can openers, and extra drawers make the perfect storage for condiments, spices, skewers and even good ol' wet wipes.
2. Pack A Smarter Cooler
Don't just toss your food and drinks into your cooler on a whim; strategic packing can make sure your food stays dry and your drinks stay cold. Use a few cabinet or locker organizers to add instant shelves to your cooler. To keep your food organized, pick up a few plastic bins for storage. But make sure they have holes or slats in the sides so the cool air can circulate and keep your food and condiments fresh. Since the bins will be elevated above the ice lining the bottom of the cooler, your food will stay nice and dry as it melts. You can also tape ziplock bags to the top of the cooler to keep paper goods, like napkins or plastic silverware, dry on the topmost layer.
3. Go Beyond Burgers
It's likely your tailgate grill will feature all the usual suspects: burgers, hot dogs, maybe even wings. Why not add kabobs to the menu for a new spin on gameday treats? You can cut the meat and veggies ahead of time, then just put them on a skewer and pop them on the grill. Kebobs are also super versatile, making it easy to add vegetarian-friendly options or wow carnivores with a new twist like these bacon, chicken and pineapple winners!  Kids can help assemble the kebabs with colorful veggies supporting the home team. Bonus tip: marinate the meat ahead of time in ziplock baggies and toss the bags in the freezer the night before. You'll have instant ice packs for the cooler while insuring the meat stays fresh on the way to the game.
4. Freeze Water Bottles And Balloons
Freeze your water bottles ahead of time to use as ice packs. Plus, once the ice melts you'll be set for cold water breaks to keep you hydrated throughout the game. For a fun twist, freeze balloons that match your team's colors. They'll be useful and decorative ice packs, and, once they are completely melted, the kids (and adults, let's be real) can enjoy an impromptu water balloon to cool off the old fashioned way!
5. Stash Trash In A Hamper
An epic tailgate party tends to produce epic amounts of trash. Instead of taping trash bags to tables or lugging around a plastic bin, pick up a pop-up hamper to use as a trash can. Line with garbage bags, and suddenly the mess becomes manageable. Cheap and collapsible, pop-up hampers will take up little space in the trunk, meaning you can save valuable real estate for coolers, grill gear, and all important gameday games like cornhole.
6. Easy Access To Essentials
A hanging organizer like one you'd use for shoes in a closet is a great way to keep condiments, paper products, and even band-aids and medicine in a safe, accessible place. If your tailgate setup includes a canopy or tent, you can easily hang the organizer from the struts to keep the items accessible. It will also help protect lightweight objects from getting blown away by the wind. When you're ready to roll, just roll up your kit and stash it in the trunk.
7. Team Themed Party Flair
Get your family and friends pumped up for the big game with some festive flare! Print free football-themed food labels or DIY some cute astro-turf placemats and leather football coasters- because a great party extends to all the little details! And don't forget to show your team spirit with fun fan props to help you cheer your favorite players into the end zone.
Tailgate season means spending unforgettable time with family and friends as you celebrate the big game. Let your favorite game day traditions earn you valuable rewards when you use the BuyPower Card from Capital One on every purchase. With no limit and no expiration, Earnings are redeemable towards a new Chevrolet, Buick, GMC or Cadillac vehicle. Learn more about how the BuyPower Card can reward you all season long.
REAL LIFE. REAL NEWS. REAL VOICES.
Help us tell more of the stories that matter from voices that too often remain unheard.