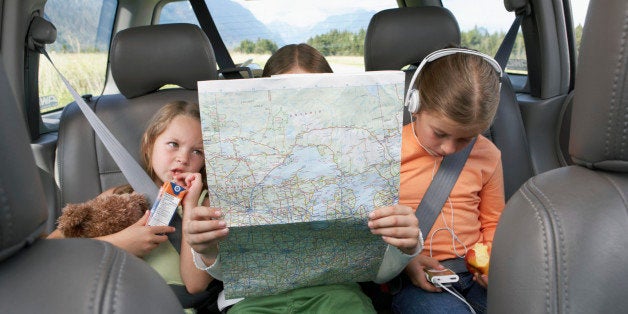 This weekend I've been coordinating my family's second annual road trip. Last year I defied all naysayers and enjoyed a 10-day driving vacation to see family and friends. No one barfed in the car, maimed anyone or peed in a bed (though there was one incident on a median on I-94 in Chicago rush hour that may or may not have included an empty Poland Spring bottle.)
This time it looks like it will be a nearly three-week adventure, the longest vacation alone with my kids. Even though I feel like I killed it last year, I'm feeling a little nervous and going back into the mental archives to call up last year's successes -- and therefore my own confidence.
So here you have it, ladies. Your 2014 Guide to Single-Mom Traveling. In the comments, please share your own tips and experience for traveling alone with your monkeys.
Plan. Whether it is a vacation destination (think Disney or a cruise), or even visiting relatives, find a few fun things to research, discuss as a family and look forward to. On our list this year includes meeting a new niece, visiting a light house with my mom and listening to audiobooks on the road (titles TBD -- any recommendations?).
Chill. There are so many ways you can control every aspect of your trip -- book every meal at a restaurant, detail a daily itinerary. Schedule in some spontaneity. Har har. In my case...
Keep it within your budget. Vacations are supposed to be fun. Nothing fun about stressing about blowing your bank account! This year, funds are tight for me. I'm excited to drive my new car, which gets better milage than my old one, and we're staying every night with friends or relatives (Thanks in advance, guys. Feel free to kick us out when we get on your nerves. Or... don't?)
I've written about a few trips I've taken with my single-mom friend, Morghan. It's more affordable, less work and more fun to partner up.
Create a tradition. Here are some traditions we started for road trips: White chocolate-covered pretzels, gummy bears. I pack kids a special hot breakfast to go on the morning we launch, listen to an audiobook for Stuart Little and let them fall asleep watching cable TV (which we don't have at home).
Exercise. I'm used to exercising five or six days per week. I get grumpy when I don't. Everyone is happier when momma exercises! Tips: Do a few laps in the hotel pool while the kids are splashing at the shallow end, do yoga or a workout in the morning while they're watching cartoons and a jog around your houseguests' neighborhood.
And get the kids in it! For our road trip I pack a soccer ball and frisbee for a rest stop spaz-burn.
Find other adults. I built adult-time into this road rip, since it is organized around visiting loved ones. Make a point to be friendly with other parents at the resort, or chat up people at the water park. Last year at a historic park in suburban Illinois, my daughter palled around with another girl her age. I took one look at the mother and my single-mom radar went off, and our two families spent the rest of the day hanging out. Valerie and I continued to stay in touch and now often IM about our dating lives in the evenings.
Make a point to make it about each other. There are a zillion ways to distract yourself on vacation. Do those things. But also take a breath. Use those days away to recalibrate, rediscover the special things you like to do together, and create new ones.
Taken a vacation alone with the kids alone? What is the funniest thing that happened? Your hottest tip? Share in the comments!
Related