If you live with a small kitchen, then you know all too well what a struggle it is to keep things organized. Just finding a place to house all your kitchen necessities can be a feat unto itself. With limited counter space and not enough cabinets, it's crucial to make every inch of your tiny kitchen work hard.
So take a look around your small kitchen — this time with fresh eyes. Chances are you have some unused walls or flat vertical surfaces, such as the side of a cabinet. This kitchen real estate is a gold mine for storing, hanging and shelving everything from your favorite set of coffee mugs to that long box of aluminum foil. Here are some clever wall-mounted space savers for the walls of your small kitchen.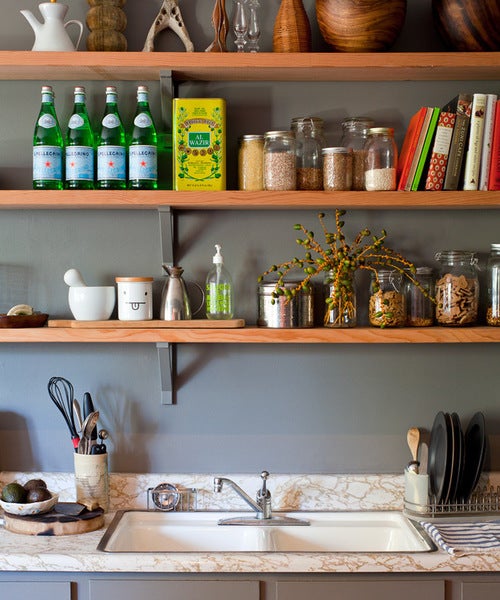 Shelves are your best friend in any kitchen, especially one with limited counter and cabinet space. Every kitchen is different, but no matter how small, there is typically at least part of a wall that can accommodate even the smallest shelf. Since shelving comes in various lengths and depths, get creative and look to hang a shelf on your unused surfaces, as in the space above your stove, on the side of a cabinet wall or even above your window.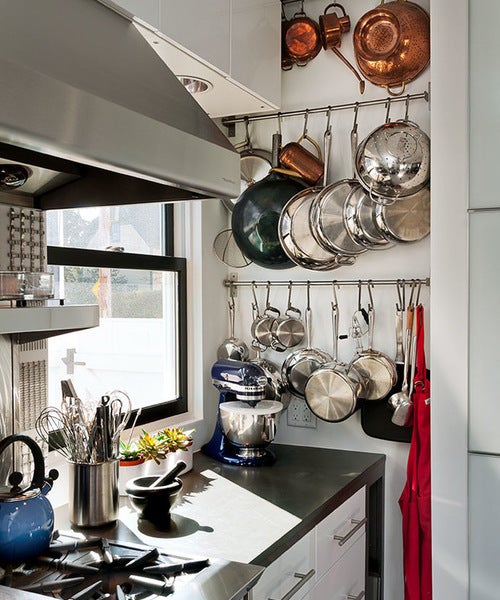 A pot rail, also called a utensil rack, is a versatile kitchen gadget that accommodates a lot more than just pots. This thin metal pole or strip with S-hooks allows you to hang almost anything that can lay partially flat and has a hole in its handle (for the hook). Think cutting boards, measuring cups, potholders and most cooking utensils.
Found in the kitchen section of most home or hardware stores, and with varying lengths from 18 to 36 inches, pot rails can usually fit the space on the side of a cabinet, in a small nook or above the stove.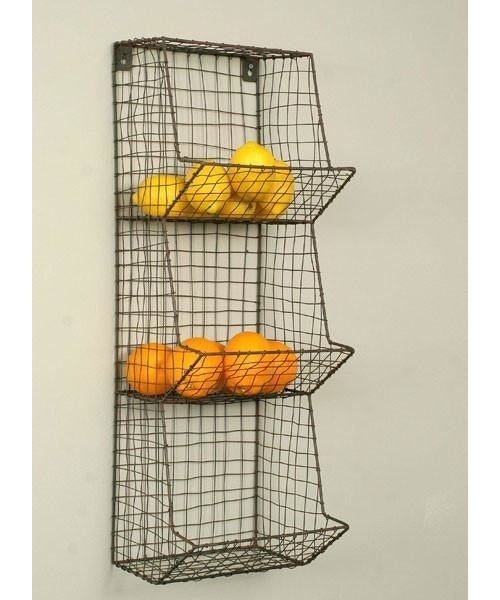 Mount a mesh-like wire basket on a wall and you've given yourself a resourceful and flexible storage option. Metal baskets are durable, lightweight and come in varying sizes. Look for a wire basket that is flat in the back and comes with wall-mounting hardware. You might also consider using wire magazine racks. Their relatively flat shape and pockets of at least 3 inches in depth can work beautifully in some spaces.
As with all wall-mounted space-saving solutions, be sure to take note of the recommended weight load for the wire basket or magazine rack. Check with your handyman to see if larger anchors and hardware will allow you to store a heavier load.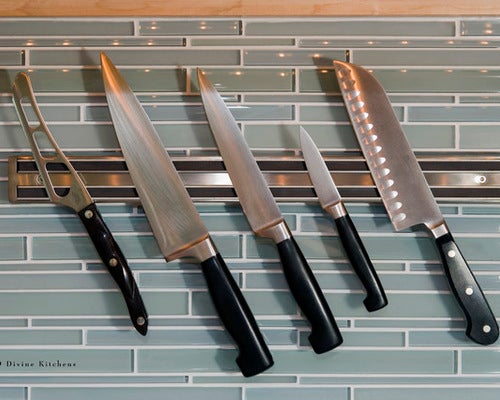 Storing your knives in a knife block isn't always ideal. When counter space is a limited commodity, try hanging your knives on a magnetic, wall-mounted knife rack. This frees up your kitchen counter for food prep or storing small appliances.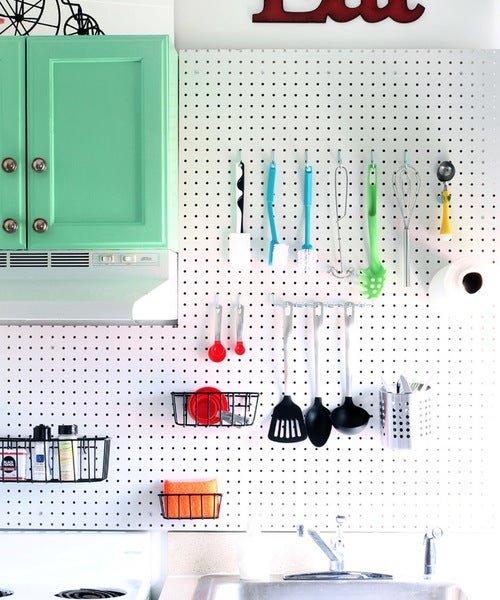 The pegboard is one of the more ingenious solutions for organizing and creating space in a small kitchen. Julia Child knew this and famously used her pegboard to store her pots and cooking utensils.
Slim in design and versatile in size, a pegboard provides flexible and smart storage for even the most awkward spaces. The predrilled holes typically fit most S- and J-hooks. But just in case, measure the holes before buying your hooks.
You can cut a pegboard to the desired size or shape. If you try it yourself and end up with some fragmented ends, place your pegboard in a frame and voilà! You've created a blank canvas ready to be adorned with your kitchen essentials.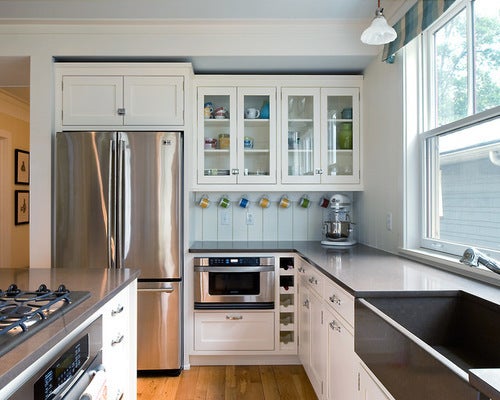 Hooks are the quintessential solution for saving and creating space around your house. Practical, budget-friendly and small in size, they are especially beneficial in a small kitchen. We've talked about using S-hooks throughout this story — on a pot rail or in a pegboard. You can also place individual wall hooks on empty wall space around your kitchen to hang almost anything with a handle, from coffee mugs to utensils and pots.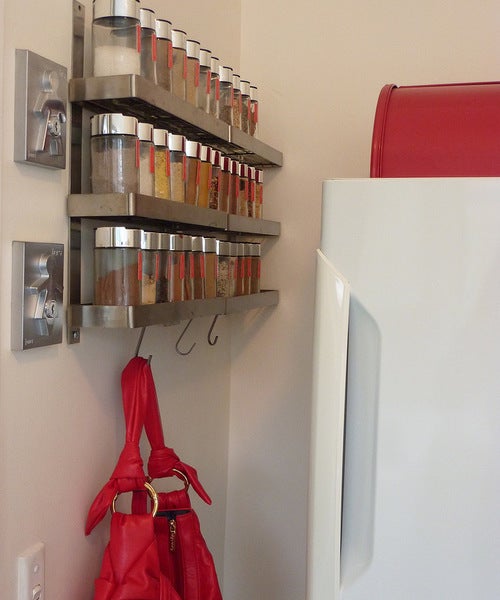 Spices can take up a lot of surface area in a cabinet or on a countertop. If a pullout, built-in spice cabinet isn't in your budget — or your space limitations — go for the wall-mounted type. Spice displays can be considered eye-catching decor. Select a finish that will stand out but also complement the rest of your kitchen. You might try stainless steel, as in this photo, or perhaps a Shabby Chic design.
Popular in the Community