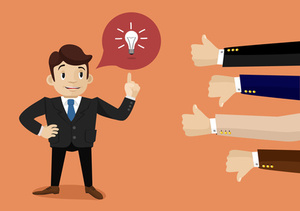 Are you sure you're doing everything right on social media? Almost every company has a social media presence these days. But that doesn't mean they're all taking advantage of the myriad business benefits social can provide. In this article I'll discuss some key mistakes I see companies making on social media. You'll learn what not to do and important best practices to maximize your time and get the best results possible.
1. Failing to create a social media strategy and set goals
You need to have a strategy in place that outlines who your audience, how you'll measure success, and your goals, tactics, competition, content plan, budget, resources, and key performance indicators. Remember that social media can be used to establish yourself as a thought leader and for customer service, and/ or lead generation objectives, among others.
2. Having an incomplete profile
When a prospect or customer visits one of your social channels, they should be able to read about your business, view your company logo, and get an understanding of your offering and value proposition. If you have the opportunity to link to your website, be sure to do so. As well, make sure you search engine optimize your social media profiles by including relevant keywords in areas like your company overview section (especially long-tail keywords).
Social media shouldn't be used as a selling tool. No one wants to be bombarded with sales messages. Follow the 80/20 rule which states that 80 percent of your content should be helpful/ useful/ interesting information and only 20 percent should be call-to-action updates about your business (content that focuses on your products or services).
It's extremely important to build a social media content strategy and editorial calendar. This way, you can get a high-level overview of the content you'll be publishing across all of your social media platforms and can ensure that you have a good mix of content that will help you achieve your goals.
4. Lacking diversity when it comes to content formats
Keep things interesting by publishing different types of content, such as images, videos, and links. Many companies post only links on their Facebook page and by doing so, they often miss the opportunity to better engage with their audience and provide them with the best, most helpful information possible. That being said, it's crucial to track the success of your social media updates (more about this later) and determine which content types and content themes perform better, based on clicks, engagement, and how many people the update was shown to. You may find that videos, for instance, perform better than images or links.
5. Posting too much or too little
Your social media editorial calendar will come in key here. You don't want to post an update or tweet something out once a month nor should you constantly flood your audience's newsfeeds. Of course, your content frequency strategy should differ from one social platform to the next. There's nothing wrong with 10 tweets a day because of how fast the Twitter timeline moves, but 10 daily LinkedIn status updates could easily annoy people. To build a loyal following on social media, posting relevant information at the right consistency is essential. For more information on this, check out The Social Media Frequency Guide.
6. Failing to engage with your audience
One of the great things about social media is that you can have two-way dialogue with your prospects and customers. Even mega-brands with large followings can, and do, excel at responding to comments, questions, and concerns. And is this important? Absolutely. Customers complaining on social media don't just expect a response, according to Lithium, 72% expect one within an hour!
Remember that it's easy for a company to make someone's day by responding to a customer's Facebook comment or retweeting them. Of course, it takes a lot of time and energy to engage with your audience but when it comes to positive word of mouth and new customers, it's entirely worth it. On the other side of the coin, ignoring your audience can, and frequently does, lead to plenty of negative word of mouth.
7. Failing to track and analyze your results
Great marketers know the importance of tracking and analyzing results and then optimizing to improve future performance. Yet only 37 percent of brands measure the ROI of their social media marketing efforts. You need to track the success your social marketing using custom URLs, Google Analytics, and tools like Hootsuite. And don't forget about the tracking/ analysis capabilities built-into social media sites, such as Facebook Insights. Some examples of what you can track include engagement (comments, shares, likes, retweets etc.), clicks, and conversions.
Maximize the success of your social media marketing by avoiding the mistakes I discussed in this article. Once you have a good understanding of critical social media best practices, you're in a much better position to start seeing some great results. Good luck!
Popular in the Community